Replacing the long-serving four-cabin Grande 25M, the 26M is a true next-generation design. Reflecting the modern, muscular style of other Alberto Mancini models, this boat definitely goes its own way to deliver a heady mix of space and pace, plus a few surprises. The result is like nothing Azimut has ever done before. This is not an entry-level model, it is a builder laying down a thrilling marker for what 85ft design can deliver.
Azimut Grande 26M Key Facts

LOA

85.597ft

Model Year

Cabins

5

Crew

3

Max Speed

30 knots

Status

In Production

Yacht Type

Superyacht

Use Type

Cruising
Test & Review Video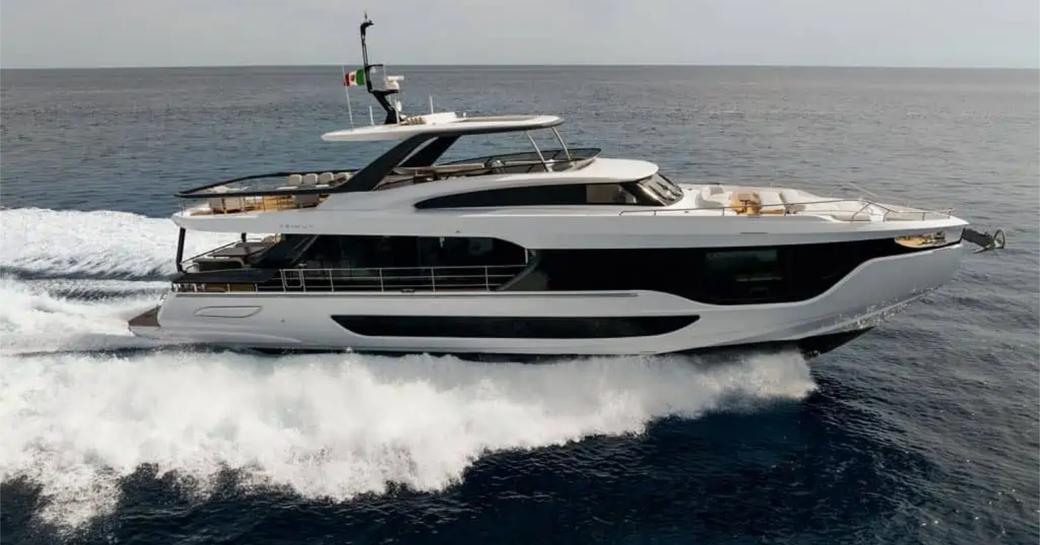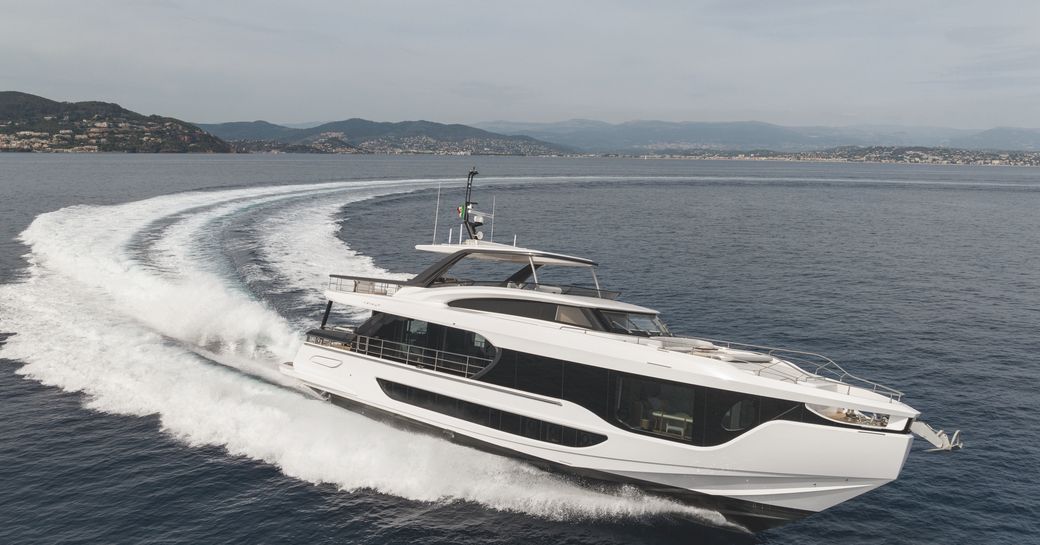 Performance is a major part of the Azimut Grande 26M story and the headlines include an 85-tonne boat that can hit 30 knots with ease. But it is how this yacht is propelled that is of more interest.
Pod drives aren't new, but the unique aft-facing directional pods used here, developed by Azimut and transmission specialists ZF, are the most powerful set-up we have seen on a yacht.
A choice of 1,550hp or 1,650hp V12 MAN turbo diesel engines is offered. Compare that to the largest forward-facing Volvo Penta IPS option which currently sits at 1000hp and you can see the massive boost this ZF Large POD 4600 drive is able to deliver.
More For Less
Azimut suggests top speeds of around 26-28 knots for the two respective engine options. Somewhat reassuringly, we hit a top speed of 30 knots on sea trials with the uprated MANs and an army of journalists and associated egos to weigh the boat down. With full tanks and cruising inventory that 28 knots looks very reliable.
To put the 26M performance into perspective, it is running faster than the smaller, lighter Grande 25M it replaces using the same 1,650hp engines - the 25m needed the 1,800hp MAN engines to get past 28 knots. It also compares well with the competition, which generally require twin 1,900hp or 2,000hp engines to hit close to 30 knots.
How much of this is down to the slippery aft-facing pod drives is hard to say. Azimut makes much of the weight-saving carbon fibre used across the superstructure but the 85-tonne displacement isn't particularly light. The Grande 26M weighs in similarly to the new Ferretti 860 and is heavier than the 75-tonne Princess Y85.
It seems that the Grande's excellent performance is down to good old in-house design, the new pod drives allied to Azimut naval architecture delivering the goods. And this big, voluminous five-cabin boat does deliver at sea.
The pod drives come with joystick control as standard with an optional docking station on the aft deck, so close-quarter manoeuvres should be straightforward for the captain and crew. The boat will mosey along all day at 1000rpm for a laid-back 10 knots and a near 900nm range, the optional Seakeeper stabiliser doing a fine job.
Our Test Speed & Range Data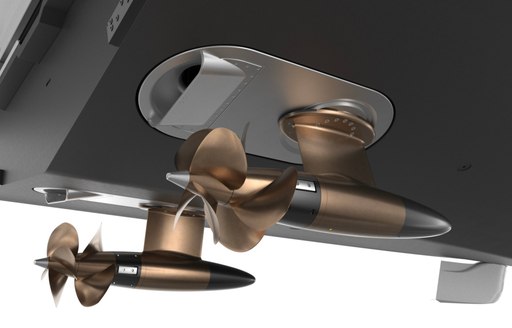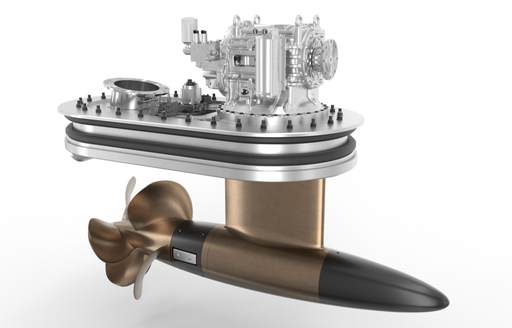 Bigger, Faster, Better
If you want to stiffen the ride up you can push to 1250-1500rpm but to really understand how good this modified vee hull is, leave 1750rpm alone and head straight to 1900-2000rpm where the smoothest 20-knot performance is found with no loss in range.
The everyday fast cruising range sits pretty reliably at around 260nm running between 23-25 knots, not anything game-changing but the ease at which it's delivered does impress.
At 2000rpm and 23 knots, the Azimut 26M feels like it is barely breaking a sweat while the ride is taut and purposeful. Unlike some pod drive yachts we have driven, the steering is intuitive and immediate but without any sense of the hull snatching at the water, the Azimut turning in beautifully under full helm and taking any passing yacht's wake with ease. It all feels so poised and balanced, with the optional Humphree active tabs keeping the ride wonderfully level and planted.
From the flybridge helm, you'd swear you were on a 60ft boat. It's only when you're back in port that you remember all the fun and ability has played out on a five-cabin, 85-footer.
Our two-direction runs averaged 30.4 knots at 2,350rpm, but the lasting impression is of that incessant power that builds remorselessly through the rev range and how well the hull harnesses it.
As a footnote, the Large POD 4600 drive is hybrid-ready, meaning it can be aligned to an electric motor at a later stage, something Azimut (and any sensible yacht builder) is surely looking to do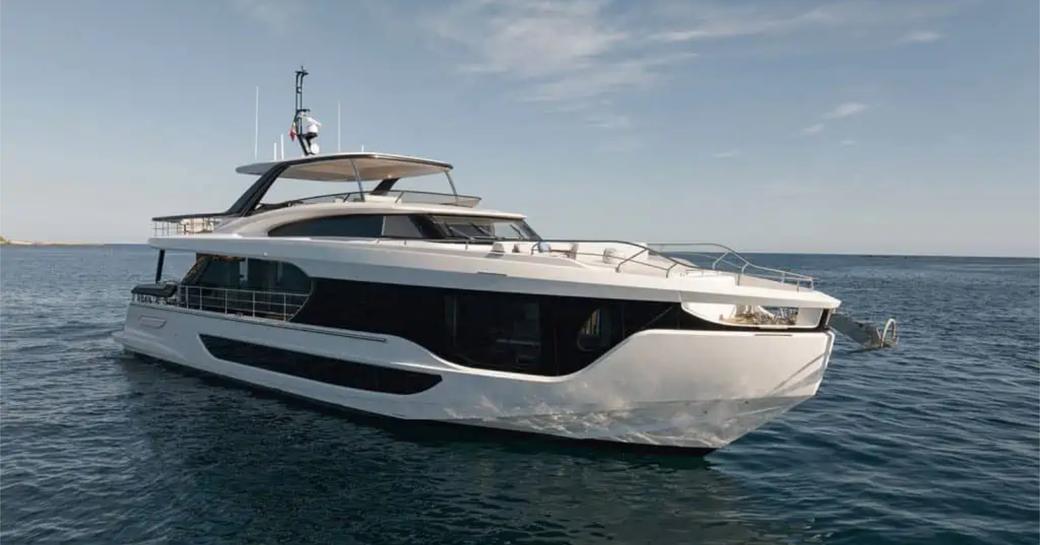 The Grande range has evolved spectacularly of late, headlined by a genuinely brilliant Trideck flagship, but the Azimut PR machine went into overdrive when the Grande 26M was announced. The replacement for the Grande 25M was clearly a very different kind of yacht loaded with new thinking, chief among these was the Deck2Deck system that utilises the tender garage's teak door to create an extended terrace.
Arguably, though, the Grande 26M's most important feature was a five-cabin layout, something that few other yachts at this length can manage.
But it is those pod drives that make it all happen. They are integral to the layout of the boat and its key features. Siting the engines further aft creates more room for the interior, allows the crew quarters to sit in the bows and leaves the stern of the boat free for a tender garage that creates the Deck2Deck system. And you thought drives were just about propulsion…
Main Event
The other design solution to the problem of fitting five cabins into a hull of this size is to add a main deck owner stateroom, leaving below decks free to continue with the traditional four cabins. The challenge is to do it without affecting space for the salon, lower helm and galley, or ruining the exterior lines.
That Azimut has succeeded in its five-cabin quest is beyond doubt, the Mancini design is certainly bulkier than other Grande's but also more sympathetic and linear than other high-volume boats. You can see how hard Azimut and exterior designer Mancini have worked, pushing out the forward sections to create the space needed for the main deck cabin, while retaining a clean, powerful look.
Inside, the design team has eked out every inch of the hull and superstructure to ensure there are no compromises on space. The quirky sophistication that marks out Achille Salvagni interiors we have seen on other Grandes gets dialled up to 11 here. The use of glass is breathtaking, the mix of materials beguiling and, this being a Grande model, there are plenty of unique moments added, it seems, simply because Azimut can, including some typically surrealist lighting. The result won't be for everyone but it is the kind of inspired, detailed design you only used to find on custom builds.
As a crew-operated yacht, the design also had to work in proper crew quarters while ensuring smooth, discreet service from bow to stern, inside to out. Despite the pressure on the yacht's interior, Azimut has worked in two side deck doors, either side of the galley, the port side connecting the crew quarters, lower helm station and deck for utterly seamless movement.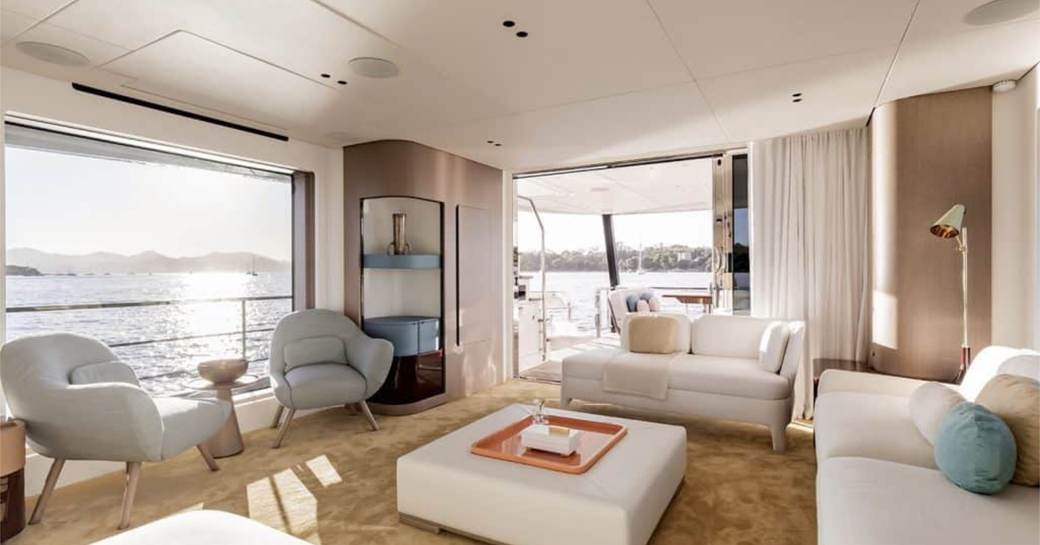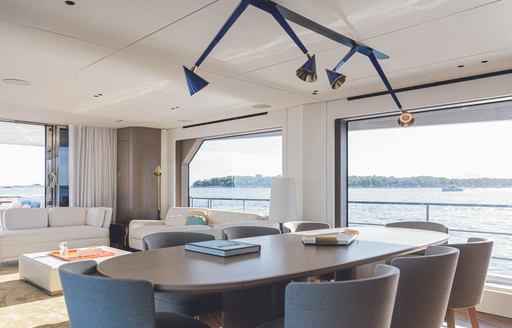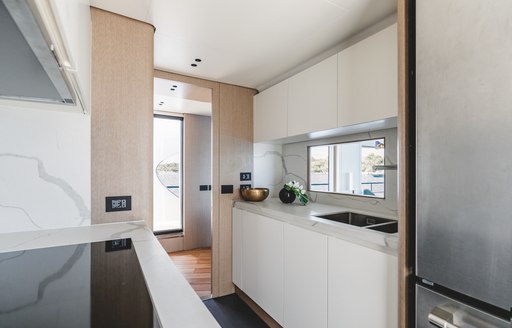 We have managed to get on board most of the latest Azimut models, from the entry-level 53 flybridge to the Grande S10 and Trideck flagship. Across the range there is a style DNA that no one can, or would probably attempt, to match. Mixing materials, light and design spectacularly well, each new model usually ups the bar and adds a new level of finish and thinking for us to consider. But few have startled the senses quite like the Grande 26M.
The layout is key, sweeping through an open-plan salon, apparently made entirely of glass, to the owner's cabin. Here, the sheer brilliance of the interior design and the work it required becomes clear. The cabin itself is unlike any other you will find below 30m, the incredible, deep, windows that run down each side of the cabin dwarfing the double berth.
Organic Owner Luxury
The eye is allowed to run forward into an open dressing area where a pebble-shaped piece of glass adds an element of bespoke design you would normally find on a 70m yacht. The ensuite lies forward, another mix of the traditional and new, with marbles and softly toned fascias.
The owner's cabin sits slightly lower than the main deck, down a few steps from the companionway, a fact that shows the consideration to overall design at play here, those steps allowing the cabin to enjoy that bit more headroom within the external profile.
Back in the salon, the glass again dazzles, starting just a few inches from the sole and rising to the deck head. Added to the clean, modern free-standing chairs and sofas the entire scene is like a breath of fresh air - a sense that might be aided by Azimut's air treatment and ventilation system that circulates clean, filtered air from the outside around the interior.
The one downside to this free-standing glazed splendour is a lack of salon storage space. It might be style sacrilege to place a sideboard in front of the windows but it will require some creative thinking on stowage. With no fitted seat bases, the full-height units at the salon entrance are the only nearby options, so the crew quarters will have to take any overspill.
Equality Below
The four guest cabins are all ensuite and while the four-quarter layout is conventional, with symmetrical doubles aft and twins forward, the finish and feel are not. As with the stateroom above, the cabins mix plenty of light with modernist styling. Floating side tables, recessed hull windows and contemporary panelling create very friendly rooms, the clean ensuites warmed up with teak shower stalls. The only moot point is a carpet that adds the faint whiff of a budget boutique hotel.
We haven't missed the galley, but we nearly did on test. Discreetly set forward of the salon, it hides behind a sliding door with some clever crockery lockers at its entranceway. It's not the biggest galley but it is one of the smartest, connecting to both side decks and the crew quarters to make sure service is always discreet. There's even a neat serving hatch for the dining area.
Storage should be adequate with the crew quarters just a few steps away. Deep, wide fridge and freezer drawers will soak up plenty of stores with lockers surrounding the space and there is a good amount of worktop to use. The crew quarters, where a neat mess area is joined by two cabins and a proper toilet compartment with a separate shower.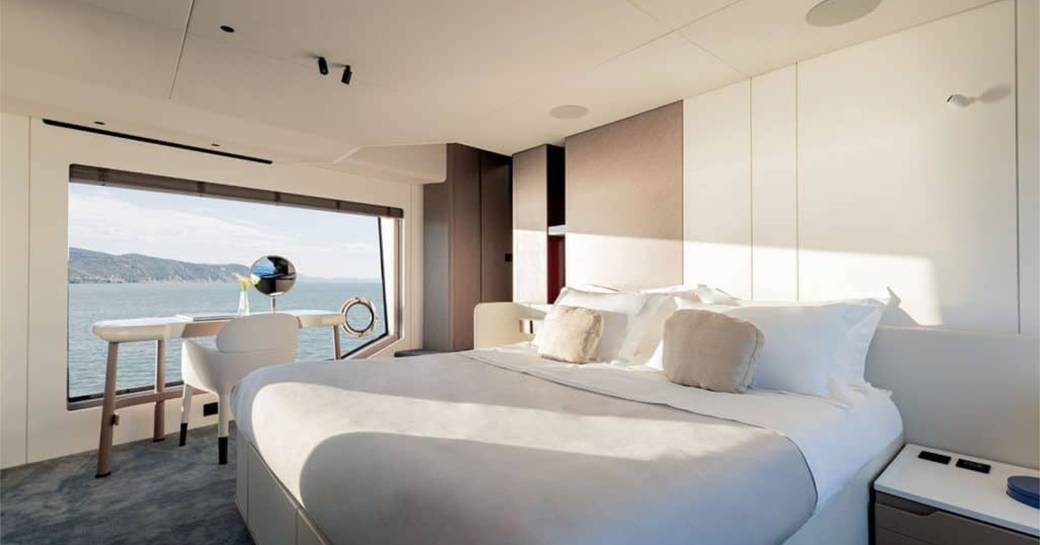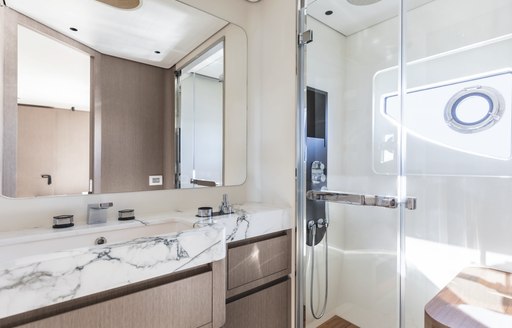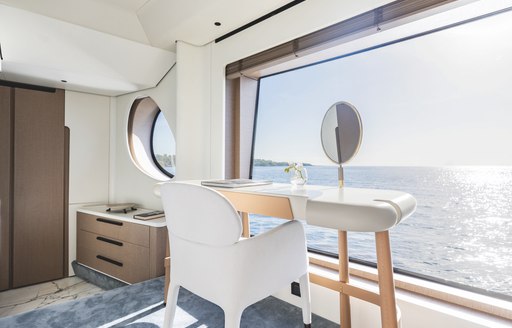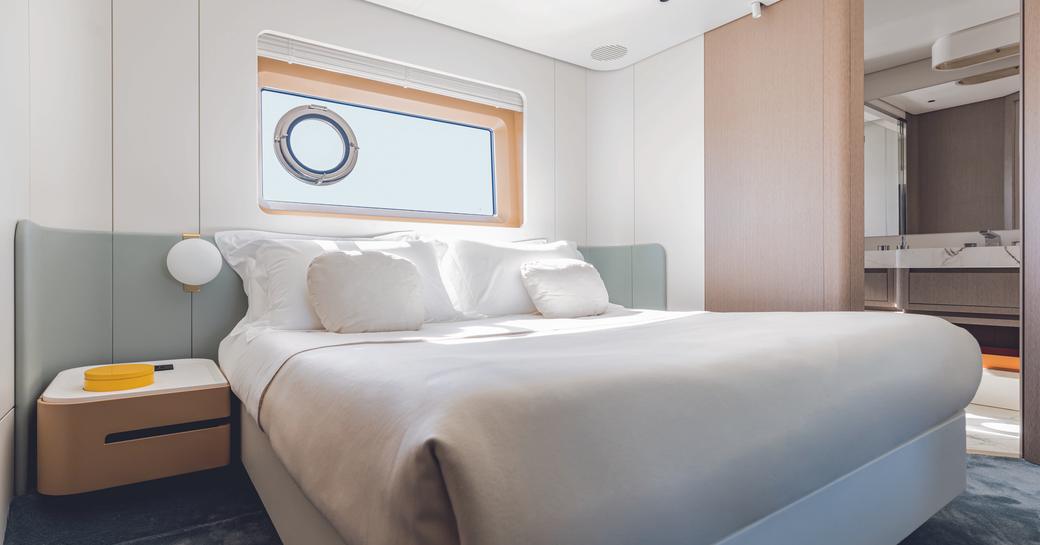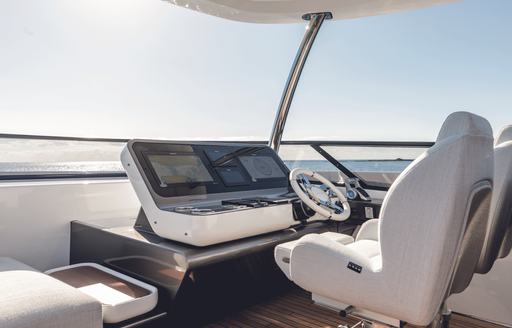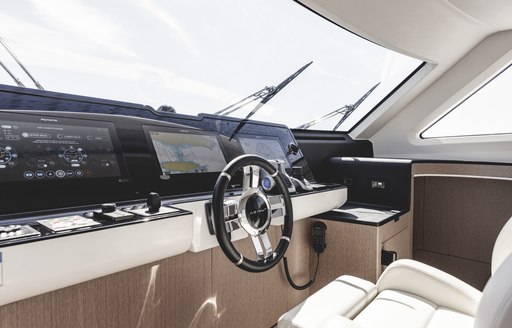 The upper deck is where the owner may well choose to take the helm, and they will be surrounded by friends if they do. The twin helm seats are set before a considered console with space for two MFD screens. The visibility is excellent while wind defection worked well during our short time at sea.
For longer passages, the lower helm elevated slightly in its own pilothouse, is the place. There is only a single helm seat, but it is a very good one. Fully adjustable with a bolster, it offers the skipper excellent support and a great view through the single-piece windscreen. It's worth noting that these mini pilothouses can often feel a little too snug and tight on visibility. The Grande 26M lower helm isn't big but it does feel bright and workmanlike with the excellent single windscreen joined by very useful side windows.
The helm console easily fits in three MFD screens with navigation equipment and controls also mounted on a console.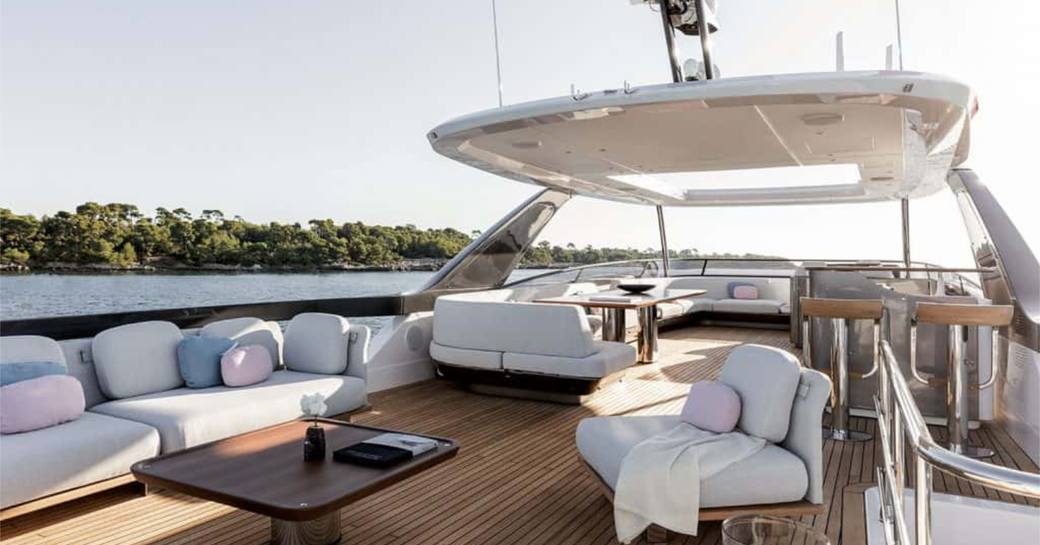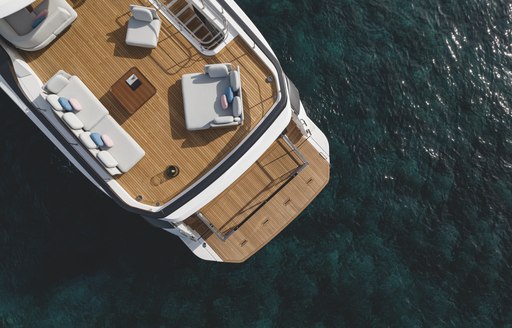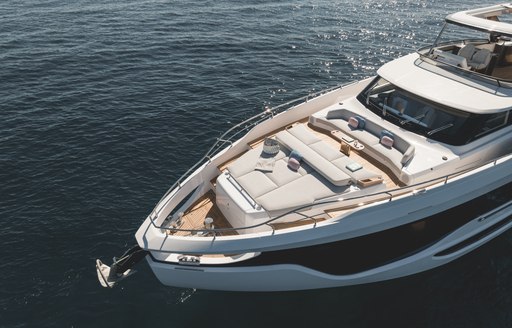 Our sea trial couldn't include a demonstration of the Deck2Deck concept but we did see it in action afterwards. It is a slightly time-consuming exercise to reconfigure the guardrails but the simple fact it exists and that it runs off an equally rare and wonderful tender garage is a pretty good place to start this section.
When extended, Azimut is quoting 18 square metres of deck space in total and one pretty special elevated terrace for guests. Somewhat exposed for use in port, it's a great at-anchor addition for a boat that feels tuned into deck lifestyle.
The standard aft deck features sculpted benches facing in on an extending dining table. The scene is very superyacht even before you've run out the Deck2Deck extension.
Always Practical, Always Cool
Two excellent side decks run forward, both with steps up to the raised foredeck, where many boats only have one set. The side decks are excellent, wide and teak-laid, they are bordered by stainless steel stanchions rather than a bulwark. This has the twin effect of looking fabulous outside and allowing guests inside a great view out. There's also a proper overhang, the overall effect is about as superyacht as you can get this side of 30m.
The foredeck is a ridiculously long sweep of luxury, with facing lounge seats leading to a massive sun pad. The necessities of yachting life are then neatly squared away in a lower level, where lines can be worked and anchoring duties performed.
There's only one way to access the flybridge, with no internal stairs, and it's the traditional steps up from the aft deck. The term 'flybridge' doesn't really do it justice, though. This is an upper deck with a helm station, neatly and discreetly set forward to starboard.
Two handsome teak and stainless steel bar stools greet you at the deck entrance and that lifestyle vibe remains at all times, although in a softer, more laid-back way. The vast one-level deck has cool, pebble-like loungers across its aft, open to the sun. The rest of the seating lies under the hardtop and sunroof, a massive dining area and lounge wrapping around the port side, served by a full bar and grill.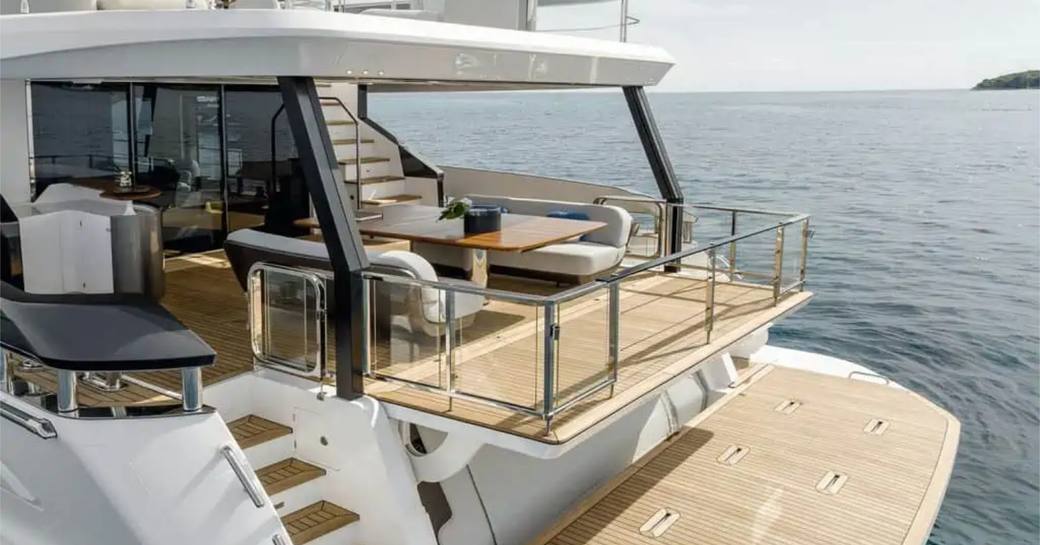 All Azimut models sit at the premium end of the market. The great thing about the Grande range is that the design, style and flair that makes these boats so impressive come as standard. There are plenty of options on finish, but it will all sit with those modernist Salvagni style parameters.
The technical advancements of the yacht, the efficient pod-drive propulsion, active trim system, air treatment and extending deck system are all part of the 26M package.
Our Options & Pick
On the basis a stabiliser isn't really an option anymore, you still have to pay extra for it but it's a must-have for after-sale value, the main option to consider will be the engines. Normally, for a big cruising yacht such as this, the standard 1550hp 26-knot option would be the one to go for. But there was so much performance to enjoy between 23 and 30 knots that it really would be a shame not to, at least, the larger motors.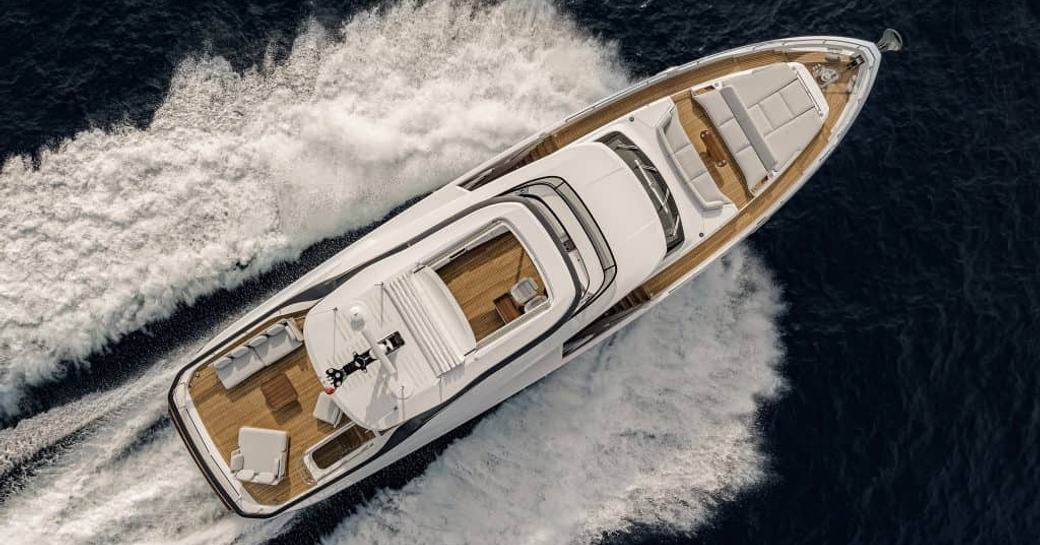 Azimut is a true yachting trailblazer, but it has surely surpassed all previous moments of game-changing design with this Grande 26M. What impresses us most is the way this Italian yard has delivered all the avant-garde attitude we have grown to expect, and love, while also laying down an unbeatable five-cabin cruising package. Through intelligent and often brave design that runs from the shape of windows to a unique pod drive, Azimut has triumphed. And the really exciting part is, you get the feeling this is just the beginning.
Reasons to Buy
Fantastic five-cabin design
30-knot performance
Unique, high-power pod drives
Deck2Deck headlines feature-packed yacht
Things to Consider
Subjective styling
Lack of storage
Rivals to Consider
We have seen massive design progression across the flybridge size ranges, but few have been as active as this 25-28m, superyacht-entry sector. Some builders have evolved the genre, some, like Sirena, have torn up the rule book completely, while Princess has been clever enough to do both.
The Sirena 88 is an obvious place to start because it is so different and successful. Offering up to six cabins, a massive flybridge, a very different modernist style and some impressive performance that hits 26 knots but also covers some 2,000nm at 9 knots this is a uniquely brilliant boat. It is probably the first to come with a Hammam too.
Princess has its clean Princess Y85 for lovers of more conventional flybridge ideals. The four-cabin layout won't hold any surprises but the space on offer, inside and on deck, might, as will some powerful 30-knot performance. If you want something different, the X80 throws down a style gauntlet to match the Azimut and adds an upper lounge and the option of five cabins with a main deck stateroom or four cabins with a massive main deck salon and dining area that pushes right forward. The shorter hull length means the crew quarters are aft, with no garage. The X80 looks big on the water but can still hit 30 knots.
Both the Ferretti 860 and Sunseeker 88 Yacht are big powerful flybridge yachts in the more conventional sense, with four cabins below decks and sweeping upper decks. The benefit of this conventional layout is a bright open lower helm station that feels part of the yacht, where guests and crew can join the skipper. The Ferretti 860 is the more recent design with a clean exterior and vast open salon, there's a tender garage too.
All of the Azimut's rivals are shaft-drive boats with fast cruising and top speeds that can hit or get very close to 30 knots. The Sirena is the stand-out with its mix of range and pace.
Specifications & Performance
Builder

Azimut

Range

Grande Collection

Model

Grande 26M

Length Overall

85.597ft

Beam

20.669ft

Draft(full load)

4.593ft

Hull

GRP
Cabins

5

Berths

10

Crew

3
Yacht Type (Primary)

Superyacht

Use Type (Primary)

Cruising
Fuel Capacity

2,272 Gallons

Fresh Water Capacity

396 Gallons
Engine Model

2x MAN V12-1650
Performance Data
*Data collected by Yacht Buyer during testing.
Test Engines Twin MAN V12-1650
RPM
Knots
Liters Per Hour
Liters Per Mile
Range (nm)
Decibels
ECO

1,000
10.5
64
6
846
-

CRUISE

2,000
23.7
442
19
277
-

MAX

2,350
30.4
656
22
239
-
Yacht Load: 60 Litres of water 60 Litres of fuel 12 members of crew air temperature of 25 °C