The Hawk family and particularly the Superhawk name has always been about cool but very capable sportsboat style. This latest model, the first to bear the name for a decade, continues the trend with a sharp exterior design that really delivers onboard. We checked out hull #1 to see whether this latest Hawk will soar as high as its predecessors.
Sunseeker Superhawk 55 Key Facts

LOA

17.13m

Model Year

2023

Cabins

2

Max Speed

38 knots

Status

In Production

Yacht Type

Sports Yacht

Use Type

Weekending
Test & Review Video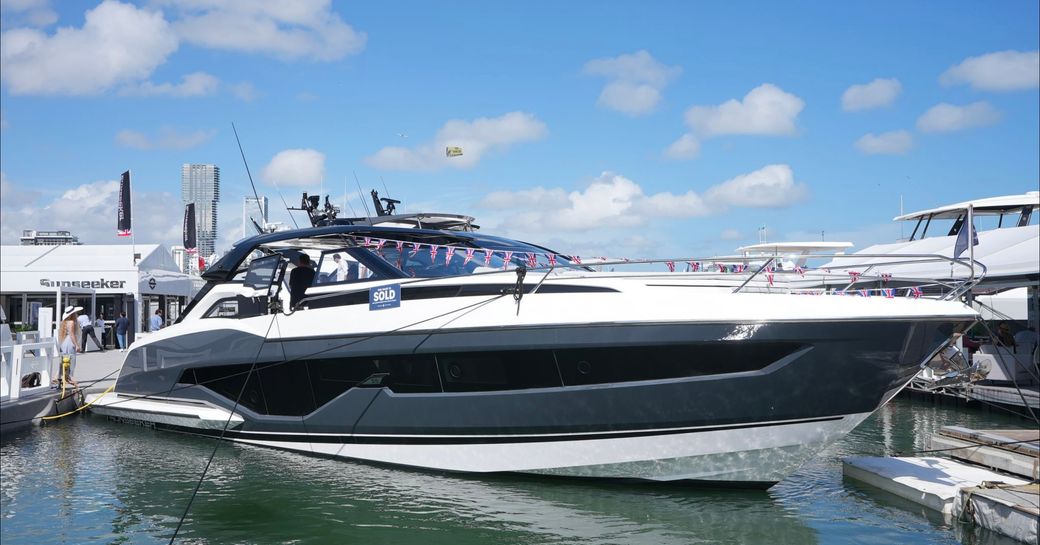 Few if any other yacht builders have a sports pedigree to match Sunseeker. Still based on the Jurassic Coast of England, Sunseeker was born out of powerboat racing around the British Isles, teaming up with renowned race designers like Don Shead and Fabio Buzzi on its high-octane journey.
Put simply, sportsboats matter to Sunseeker and you can see that it has poured so much time, thought and know-how into this boat. From the moment you board, with its neat Seabob boot, countersunk tender garage and tidy fairleads, the Superhawk is working.
The cockpit and interior keep up the pace, loaded with features and a surprising amount of space. The design allows the cockpit to run full beam, maximising the 4.9m (16ft) on offer. Smart side doors hinge out onto a deep, walkaround-style forward deck section to ensure practicality remains, no climbing over slippery foredecks here, but the design still somehow ensures the interior below is unaffected. In fact, the space below decks is surprisingly good. This is the biggest Hawk yet and it really feels it inside.
New Hawk, New Times
Since the last Superhawk arrived, this market has gone through a revolution of speed and hedonism, fuelled by the superyacht tender market. Where once it was rare to find a $1m, 50ft sportsboat, it is now commonplace. So Sunseeker had to deliver something special. And it has. But one area where it has decided to remain conservative is on speed.
No one is going to suggest 40 knots is slow, but clearly Sunseeker has decided to make the Superhawk usably quick rather than outrageously so. It all goes back to its real-world offshore racing days. Sunseeker knows that anything much past 40 knots requires a very different mindset onboard, one where safety and skill at the helm massively increase. It decided to opt for a Volvo Penta IPS-950 725hp pod drive installation to deliver fast, efficient and very usable performance.
Others in this field are pushing way past 50 knots, with Tecnomar's recent 63 Lamborghini collaboration hitting 60 knots courtesy of twin 2,000hp engines. It all depends on what you want and, more importantly, where you boat. If there are waves, 40-knots is plenty.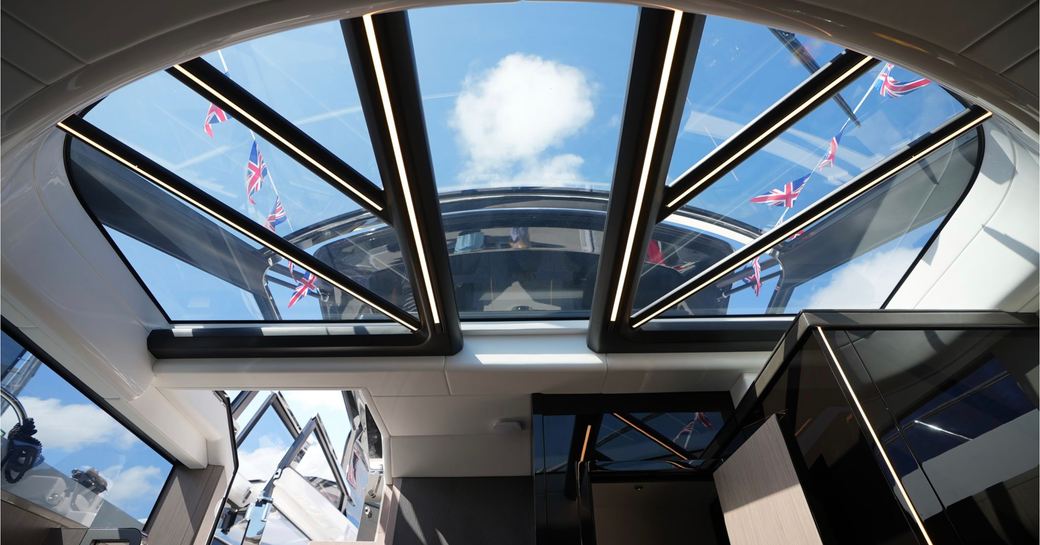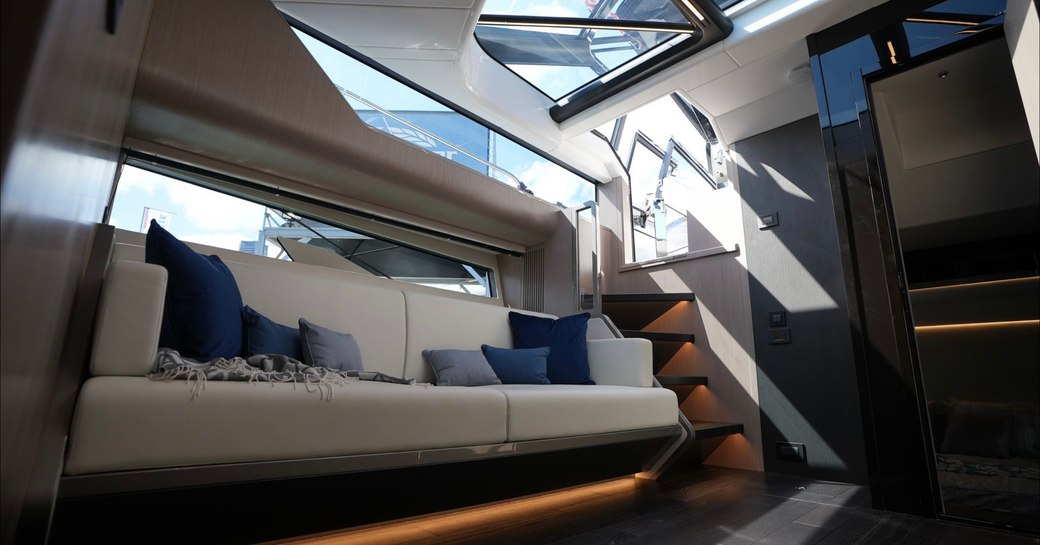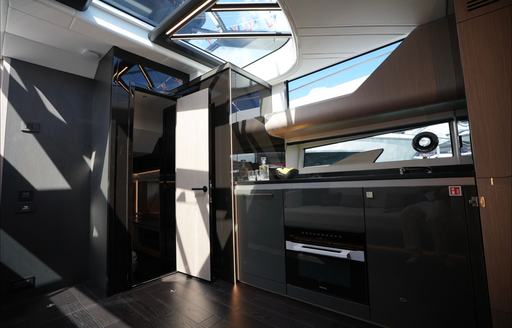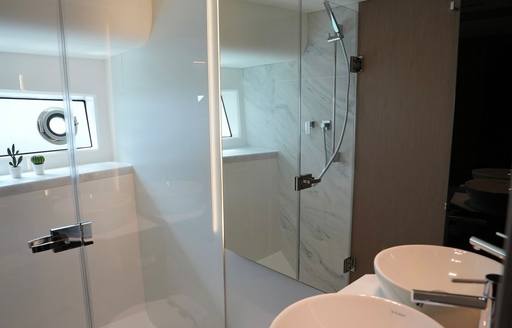 Hawk models of the past were always more about sleek lines than spacious interiors and having experienced the sharp exterior and innovative deck design here, we were not ready for the space that opens up below decks.
A massive lower salon greets you. The headroom is incredible as is the finish, combining to create a modern, architectural feel that is also very inviting. The level of design that has been poured into the salon is outstanding, a mix of Zaha Hadid and supercar. The towering headroom is capped by an atrium-like glass deckhead with an industrial, tubular lighting matrix across it. It's new, unique and very Superhawk.
Super Cruiser
It is hard to see the Superhawk as anything other than a very cool and capable weekender but the galley and two ensuite cabins certainly have other ideas. There is a full-height fridge freezer, cooker, hob and even a dishwasher. Storage is tight, but the cockpit will be able to take plenty of overspill, as we will come to.
The owner's cabin lies forward, with an easily accessed double berth, a TV and hull windows. It feels big, as does the wardrobe and ensuite, with a proper shower stall. That still leaves a separate, full-beam mid-cabin for guests. There is a good entranceway but not quite full-standing headroom around the berth. The clearance above the bed is good and it feels like a proper cabin with its hull-side glass and ensuite.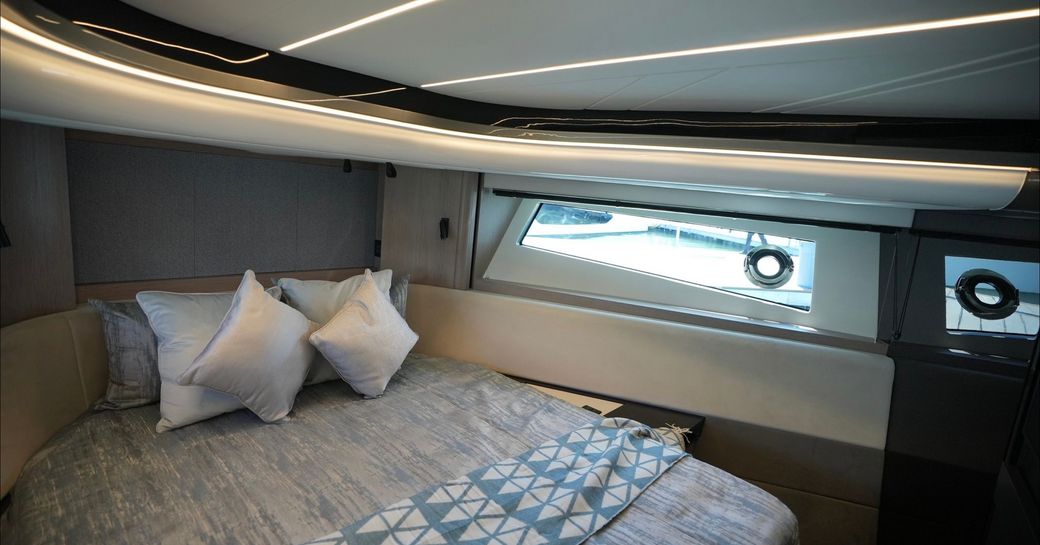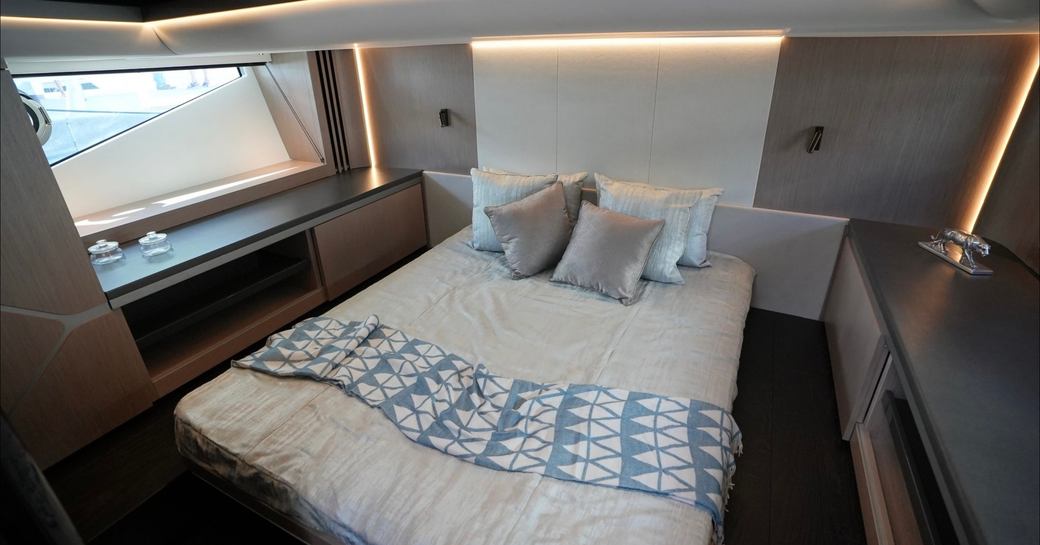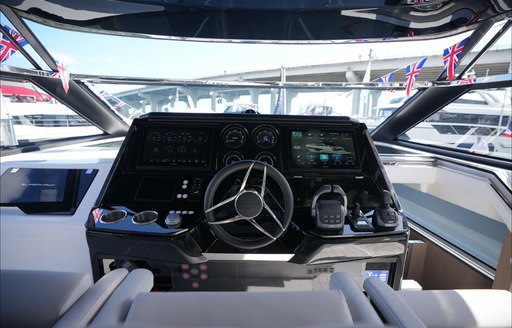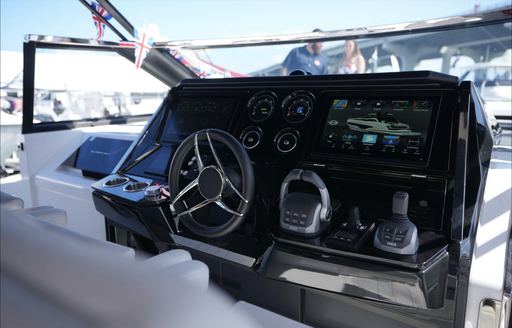 A race boat helm for this Superhawk feels right and looks superb. The central helm position, with co-pilots to each side, allows the skipper to look directly over the bow, snug bolster seats looking after you very well.
The digital cone-dials are a great touch, adding another hit of powerboat cool, with two big MFDs taking care of the navigation and engine data. As an IPS boat you get joystick control, but also a bow thruster, so handling this boat around the marina won't be an issue even if short-handed.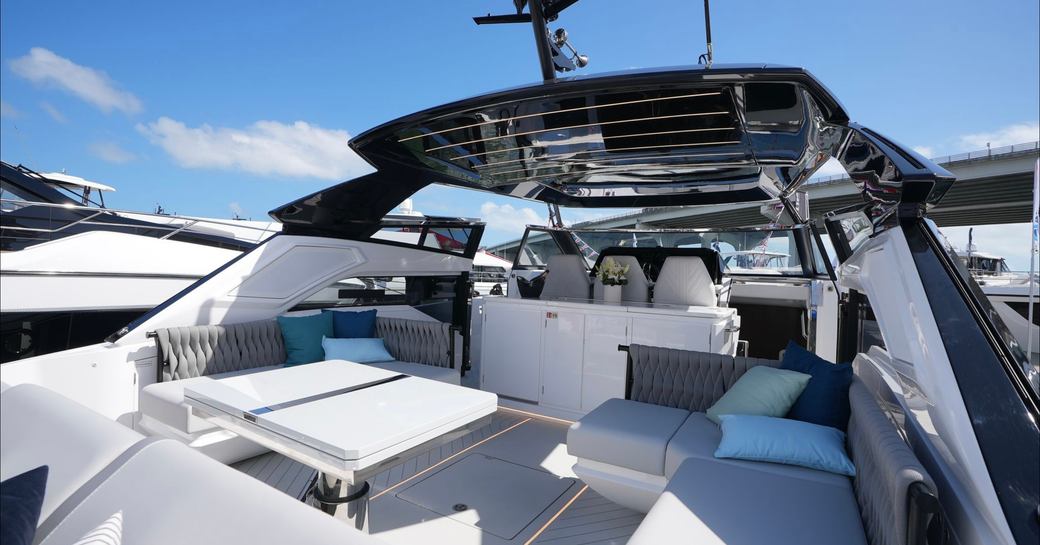 If the interior was the surprise, the deck is the gift that keeps on giving. Watch our show tour of the Superhawk to best understand the versatility and functionality at play here, but the main stories are the cockpit seating design and walkaround decks.
The cockpit, topped by a graphite hardtop, is probably the best and most practical example yet of the sliding seat concept. The best because it works so well and the most practical because its simple design will keep on doing so, while also allowing a colossal amount of stowage to be worked in.
The standard layout creates a spread-out surround of seating leading onto a sunpad. The pad lifts and hinges to create various backrests or create a bench seat for the cockpit. The two forward L-shape seats can then pull in to make a dining area for a good 10 people, the table opening and revolving to look after them. But there is more than seating going on here, the L-shape seats pulling away to present a line of deep lockers to each side.
The cockpit is served by a broad wet bar and grill, with plenty of cold storage, easily good enough to look after the expansive dining set-up and with a TV set within so you can watch films or sport al fresco.
Side Issues
The side deck doors will grab plenty of headlines and rightly so. They are the feature that allows the cockpit to push out full-beam and are perfectly placed for the helm, allowing the crew to get forward quickly and very safely. The door mechanism looks fabulous, with giant stainless steel hinges, but the handle to operate the door needs some more clearance to get your fingers around it.
The side decks are excellent. Deep and wide they lead effortlessly forward and make the boat perfect for those with younger children - not always the case in this market. There is one more surprise on the foredeck, the sunpad sliding forward to create a footwell for a lounge set-up. A miraculous addition considering the headroom you enjoy below.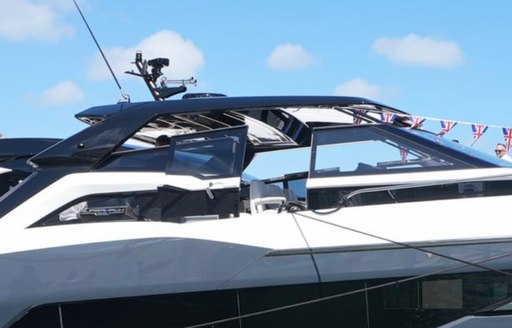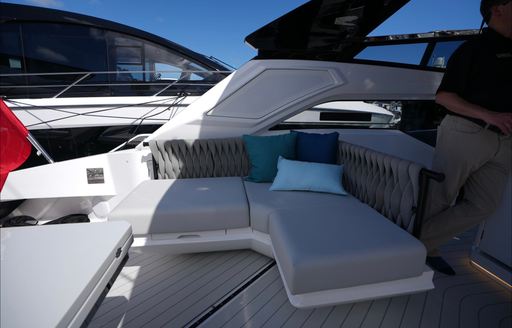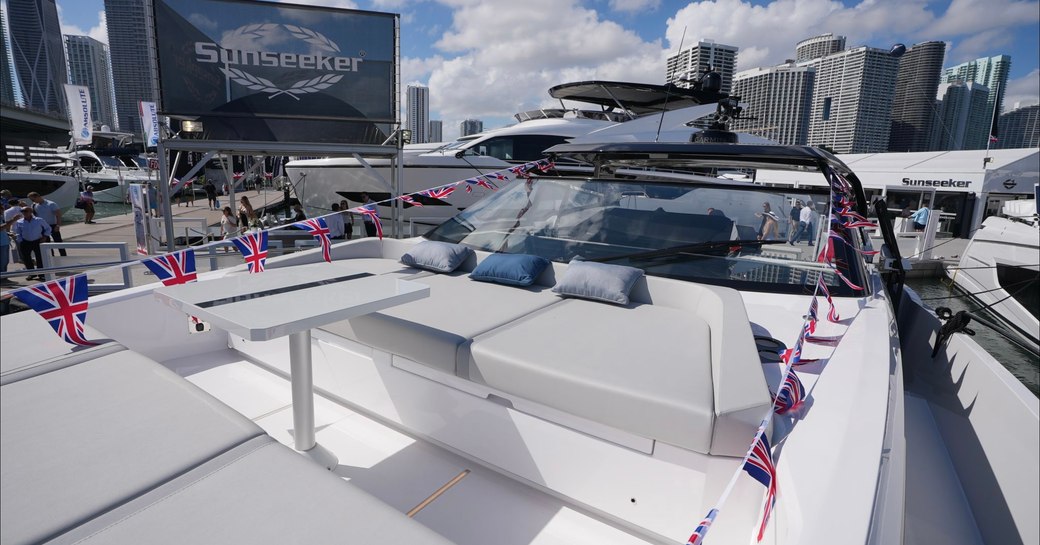 The big benefit of not going for fire-breathing race engines and surface drives is the cost saving that can be passed on to the customer. The pod drives and installation are no different to all the other boats that use the IPS-950 so that means efficient performance and sensible servicing, as opposed to high performance motors just waiting to punish you at the fuel pontoon or every time a service interval arrives.
The base price (at the time of writing) is £1.4 million ex VAT, which no doubt will rise as the most desirable options are added but for something so stylish and useable that feels like relatively good value, certainly in contrast to some of its more exotic rivals.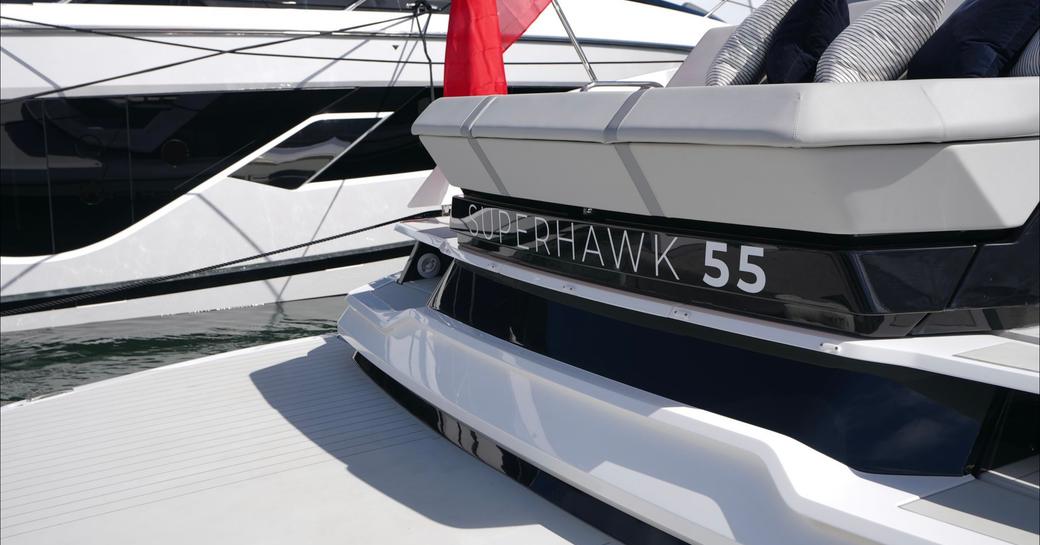 The biggest ever Hawk doesn't disappoint. It looks fast while standing still, delivers fantastic deck lifestyle and a tardis of an interior that belies the sleek powerboat style. 40-knot performance might not grab any headlines but if the latest Sunseeker hull design allows all of that speed to be used, this boat will rank as one the the best sportsboats out there and another Hawk great.
Reasons to Buy
Excellent deck design
40-knot IPS-950 performance
Surprisingly spacious interior
Central race-style helm station
Things to Consider
Lack of engine options
Door mechanism
Rivals to Consider
This 50ft sportsboat market is now hugely competitive. But if you want a performance boat that also functions as a cruising yacht the field narrows.
We have discounted the very many 17m hardtop sports yacht models as they form a different market and, if we did include them, we would be here all day.
Two obvious rivals stand out, for different reasons. The Wally 58 is another IPS boat hitting around 40 knots and near identical on size to the Superhawk. But it is a Wally so there are three IPS-700 drives and the styling is, well, Wally. It arguably out-spectacles the Superhawk on deck, with its extending cockpit and spread of seating beneath its stealthy hardtop. But there is less accommodation below. The salon and forward cabin are just as special as the Sunseeker's but the optional guest quarters are tight.
The other name that any sports-lux review should include is Riva, it's Rivale model is a more conventional design onboard, with a similarly two cabin layout to the Sunseeker, but it looks utterly beautiful outside and will hit 38 knots with the biggest 1,200hp MAN engine option.
Builder

Sunseeker

Range

Performance

Model

Superhawk 55

Length Overall

17.13m

Beam

4.93m

Draft(full load)

1.43m

Hull

GRP
Yacht Type (Primary)

Sports Yacht

Use Type (Primary)

Weekending
Fuel Capacity

1,800 Litres

Fresh Water Capacity

430 Litres
Engine Model

2x Volvo Penta D11-IPS950

Engine economic speed

8.6 knots

Engine max range (speed type)

369 nm
Sunseeker Superhawk 55 Layout