The SR36 and SR41 are both two-cabin yachts offering a very solid, highly considered sportscruising platform with plenty of fun features added to the mix. On paper, Bavaria has delivered the same combination of fun, function and four berths for this 33 model but will the full SR package work on an 11m model?
Bavaria SR33 Key Facts

LOA

37.402ft

Model Year

Cabins

1

Max Speed

30 knots

Status

In Production

Yacht Type

Sports Yacht

Use Type

Weekending
Test & Review Video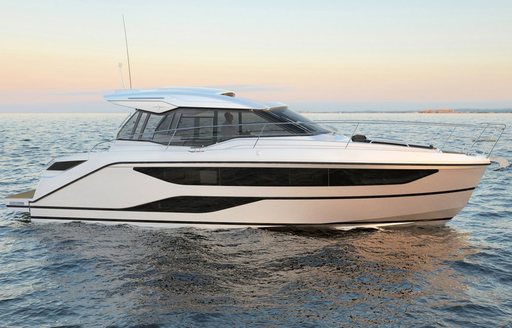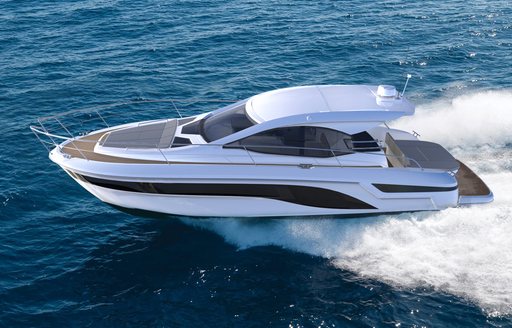 Before we get to the fun stuff, let's deal with some serious cruising know-how. Bavaria has been building smart, user-friendly, value-for-money sportscruisers for a long time. Its earliest designs, in collaboration with J&J, still look good today and always, always, get the basics right. Safe decks, lots of stowage, dependable but agile hulls and plenty of space inside are guaranteed.
Bavaria was also one of the earliest innovators of hardtop designs below 20m and every one of them looks right. Never bulky or bubble-like, always sleek.
The design mantle has now passed to Marco Casali but all of the above still holds true across the SR range. The boats still look the kind of smart that you know will impress in 10 years, but Casali's work also brings in more detail and finesse. Look at the SR33's elliptical mid-cabin window design for evidence.
There is also a good range of petrol and diesel sterndrive engines to choose from and 30 knots is assured. The diesel options do put some pressure on the €248,000 ex VAT base price, taking it up towards €300,000. Bavaria is looking at a single-engine variant that should bring the price down further. It might also help with efficiency, a factor given the SR33 has a 500l (132gal) fuel tank, small compared to its rivals.
Interior Balance
The headline-grabbing SR transom seat, making full use of the broad stern of the boat, is the standout feature and one that will lure in many buyers for a closer look, but it is the overall balance of the design, particularly below decks, that will make or break the boat's success.
One of the big design questions is why build three, four-berth models that are a matter of inches apart? One factor is price. Smaller engines and less boat to fit out create a range of pricing that starts at that €250,000 base figure but will then run up past €500,000 for the SR41.
The 11.7m SR36 and 13.2m SR41 both have two separate sleeping cabins. The 41 has two toilet and shower compartments to the 36's one and feels the bigger boat. If you plan to cruise as two couples, the two heads and more space make sense and there is a useful gap in price between the two boats to help make up your mind. So what does the SR33 bring?
Open & Closed Case
Going on model names, the SR33 sits usefully below the SR36 but is actually just 11in shorter. The cockpits are near-identical. You do feel the lower LOA below decks on the SR33, but not much. The big difference is an open-plan main cabin with the forward double berth only curtained off. By not trying to create a separate forward cabin, the interior feels relaxed and leaves room for a decent pantry area and a near-identical toilet and shower compartment to the SR36.
If you cruise as a family, or a couple, the layout works. If the latter, the open cabin design becomes your own stateroom complete with a lounge, bar and ensuite. There is still a proper, separate mid-cabin with full-standing headroom in the entranceway, plenty of ports and a useful bench seat. If you need two separate cabins, you want the SR36. If you want to pay for that bit more space and a private toilet and shower it's the SR41.
It's all starting to make sense.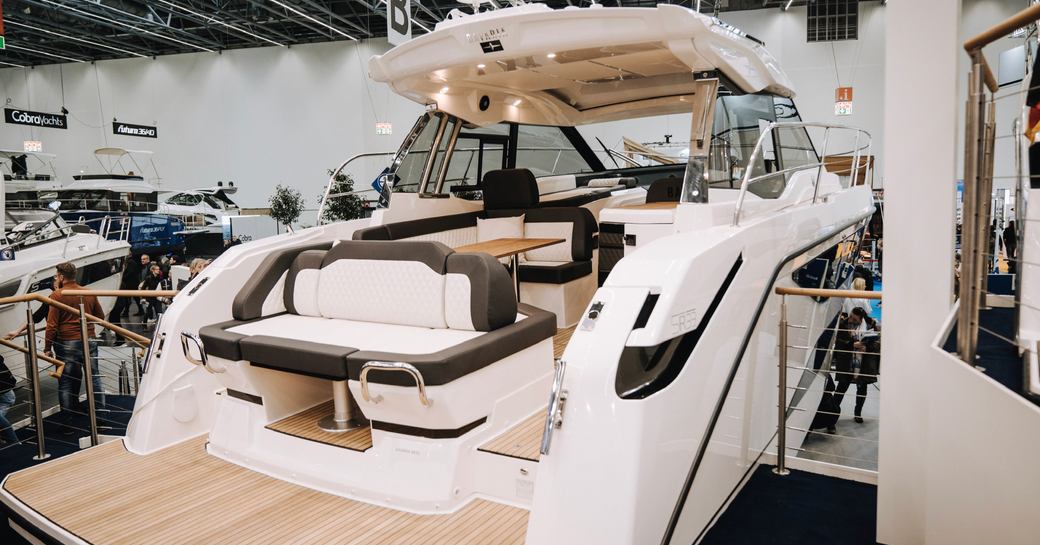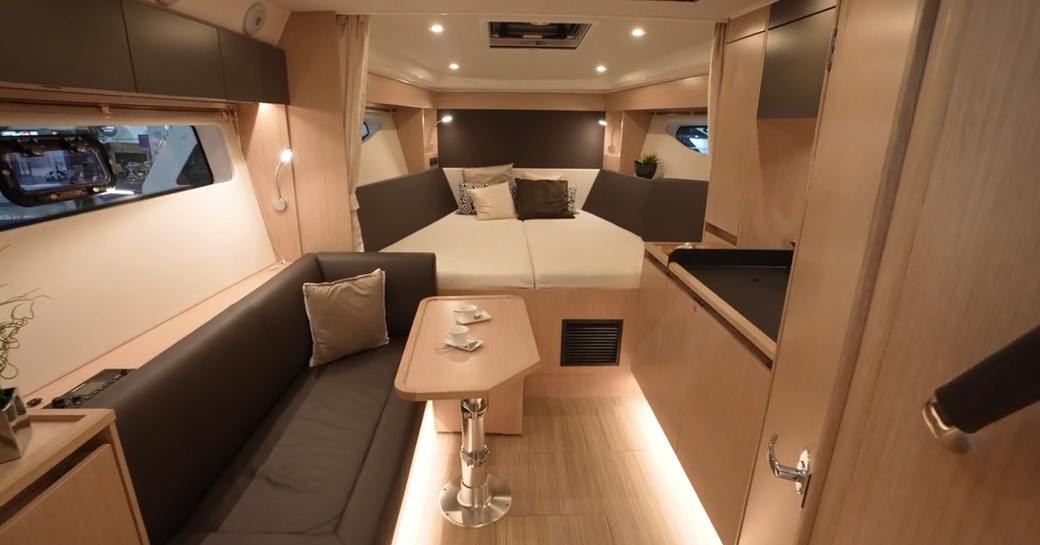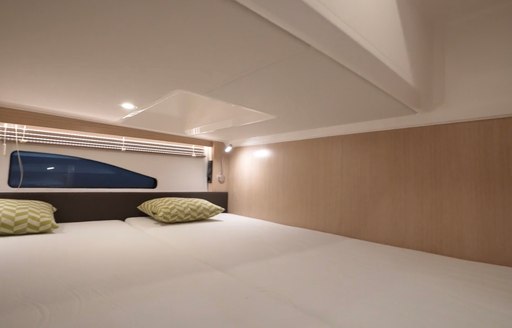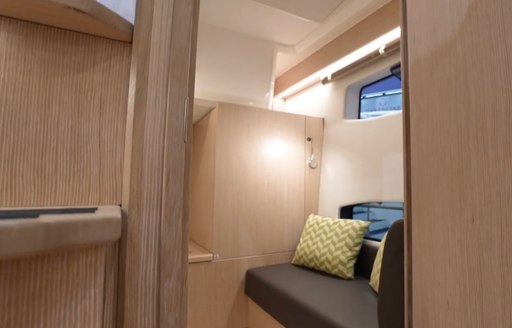 An SR trait that we fully agree with is cooking on deck, or to put it another way, not cooking below. The SR33 does have a galley unit below decks but this is for stores and extra refrigeration. There is a good deep sink for washing up too. The neat dining area, opposite, is functional rather than convivial. The bench and stool create a place to gather, drink coffee and eat in privacy.
The open forward double berth sits low and is easy to access, with lockers and pockets surrounding it. Good stowage is a trait across the SR33, with lockers everywhere and clean storage voids under seats and berths. It is worth noting that other boats in this size class do offer a closed forward cabin, but few manage to offer two cabins and a lower lounge, and none feel as big and spacious as the SR33.
I was assured the toilet and shower compartment is not identical to the SR36 but it's pretty damn close on size and the same on design. The toilet and shower are sensibly separated from the sink and vanity unit, a layout that keeps one half of the compartment dry and creates a seat for the shower.
Separate Mid-Cabin
Through its portside door, the mid-cabin is impressive. Bavaria has pushed the cockpit footwell a good way aft so you have standing headroom well into the cabin. The SR36 features a bench seat that could be a child's berth, here it is simply a seat, but a very useful one where you can spend time and enjoy the view through two tiers of hull-side windows.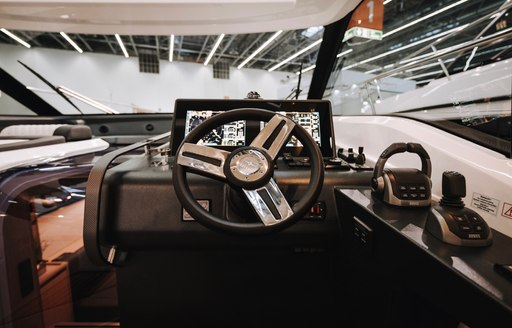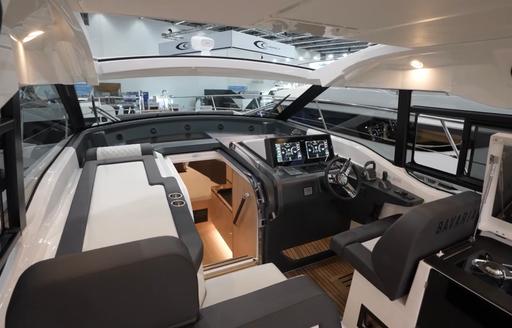 The single helm is joined by a raised lounger and neat little seat to port, so two or three people can join the skipper. There are sliding side windows to each side, not only allowing some useful ventilation when the sunroof is closed but also easy communication with the deck or shore.
The console design is straightforward but given a lift with the optional Glass Helm, a single-piece Raymarine design with two 12in MFD screens. Bavaria's confident character is reflected in a smart sports steering wheel and heavy branding to the seat, its know-how is seen in the throttle set-up with the optional joystick set well back.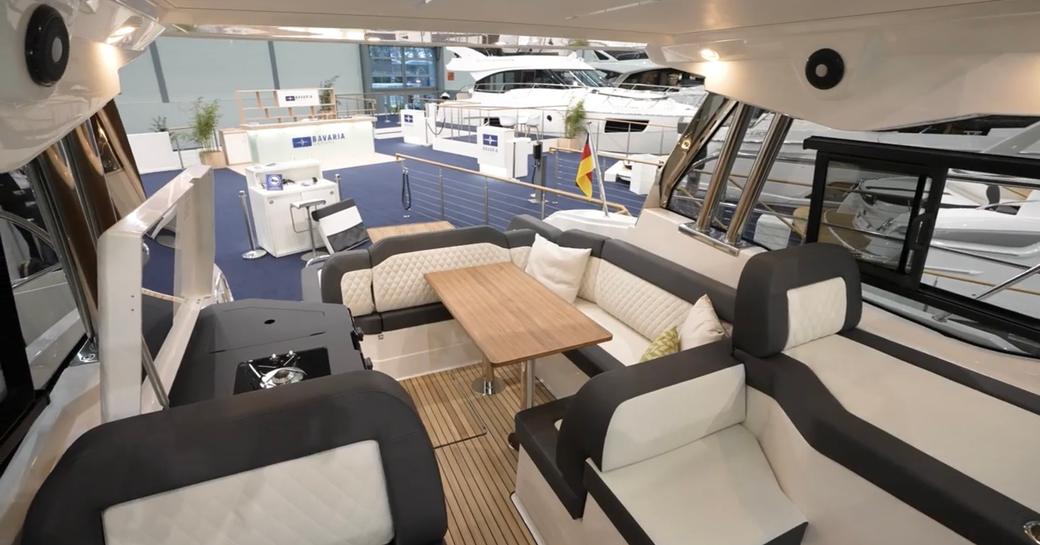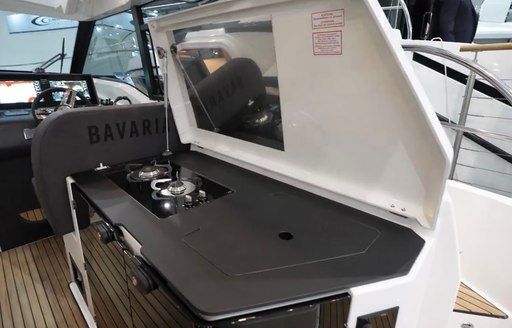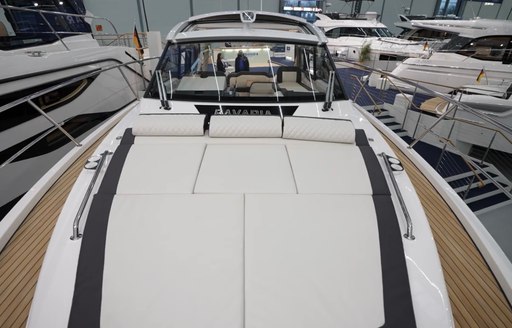 The SR transom seat design runs across the three models and is arguably at its most impressive here, given you still win a great lounge and seascape vista on a smaller boat. It is open to the elements, sitting outside of the hardtop overhang, and will easily convert into a sunpad. The telescopic table or extra storage infill are options but you get storage space under the transom seats anyway.
The transom design creates excellent dual access from the swim platform and onto the side decks, with ideally placed grab rails and stanchion posts that push a good way aft.
The fact that this 11m boat has proper side decks should not be overlooked. Many boats at this length struggle to provide decent decks, some do not bother at all. Here, we have two wide, safe decks that take you up to the foredeck. There is no foredeck seating, as with the Beneteau GT32 or Regal Grande Coupes, only an optional pad, but you have the transom lounge.
A Cooking Cockpit
The transom seats merge with the cockpit lounge, a pivoting backrest creating the connection. The wet bar is a key feature, most boats have them but this one is bigger and designed to be used with a two-burner hob and deep lockers. The additional wet bar fridge is an option, as it is on most boats.
The hardtop design has the option of a GRP electric sunroof as you see here, or a far more sensibly priced canvas roof. There are pros and cons to both, the canvas has a shelf life, the electric sunroof gives you less sky for more money. In either case, you will need to pay more for the aft canopy curtain.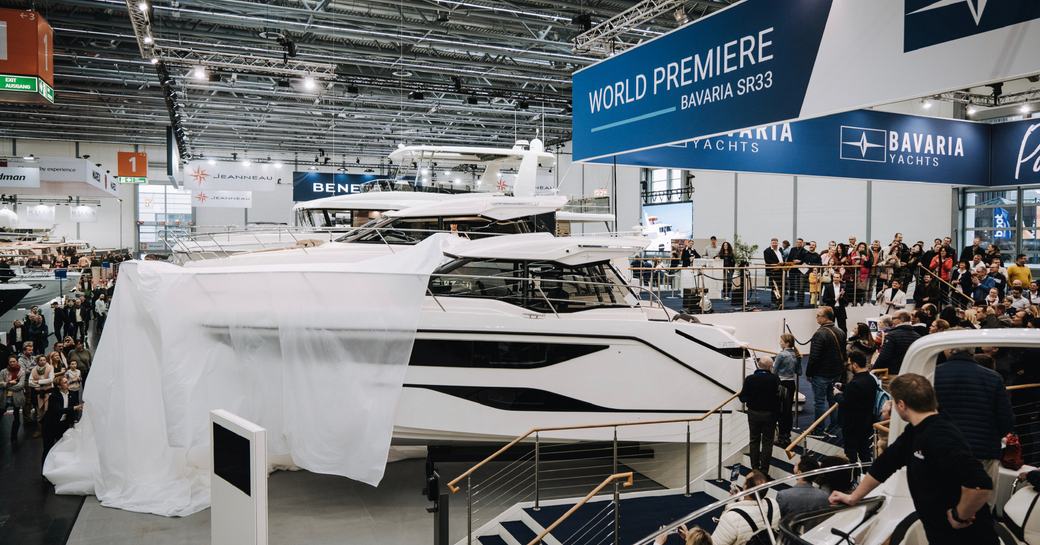 One of Bavaria's strengths was delivering diesel-powered sportsboats and cruisers to a global market dominated by petrol-engined US brands. European buyers, particularly, liked the lower running costs of a diesel boat that could still blast along at 30 knots.
There was still some work to do on the options list but the overall package, petrol or diesel, was high on value, practicalities and style. That is still the case, although the pendulum might be swinging back to petrol.
The €290,000 Volvo Penta D4-300 diesel base price is still good value when you look across the market but it does change the dynamic of this boat, to the point where the standard €248,000 355hp 6.2l V6 Mercruisers look like the right option. The €10,000 extra for the Mercruiser joystick, compared to the €15,000 you pay for the Volvo Penta one, underlining the point. A bow thruster comes in at €5,000.
Away from engines, the optional €15,000 Comfort Package gives you some fun underwater and deck lighting, smart teak decking, the cockpit fridge and electric flush toilet. The GRP sunroof is close to €8,000, compared to the €1,700 canvas option, and the smart 12in Simrad Glass Helm is around €9,000.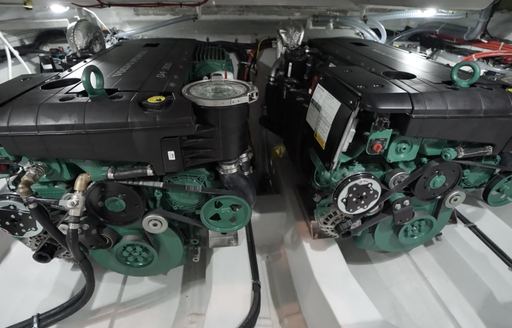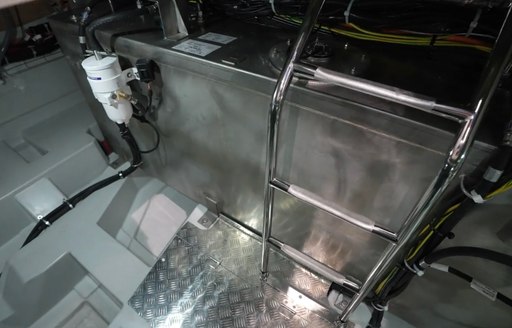 This review started by asking how this close-knit range made sense and now we know. The SR models offer buyers that boating rarity of clear, simple choices. The gradual steps up in size, space and cost are easy to calculate, underpinned by that fun/functional design that flows across all three models. The SR33 has a strong claim as being the best of the bunch, though, by delivering the SR cruising package so well in a smaller hull. And it's worth finishing with the point that everything that makes the SR33 a great boat comes as standard.
Reasons to Buy
All the SR features at 11m
Spacious interior
Cockpit design
Excellent deck access and stowage
Things to Consider
No forward cabin
Diesel engines hike price
Rivals to Consider
Bavaria is so prolific under 12m we could create a rival section purely based on the German yard's models. But they do have some stiff competition from various European neighbours.
Galeon is another builder that embraces the 12m market. It has two 11m sportscruisers, both offering a very competitive package only separated by the lower deck layout. The 370HTC sounds like a bigger boat but matches the Bavaria 11.4m LOA. The HTC is a coupe design with cockpit doors, the enclosed deck salon and its galley allowing the boat to do away with a lower salon and create space for a very useful three-cabin layout below, as well as a relaxed two-cabin, two-toilet compartment option.
The Galeon 365HTS is also 11.4m and comes as standard with an open hardtop design similar to the Bavaria, but there is an option for cockpit doors. Below decks, you get a separate mid-cabin and a forward double berth open to the salon. The salon's broad wraparound-style seating can be swapped for a smaller sofa and a separate forward cabin. Both boats come with 800l fuel tanks compared to the Bavaria's 500l.
A Bavaria rivals list wouldn't be complete without a Beneteau and here we have two. The Gran Turismo 32 and 36 sit either side of the Bavaria on size, the 36 comes in at 12.4m and although a lot of that extra LOA is found on the bathing platform this bigger boat does deliver a lower lounge and a separate forward and mid-cabin. The 9.5m Gran Turismo 32 is a clever boat, with a social cockpit design that runs forward into a bow lounge while retaining enough room below for a useful open convertible dinette and separate mid-cabin.
The Sessa C3X is slightly shorter than the Bavaria but uses its space so well. The sleek exterior design will appeal to sports fans, as will the smart cockpit with its open sunpad-style aft. Below decks there is the option of a lounge or galley with two separate cabins.
Jeanneau's NC37 is a proper coupe design with a bright and multi-functional enclosed galley and lounge. Having all the living space up creates room for an impressive three-cabin layout that makes use of the space far better than the two-cabin alternative.
The Regal 36 Grande Coupe might look the most civilised of all our rivals, with its bright deck salon and relaxed two-cabin accommodation but it's the fastest boat here courtesy of an outboard engine option that pushes the 36 past 40 knots. There is also a fun lounge in the bow to enjoy the ride.
Builder

Bavaria Yachts

Range

SR-Line

Model

SR33

Length Overall

37.402ft

Beam

11.352ft

Draft

2.822ft

Hull

GRP
Yacht Type (Primary)

Sports Yacht

Use Type (Primary)

Weekending
Fuel Capacity

132 Gallons

Fresh Water Capacity

66 Gallons
Engine Model

2x Volvo Penta D4-300