The Cruisers Yachts 34 GLS is a red-blooded, thrill-seeking machine that hides a vast sweep of seating and a useful weekender-style cabin. We looked over this entry-level point to the growing GLS range at the Fort Lauderdale Boat Show and came away utterly smitten.
Cruisers 34 GLS I/O Key Facts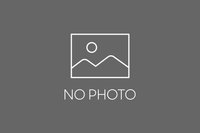 LOA

37.008ft

Model Year

2022

Cabins

1

Max Speed

45 knots

Status

In Production

Yacht Type

Sportsboat

Use Type

Weekending
Test & Review Video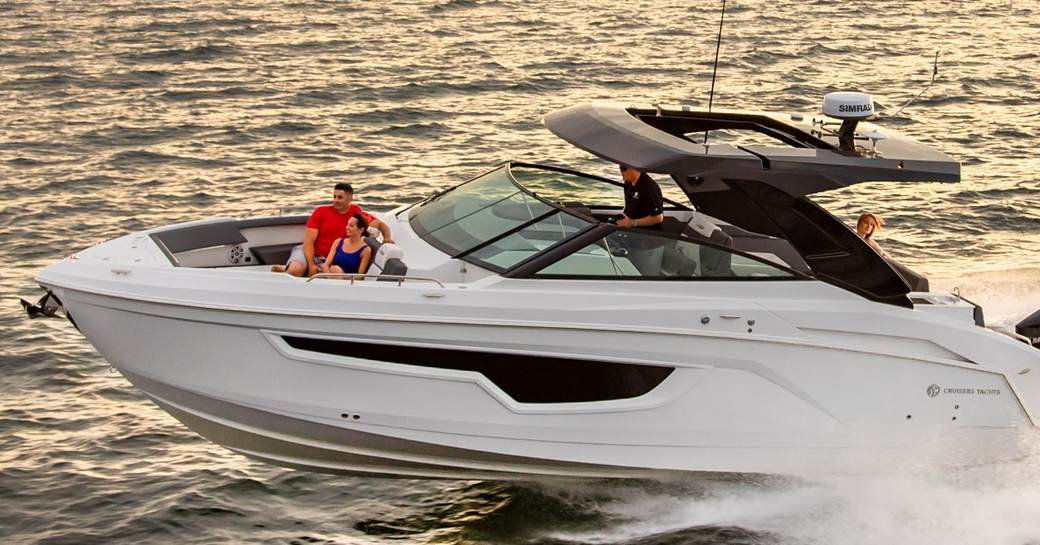 With new Scandinavian-style enclosed wheelhouse models making most of the headlines in this market, you could be forgiven for thinking the more traditional open bowrider sports boat is on the decline.
This 34GLS is a timely reminder of the virtues and sports splendour of the genre. Its sleek, aggressive lines are pure performance, with the standard hardtop not taking anything away from the look. It is a versatile yacht too. There is a multi-function layout and an impressive cabin, but let's focus on the performance first.
The deep-Vee hull can run on twin 300hp Mercury and Yamaha outboard engines or a choice of 350hp Mercruiser or Volvo Penta petrol inboard sterndrives. As well as the versatility, there is some nice symmetry at play here, with both drive types available for similar money and delivering around 45MPH. So you can choose what you prefer, safe in the knowledge that you won't get out-gunned by the alternative.
Sporty Sense
The main gain for the outboards is the vast lazarette it buys you, a massive space you can access bodily should you choose (we did) and house everything from wakeboards to fold-up bikes or a dinghy.
You won't need to store much in the way of food or drink down here because the 34 GLS is loaded with cool boxes and fridges.
Best of both?
The bowrider design of the 34 GLS, and all other GLS models, not only creates a massive sweep of seating but also has room to work in a very usable weekender cabin for two or three people, adding a Grand Tourer dimension to the boat.
The finish across the yacht is excellent, adding to the GT feel. Outside we have high-quality stainless steel fittings, onboard the upholstery is luxury car level while the lockers are fully lined and self-draining, many with gas-strut lids.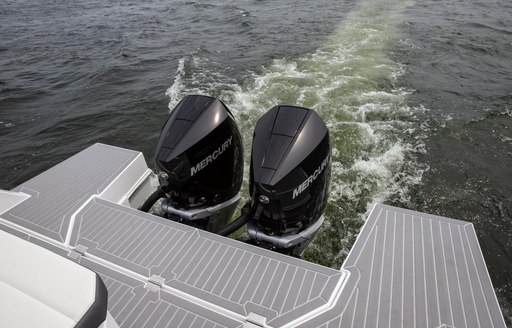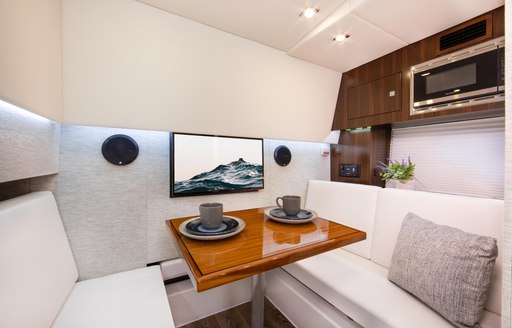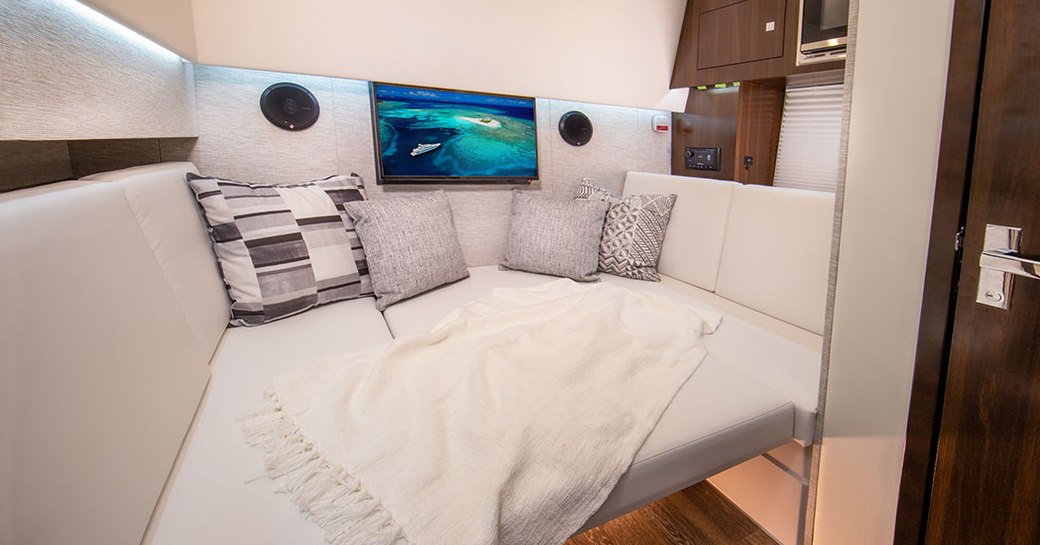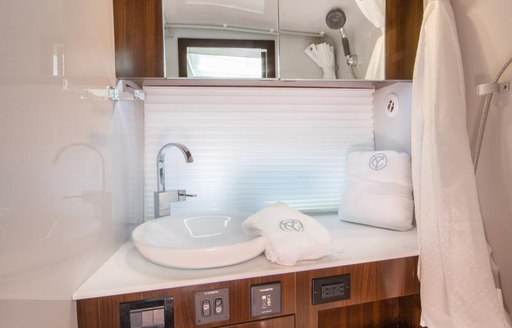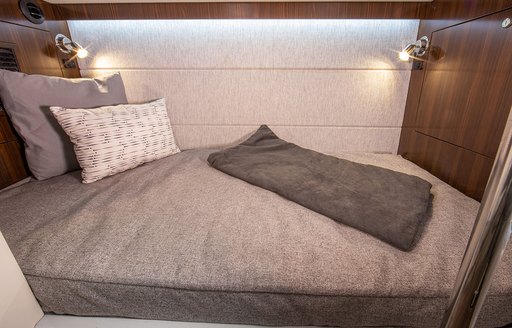 The cabin won't be the main reason you decide to buy this boat but it might well end up making you glad you did. Having a decent cabin means you can get changed, have a rest or just escape the heat - the cabin can be fully air-conditioned - but the finish and feel below decks makes this much more than a simple shelter.
The first thing that impresses is the space. The four-berth cabin is almost impossibly deep, a nod towards the Vee hull form perhaps? Down three easy treads, you are met by a convertible dinette seating layout that keeps things feeling more open than a fixed berth and creates the option to dine or simply gather privately.
A proper, full-height toilet and shower compartment and a single-berth mid-cabin - that can be curtained off - take up the rest of the interior. The cabin height allows for rich timber lockers to be worked in at eye level, plus there is a microwave and refrigerator by the entranceway.
Those sharp cutaway hull windowlines outside create some useful starboard-side glass and portholes inside, the combination of space and light creating a bright cabin you really won't mind spending time in, for a good few hours or nights at a time.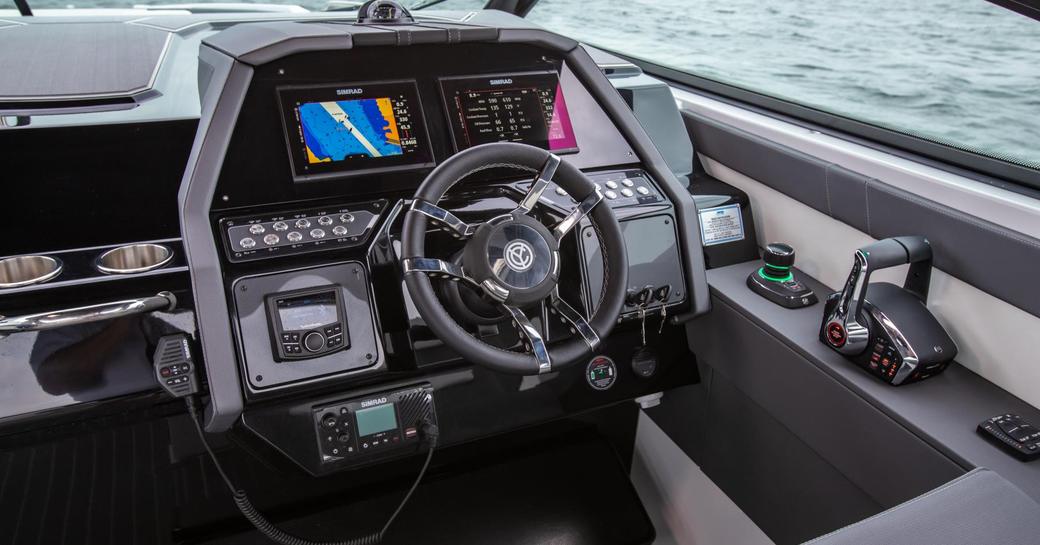 Three people can gather at the helm, the main bench seat is way more than a simple perch with a bolster and armrest that gives you the choice to stand or sit and good lateral support, both imperative at 45MPH.
A tactile sports steering wheel is joined by chunky throttle controls mounted on a port side console along with joystick control. The setup and controls are the same for both inboard and outboard engines so buyers, again, will lose nothing and only gain a great helm.
The console looks so smart in its South Beach version, the stitched finish contrasts with carbon and black fascias where twin MFD screens are the ideal addition.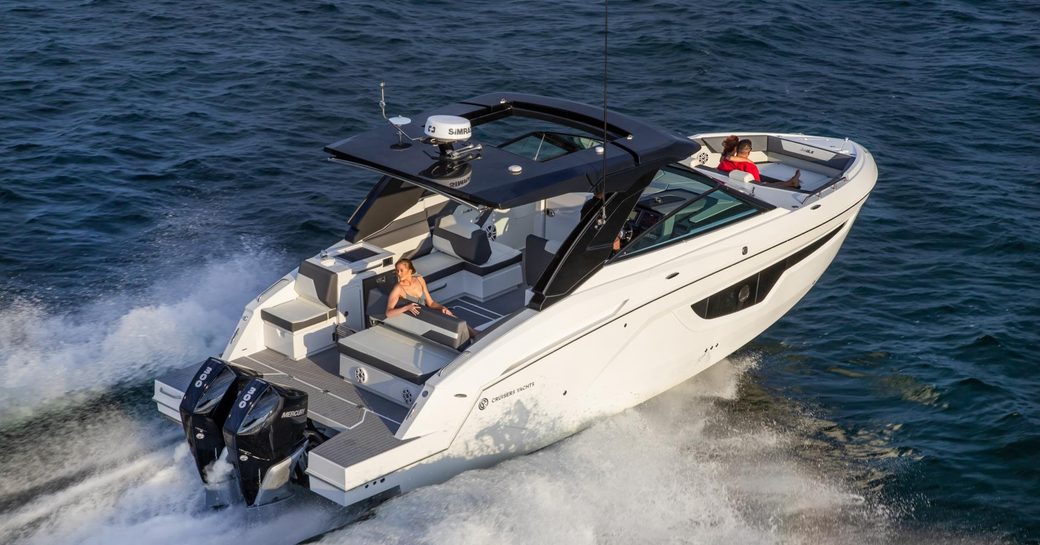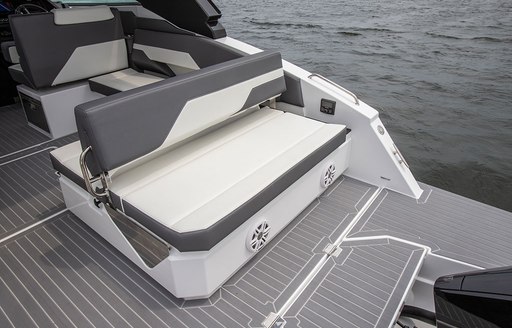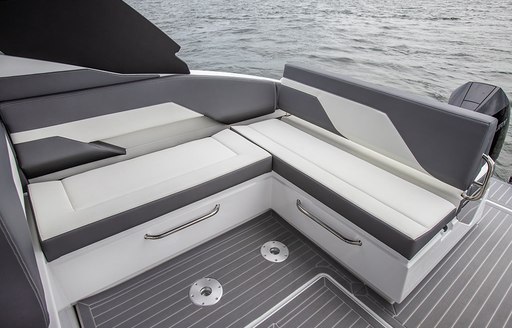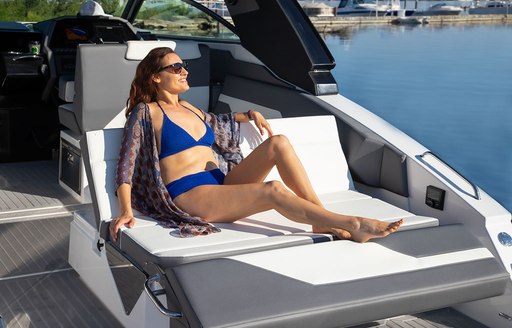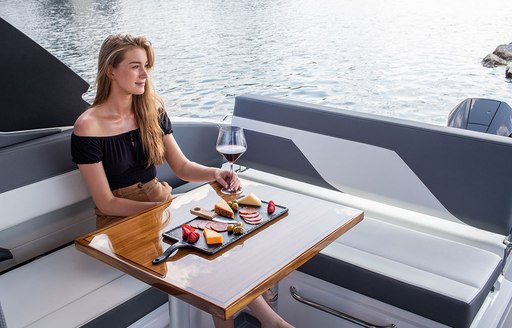 It is hard to think of another 35ft sports boat that so effortlessly delivers cockpit cool while also working incredibly hard to cater for every possible on-water occasion.
The South Beach upgrade makes a big difference to the onboard feel, the standard white GRP and ivory upholstery electrified into a black or gunship grey exterior with contrasting Okra burnt orange leatherette. In either format, the seating that runs bow to stern is beautifully upholstered and sculpted, often hinging or flipping to create loungers and surrounds.
The aft sun pad starts things off, its backrest hinging with a reassuring click to create a longer stretch of sunbathing area. Opposite is a smart wet bar and grill with the first of many fridges included. The wet bar moulding also includes a useful aft-facing seat for watersports.
The centre of the cockpit lies beneath the hardtop and is the place for shaded socialising and dining - a simple but practical table lives under the starboard bench. The central layout creates a surround of seating, the forward port side helm seat reversing to finish the job.
Ride of your Life
It's safe and easy to walk forward into the bowrider, which feels very much like the glamorously sporty epicentre of the 34 GLS character, where everything comes together into one impressive moment.
The seating is deep and supportive, hidden armrests fold out to give you even more lateral support and there appears to be at least two cup holders for every guest. At rest, it is a great place to be, at speed it will be thrilling and occasionally wet. That's why the entire deck is self-draining, as are the lockers.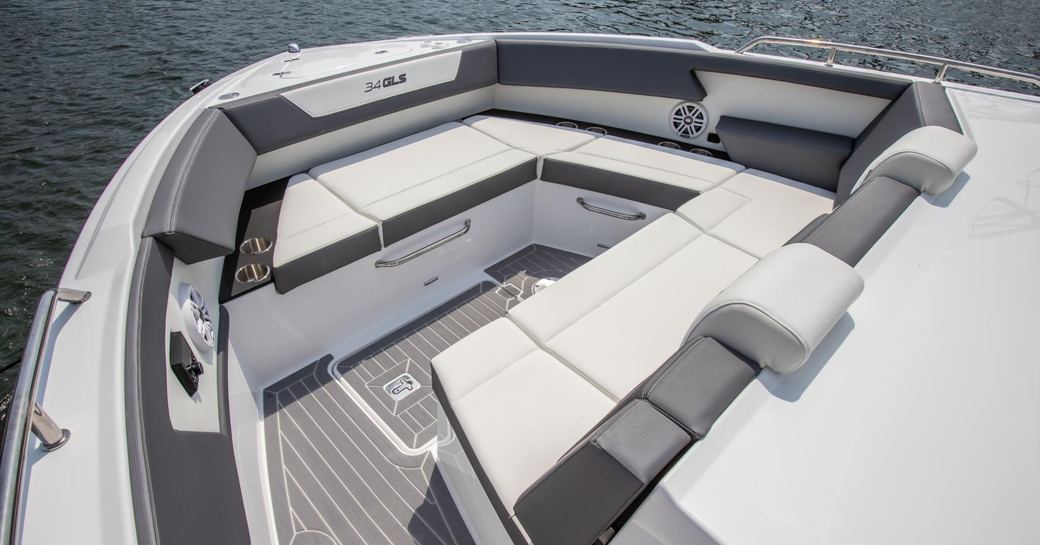 Of the options, the South Beach Edition upgrade looks well worth the money, especially if you appreciate the kind of spectacular colours and finishes it delivers. Its Miami namesake would definitely approve. Sadly, we don't have good images of the South Beach but the featured boat on the film tour has that finish.
The Hardtop options also look like good investments, the sunroof is manual but feels solidly engineered while the electric awning means the entirety of the cockpit can be used regardless of sun's strength.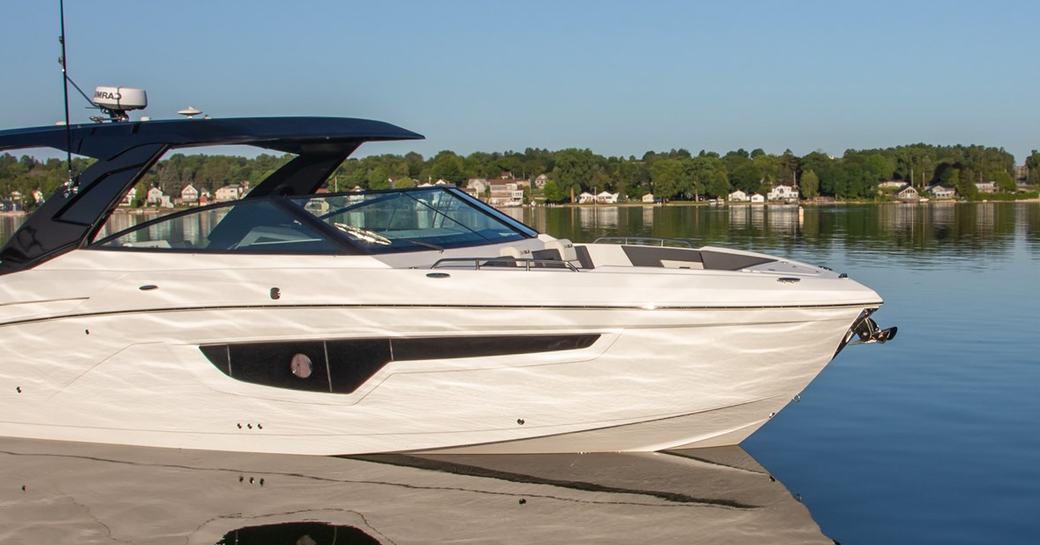 Whether you think of the Cruisers 34 GLS as a very fast waterside terrace or a highly accommodating sports boat, it is a mighty success. Fun, cool and impressively finished it reminds us just how great open boating can be. On size and price, it's fair to say the sports boat market is growing up fast, making a once gargantuan 37 footer now a very normal event. And, by Scandinavian standards, this American-built boat is not expensive. What is certainly not normal is the functionality, build quality and versatility of a boat that always looks ready to impress.
Reasons to Buy
Superb dayboat deck
High-class finish
Useful overnight cabin
South Beach upgrade
Things to Consider
Not as fast as some rivals
Rivals to Consider
The 10-12m sportsboat market is full of choice. In fact, where once these boats rarely pushed past 9m, we now see plenty of models muscling beyond 15m.
What has changed is that the sleek bowrider or cuddy, pioneered in the US, that ruled the sportsboat sector has given way to the more open and very practical centre console - along with a multitude of high-power outboards. Plus, we now see the emergence of the stealth-like Scandinavian-influenced wheelhouse designs, offering innovative decks and all-weather weekending.
But looking at the Cruisers, there is still a lot to like with that US sportsboat concept. Of the local inboard-engine competition, the Formula Crossover 350 looks the closest rival. It's social deck and bow rider design hiding a similarly impressive cabin with a dinette, mid-berth and toilet. Where the Formular has the edge is performance, with the option of twin 8.2l 380hp or 430hp Mercruisers pushing the 350 past 50 knots.
The Sea Ray 350 SLX is another smart operator. Its retro-cool design and sweeping cockpit will look good forever, the downside is there is no cabin, only a toilet compartment. Power comes from twin 300hp Mercruiser sterndrives with over 40 knots expected.
Away from the US, the British built Fairline F33 is hard to beat on style, finish, or pace. Cool lighting, a new hardtop and supercar-level upholstery all add up to one impressive GT-style boat, backed up by a proper weekender cabin. But there is no clever bow-rider crossover, so you're left with just the aft cockpit. Power comes from twin V8 430hp Volvo Penta petrols with close to 50 knots on tap. There's a useful 33-knot twin-diesel option too.
Builder

Cruisers Yachts

Range

GLS

Model

34 GLS I/O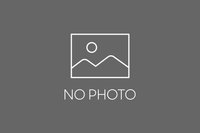 Length Overall

37.008ft

Beam

10.991ft

Hull

GRP
Yacht Type (Primary)

Sportsboat

Use Type (Primary)

Weekending
Fuel Capacity

200 Gallons

Fresh Water Capacity

25 Gallons