A few years ago the X95 couldn't exist and certainly Princess, a paragon of stylish conservatism, wouldn't have built it. But a lot has changed and it's all good. Yacht design has gone into overdrive, influenced by an adventurous superyacht market and good old buyer demand.
Princess' difficult but important M Class superyacht learning curve has certainly made it a braver yacht builder, while it has always been alive to what people want. The end result is the X Class, yachts so completely devoted to Owner comfort they should have a mode that tucks you in at night.
Princess X95 Key Facts

LOA

95.013ft

Model Year

2022

Cabins

4

Crew

4

Max Speed

26 knots

Status

In Production

Yacht Type

Superyacht

Use Type

Cruising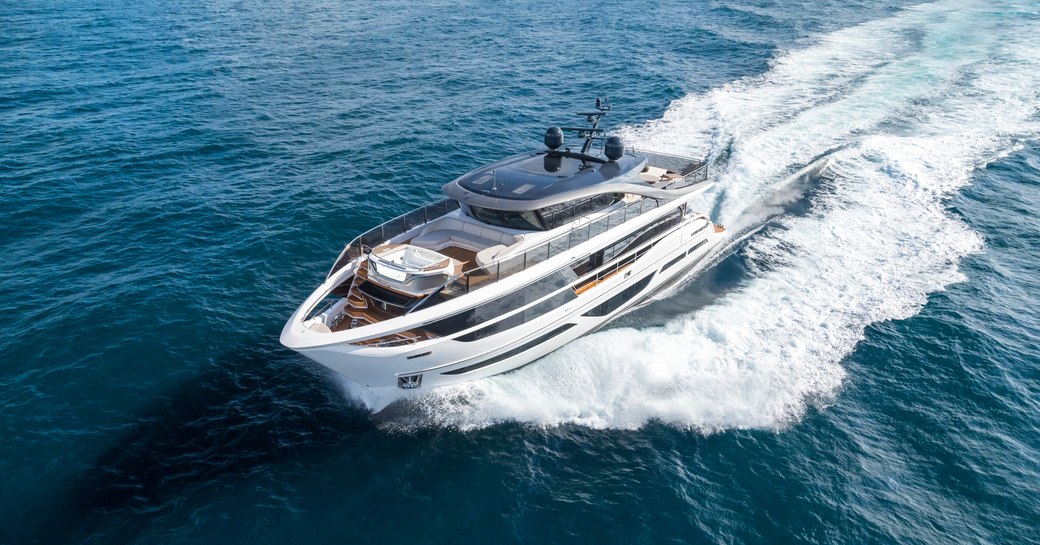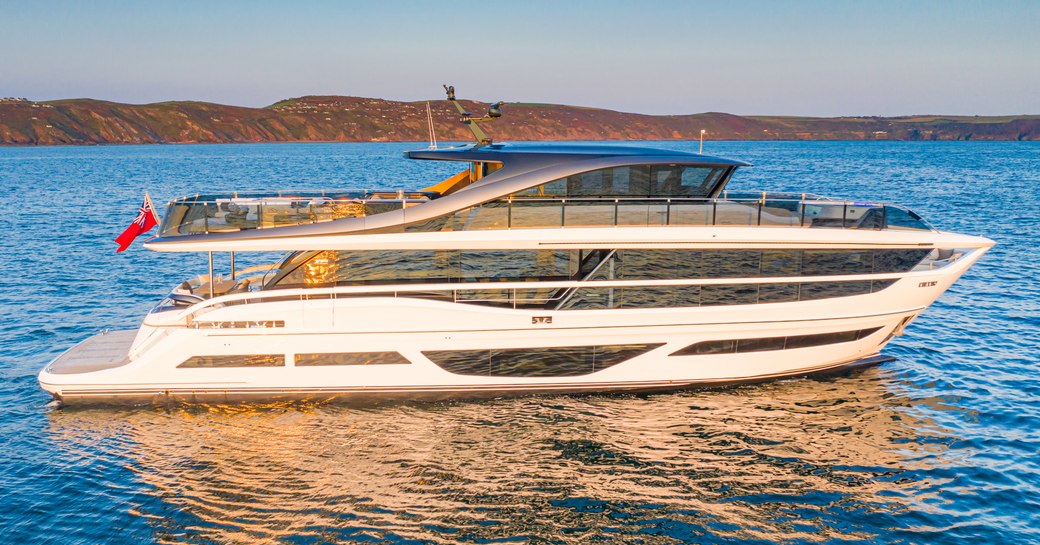 When a yacht like the X95 appears it demands attention. This 29m (95ft) 25-knot crew-operated genre-buster looks like nothing else and is a massive departure for its British builder, Princess. An evolutionary mix of the more daring designs employed on its previous M Class yachts and the practical luxury always on offer across its flybridge F and Y Class models, the X is about as feature-packed as boats this big get, but, for all its many assets, it is basically about one thing only, Owner comfort.
The design is simple in theory but bloody hard to deliver. The X95 stacks up two huge decks, maxing on pretty much everything inside and out as they go. The upper deck defines the X Class and creates some of its most important and novel features, namely an elevated lounge and walkaround terrace that stretches from bow to stern.
The Height of Luxury
Having two full decks means increased height, and this has been handled with care, with huge glass sections leaving slim floating white mouldings - a concept that Princess has previously employed but never to this degree. Alternatively, buyers might decide to employ something more radical, with a wide array of colour schemes available for the exterior.
We know the vertical design is responsible for most of the interior heavy-lifting because the X95's beam, usually the creator of volume, is notably slimmer than its rivals. The overall effect creates a tall-looking yacht, with stabilisers a must, but boy does it deliver. As well as the upper deck you win a massive and versatile main deck with the option of a forward stateroom or dining area with what Princess describes as a country kitchen, a social galley to gather and enjoy the views. That leaves the option of a standard four-cabin layout below decks, or, as with our test yacht, something more bespoke.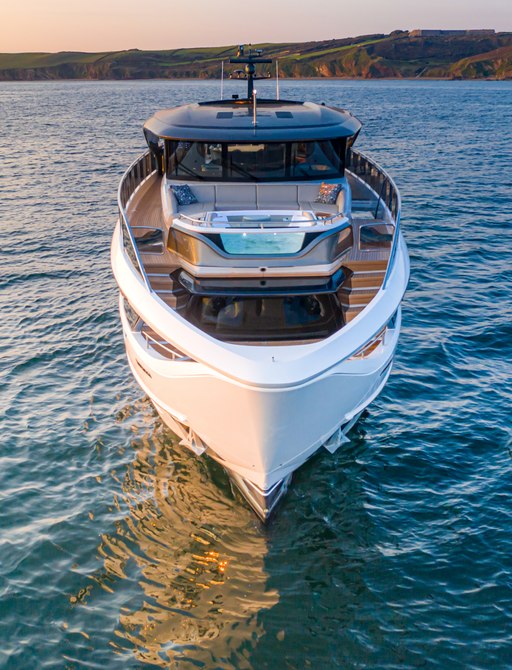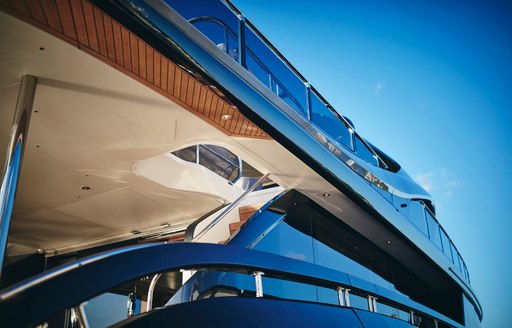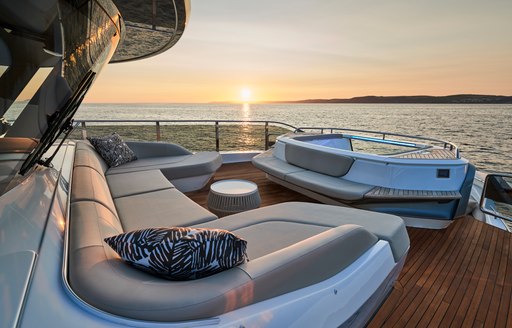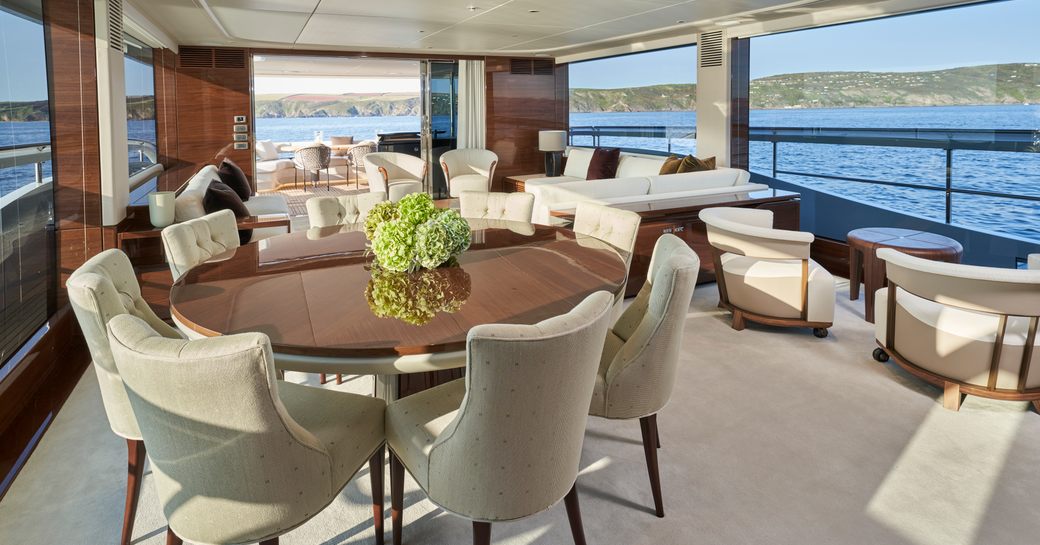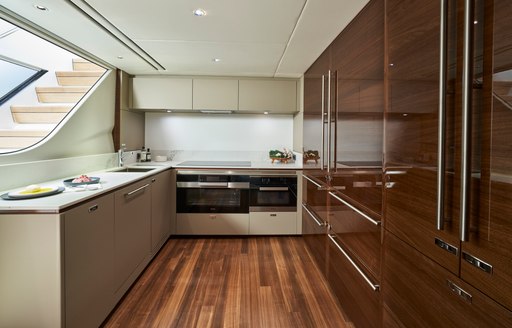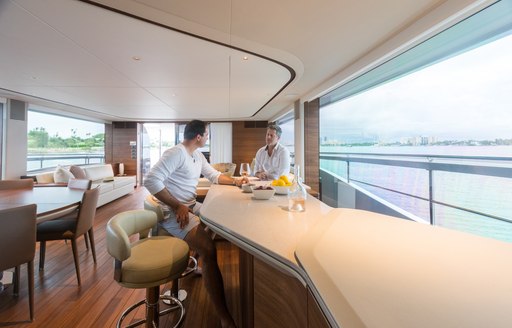 The upper deck lounge is a star feature, but the main deck is where a lot of your decision-making will take place, and there is an awful lot of space to play with. There is no standard layout as such, freestanding furniture allowing you to style the salon as you wish. There is space for a big lounge and dining area, buyers can then choose to have impossibly vast glass sections or sliding doors to each side. Both look spectacular, which is perhaps why our test boat's Owner went for one of each.
The main Owner decision is whether to have a forward Owner's stateroom or country kitchen with a social open galley, bar and dining area. The standard galley is a very competent design packed with stowage and cold storage, a side door allowing crew to operate and serve without disturbing guests in the salon.
The Owner takes it all
The forward galley and dining option sounds interesting, however, all but one of the 20-odd X95's built so far have had the Owner's cabin, less a slight on the forward galley concept, more the simple fact that the main deck stateroom is a real superyacht feature. And, besides, it's not like there is a shortage of places to gather on this boat with its additional upper lounge.
The stateroom feels nicely elevated, with two deep windows delivering views across the water, the option of a study, dressing area and lounge. The design includes a forward window, looking into the foredeck snug, with a pop-up TV beneath but the yacht we looked at had a huge fixed TV. The cabin's glazed design means the ensuite lies aft of the cabin, it's not the biggest but is perfectly good with various layouts and finishes available, the test yacht coming with white marble.
Guest Stars
The semi-custom build is in full effect below decks where you can choose various versions of a three or four-cabin layout. The four guest cabin design has a VIP forward and amidships with twin cabins between. All the cabins are of a good size and all are ensuite. The three-cabin design offers more flexibility and an emphasis on those two VIPs. The test yacht came with a massive walk-in closet for the amidships suite, in place of the starboard guest cabin. This addition turns an already excellent cabin into something quite exceptional. In fact, we'd go as far as to say it's a more private, welcoming retreat than the main deck stateroom and just as spectacular, with its deep hull-side windows.
That Elevated Feeling
Moving back up to the main deck, a beautiful staircase leads on to the upper lounge. Here, a simple spread of sofas is the perfect choice to simply enjoy the view, a surround of glass and skylights joined by doors to the aft deck. Options are again myriad, with a day head, bar and various free-standing furniture choices.
One of the finest things about the upper lounge is its connection to the bridge, giving the place a serious yachting aspect to go with its luxurious loft vibe. It is the perfect place for the Owner and guests to convene on-passage, where they can keep in touch with the Captain.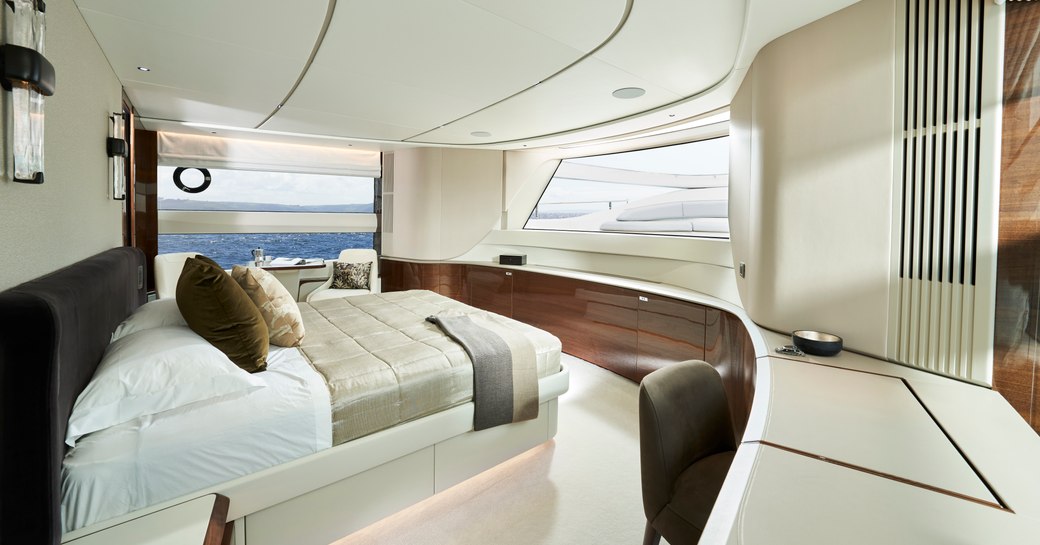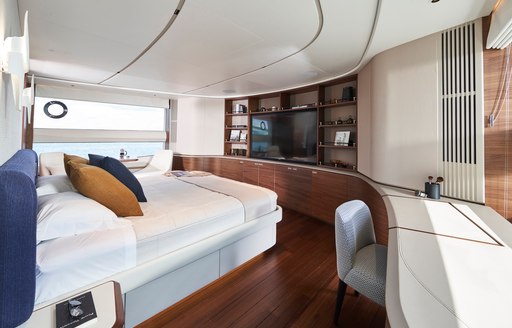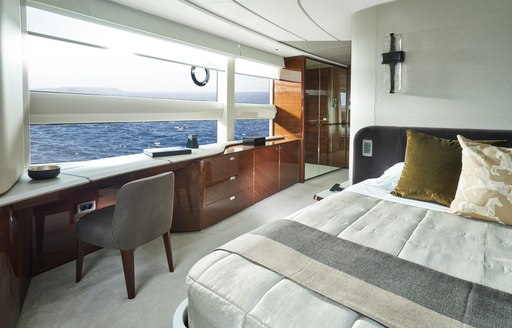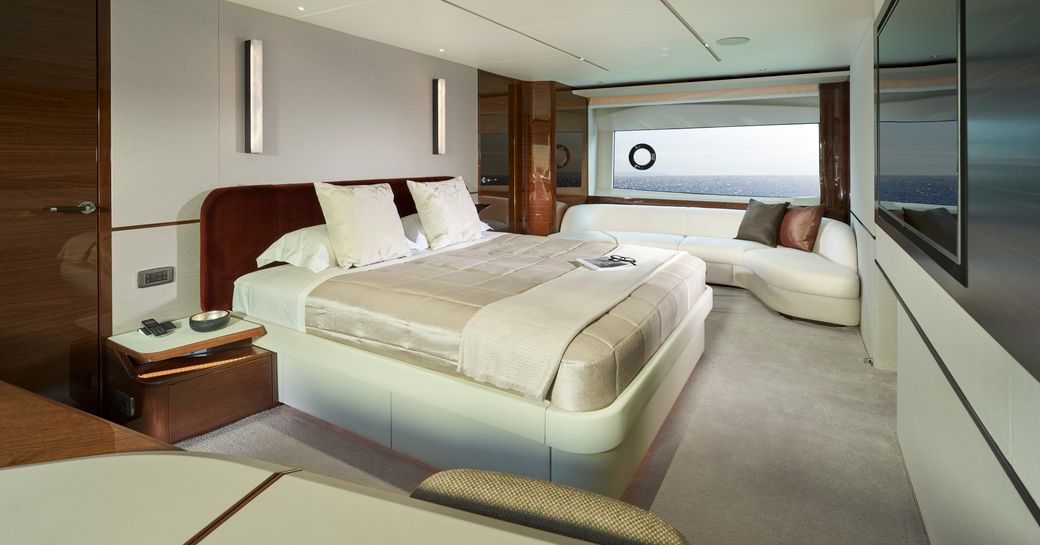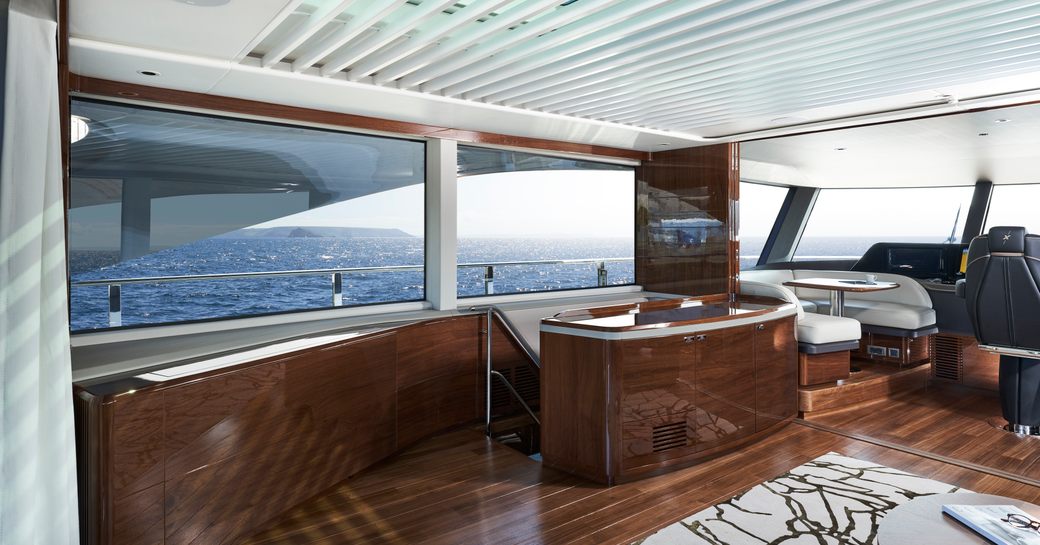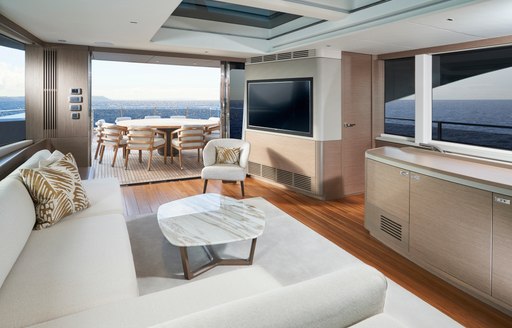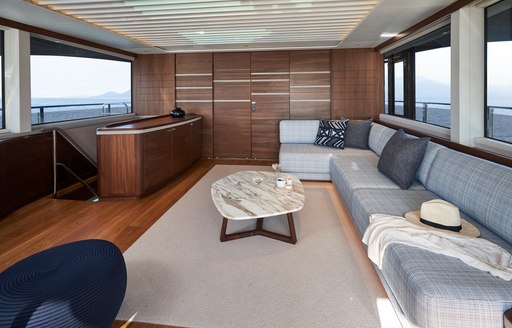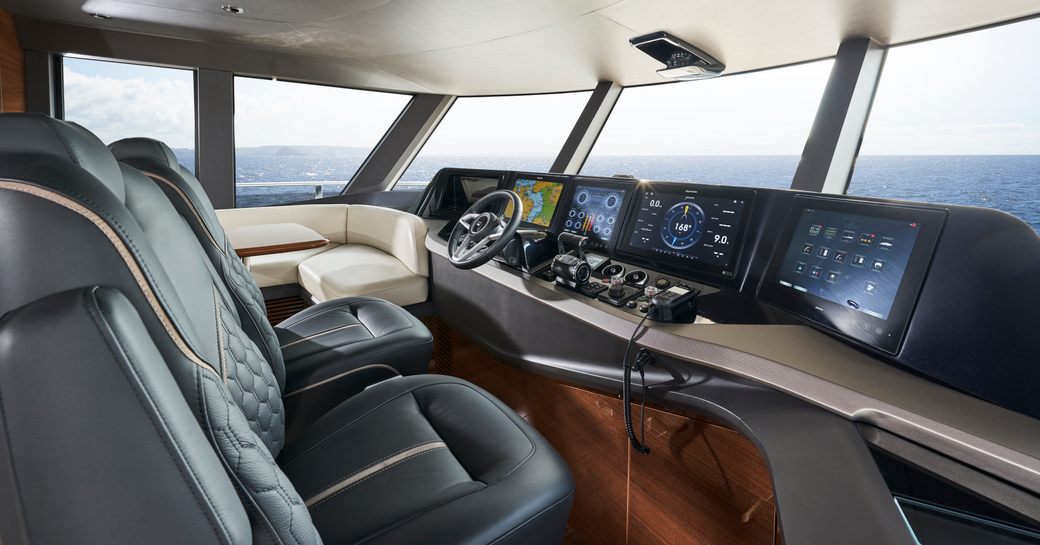 The X95 has a single elevated bridge, forward on the upper deck, its ship-like layout has a central helm seat and console with forward-leaning windscreens adding a sense of purpose as well as excellent forward and alongside visibility. The standard yacht comes with triple screens with the option to add two more. The specification includes an impressive array of navigational and ancillary equipment including radar, chartplotter and a Bonning ship-system display where you can monitor and control everything from the yacht's AC/DC supply to lighting, cameras and climate.
With guest and crew seating to port, a starboard door allows quick access to the side and foredeck. By the door, a fold-out wing station will be a good friend to the Captain, allowing them a fantastic feel for both the conditions and the yacht's movement at close quarters. There is another docking station on the main deck aft, for stern-to mooring.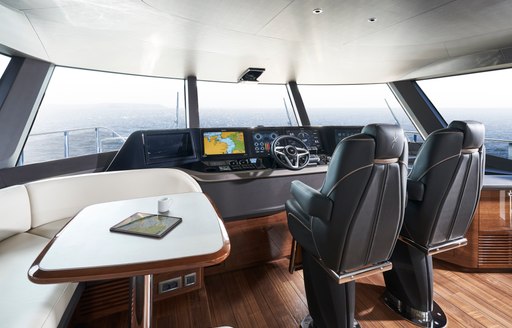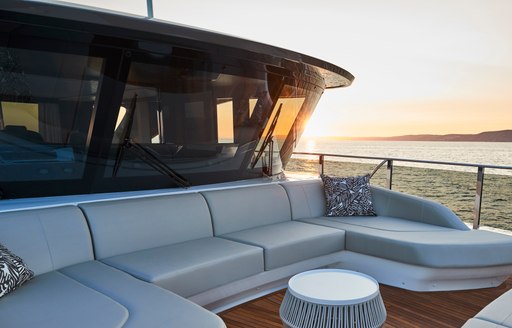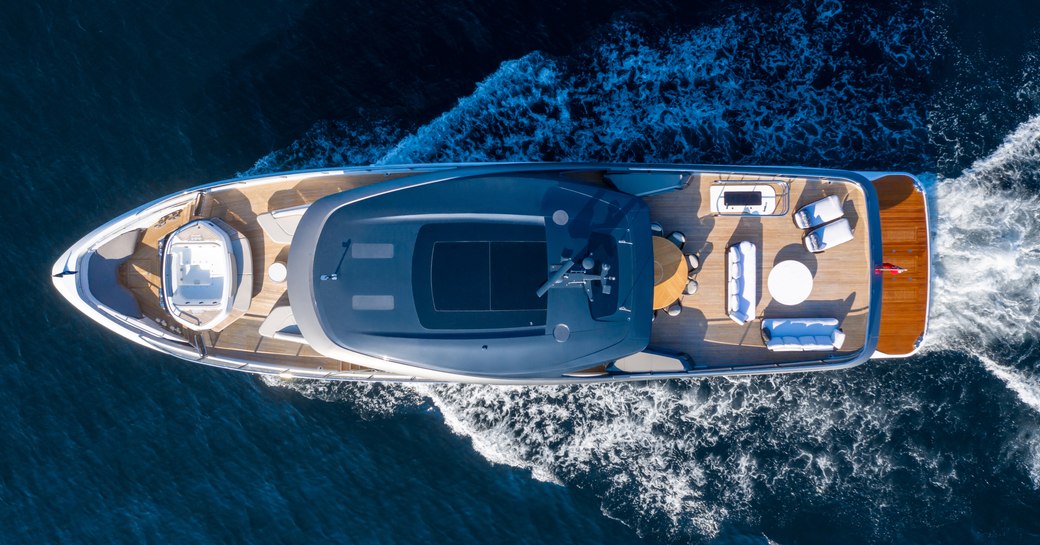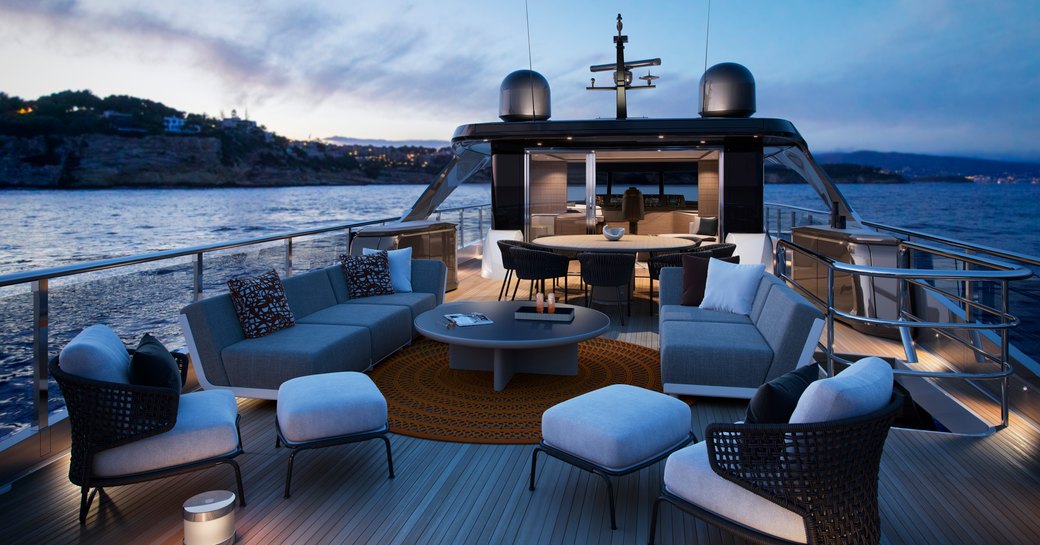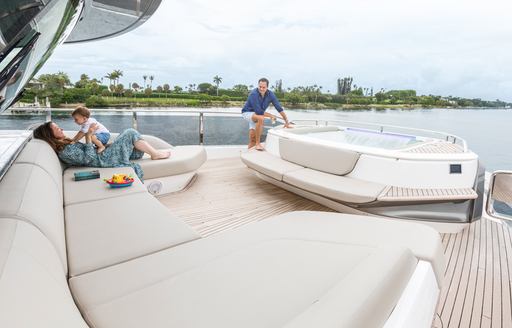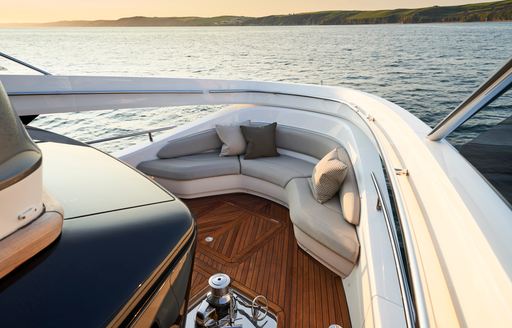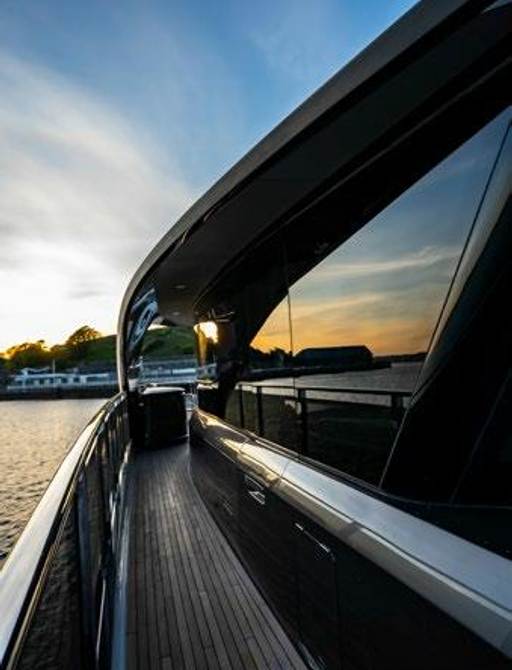 The upper deck is the defining exterior feature of the X design and the one that separates this yacht from any Princess flybridge of old. The deck is as impressive for its scale as it is for the level of style and specification on offer. A full walkaround design, the vast aft terrace is joined by a wonderful stepped foredeck with space for a Jacuzzi.
The entire upper deck is spectacular, even the journey forward is a thing of beauty, the overhang and pillar form an elegant breaking wave that curves over you. Past the foredeck lounge, steps lead down to a safely enclosed foredeck set well within cutaway coamings. As a place for the crew to work from it is excellent, with space and security to handle lines and the anchor. As a place for guests to enjoy it is sublime, a secret snug in the bows, surrounded by design and yachting hardware.
This synergy of lifestyle and practicality is found across the decks, as with the huge, deep deck storage lockers and twin lifeboat pods, integrated into the upper aft deck's wet bar modules, designed to deploy directly outboard.
Upper & Lower Deck Class
Most X95's we have seen have left the upper aft deck open for free-standing lounge furniture, the dining area is then sat beneath the superstructure overhang, closer to the interior. A clever, hidden awning will pull out to cover around half the deck, ensuring sun-worshippers always have a place to tan. The main deck aft is more defined, feeling broader and bigger than the yacht's beam suggests, with a conventional dining and options for various wetbar designs.
More decisions are available on the swim platform. The standard yacht comes with the 'Transformer' platform, a multipurpose hydraulic lift that acts as a 1000kg tender launch and recovery system or watersports terrace that can stretch out to some 6m (20ft) or semi-submerge. With so much going on at the stern, the option to add a mini lounge in the transom makes an awful lot of sense. The design pushes into the crew quarters a little but there's an adjoining door giving the crew direct access so we don't think they'll mind too much. The standard yacht comes with a storage garage that can take a PWC.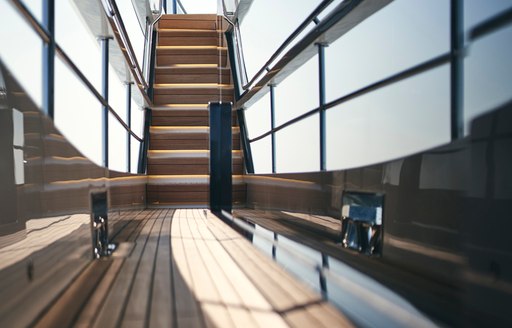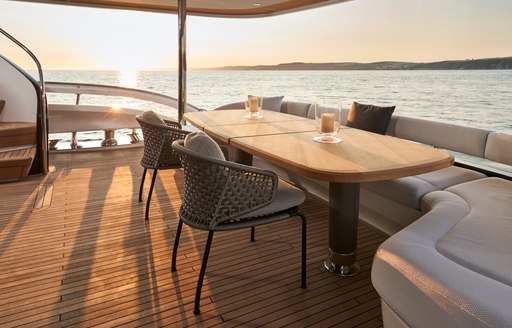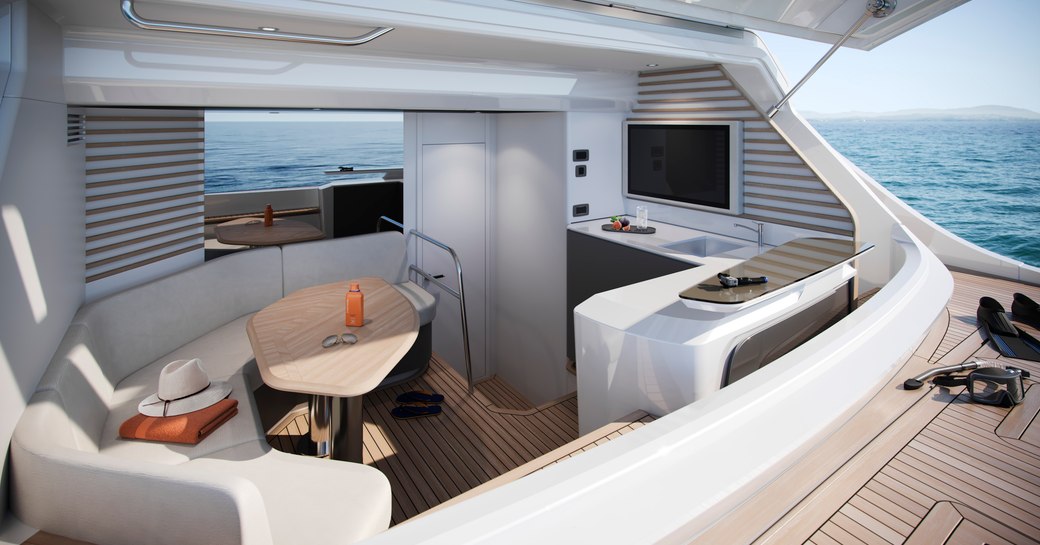 Princess delivers a suitably big specification to its current largest yacht, with air-conditioning, navigation equipment and a high degree of fit-out for Owners to play with and enjoy. Given the expanse of outside space this yacht delivers, a superb (and surprising) example of the X95's high specification is that every inch of deck it lays on is covered in rich teak as standard.
The engine room is another place to see the Princess build and specification in action. Twin 40kW generators, a hydraulic system, water-maker and fuel cleaning system, moving the diesel between bunker and day tanks, are all included and deliver a highly competent serious cruising platform.
Those details support what is an undeniably spacious, highly considered and technically brilliant yacht full of clever and very comfortable design inside and out. With up to five cabins, two salons and semi-custom levels of finish the mix of specification and space deliver one high-volume, high-value package.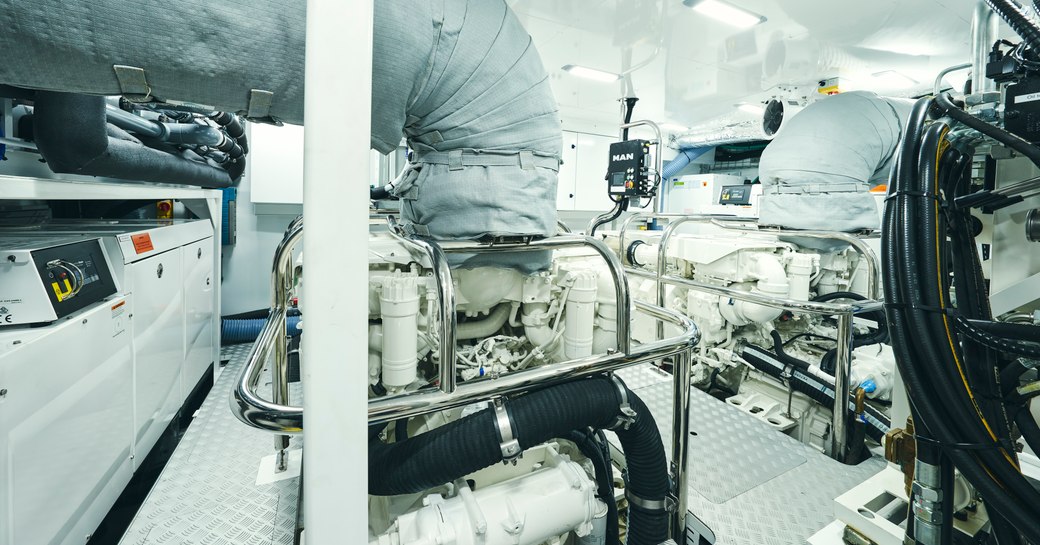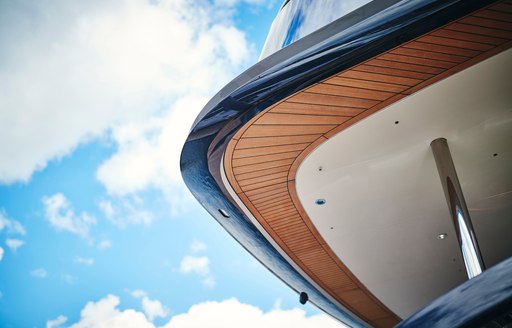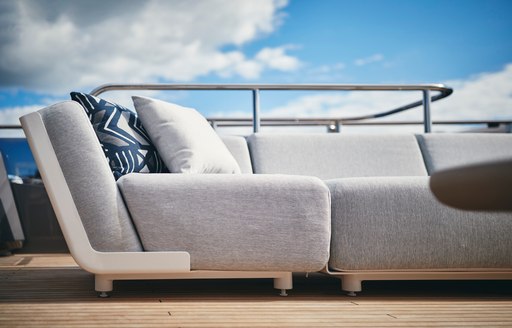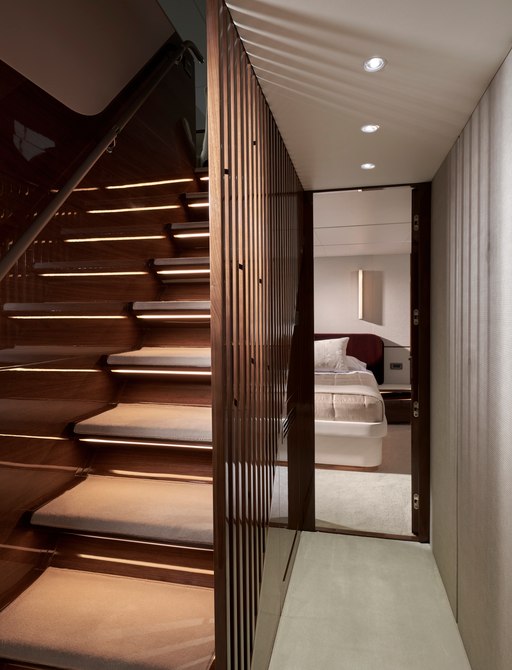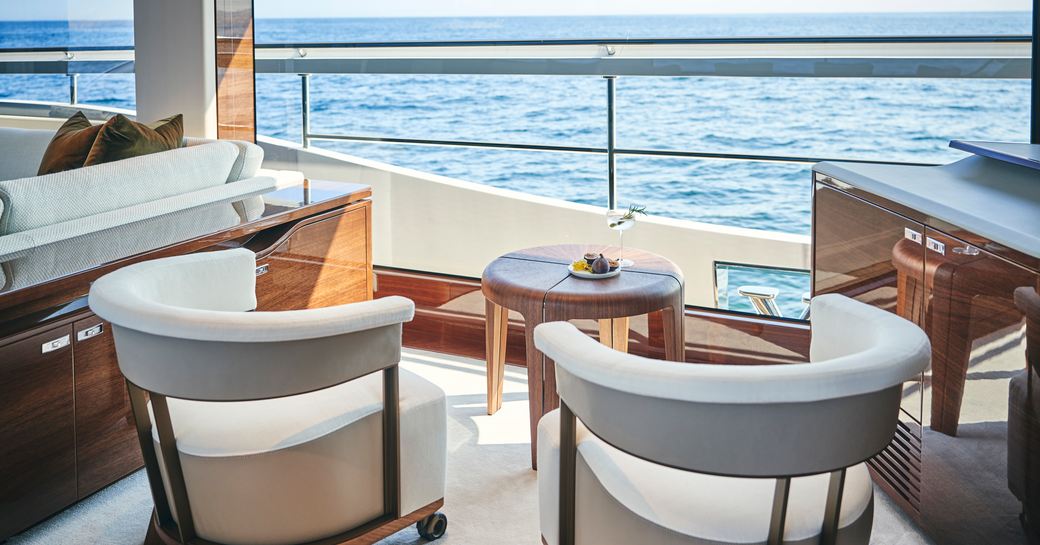 The X Class is a winning design and Princess knows it, which is why it has now delivered the new X80 and is using the X95 as the inspiration for a new Y95, opening the upper deck with a flybridge in place of the enclosed bridge. Princess isn't confirming any further new X models but we will be very surprised if we don't see more coming to market. For now, let's just be thoroughly impressed with this hugely accommodating, maXimum-yacht package.
Reasons to Buy
Vast upper deck with salon
Up to five ensuite cabins
2000nm range with extended tanks
Main deck Owner's stateroom or country kitchen
Excellent standard spec
Things to Consider
Challenging design, but boy does it deliver
Rivals to Consider
It speaks volumes about the diversity of the new yacht market that the X95 can have so many rivals. The birth of the SUV design is now joined by yachts that, like the X Class, defy any convention or type, mixing high-volume and maximum deck space to incredible effect. It's a wild and wonderful world full of stylistic contrasts but with every yacht here fully focused on the Owner.
One of the most obvious rivals is also a very different yacht. The 30m (99ft) Ferretti 1000 has lots in common with the X95, including dimensions, performance, a massive deck salon, main deck Owner's stateroom and four guest cabins. But, it's also a flybridge yacht with no upper lounge. Given the upper deck is one of the Princess' defining features, that makes the Ferretti a possible outsider in this field.
If that upper deck lounge is important to you, there are plenty of yachts to consider. The Wally Why200 reflects the more practical course this Italian design-powerhouse is now plotting. Of course, the Why200 still looks fantastic, with a cohesive, sophisticated design that adds a good dose of Wally stealth-chic. Inside, the main deck Owner's cabin is the stuff of dreams, the three or four guest cabins are all impressive. The upper deck features a vast aft terrace and a cool lounge set within the glass superstructure. There is also some very useable 20-knot performance from quadruple pod drives. The Wally isn't as big as the X95 overall but it is excellent in key areas.
Another design triumph, the Sanlorenzo SX88 has a minimalist interior design full of cool and calm Italian lifestyle. There are numerous layout options, particularly across the main salon, with four or five-cabins layout and a main deck Owner's stateroom. Again the SX88 can't match the X95 on overall space or the sheer number of places to enjoy inside or out. But it does look sensational.
If size is important, the Numarine 32XP is the kind of yacht that likes to make 40m vessels feel inadequate. It looks massive, with a tall, powerful SUV design delivering a bridge deck with a lounge and huge aft terrace. The foredeck, upper and main deck aft are all big, as are the main deck Owner's cabin and four guest quarters. The serious explorer looks are backed up by a massive 4000nm range.
We may have saved the best until last in the new Azimut Magellano 30 Metri. We don't have much information on this model but it looks sensational (if the Thunderbirds had a yacht it would look like this) and packs a proper bridge deck with a massive, full-beam terrace. Inside a main-deck Owner's stateroom is joined by four ensuite guest cabins below. Performance is expected to be around 20knots.
Builder

Princess

Range

X Class

Model

Princess X95

Length Overall

95.013ft

Beam

21.818ft

Draft(full load)

6.66ft

Hull

GRP
Yacht Type (Primary)

Superyacht

Use Type (Primary)

Cruising
Fuel Capacity

3,540 Gallons

Fresh Water Capacity

476 Gallons
Engine Model

2x MAN V12-1900

Engine economic speed

10 knots

Engine max range (speed type)

2000 nm