Big, bold and beautifully finished, the Cranchi 67, or Sessantasette for the more linguistically nimble, provides the latest evidence that this Italian builder is on the up and that 67ft is, oddly, the most interesting sector in flybridge design. With IPS power, a tender garage and a palatial stateroom, there is a lot to like across this 20m boat.
Cranchi Sessantasette Key Facts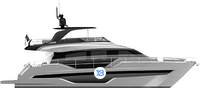 LOA

68.241ft

Model Year

2021

Cabins

3

Crew

2

Max Speed

29 knots

Status

In Production

Yacht Type

Flybridge

Use Type

Cruising
Test & Review Video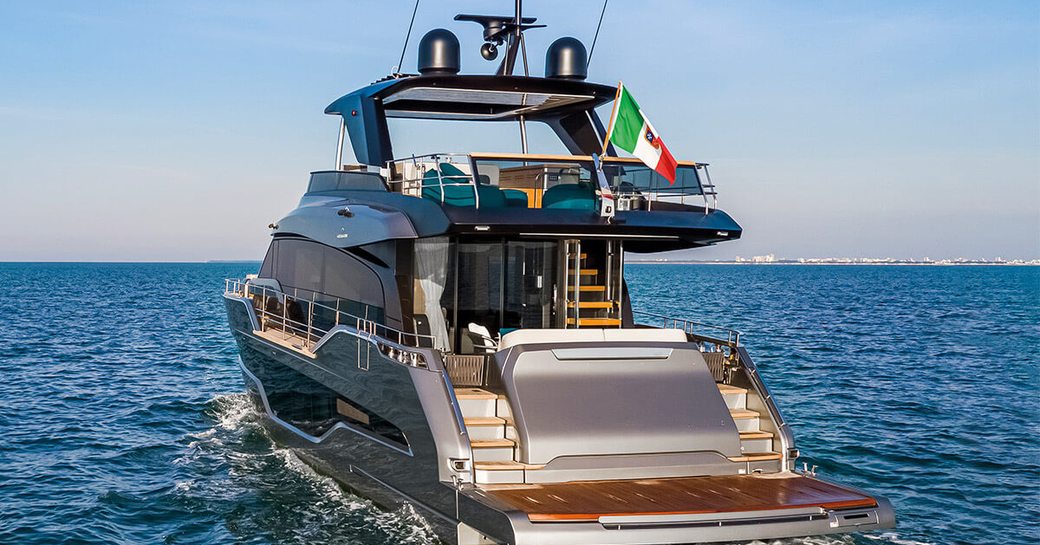 A dazzling flybridge by any standard, the Cranchi 67 glistens in its metallic paint, the design mixing the sublime with some unapologetic heft to create the interior space and splendour buyers demand. If you don't want to dazzle quite so much, the paint is optional and your conservatism could save you over €250,000.
Alongside, the dominant window lines, above and below the deck, and a superstructure that pushes up and right forward tell you this is a boat that will deliver on board. For all its scale, though, it is not a heavy design, the lines are allowed to flow aft, only disrupted by a vertical flybridge lip to create some depth to the deck up top.
Viewed from the stern quarter, the Cranchi does show its height. It looks almost narrow, but its 5.45m (17ft 10in) beam is broader than most 20m yachts, it is simply the size of that superstructure.
Three is the Magic Number
All that GRP and glass pay off handsomely when you move inside, but the interior design is most notable for a certain reduction. Most flys at this length are four-cabin and the Cranchi does offer such a layout, with a small bunked cabin to starboard. But it is the three-cabin option that is grabbing the headlines.
Like the Ferretti 670, the Cranchi offers a fabulous stateroom in the tri-cab version, including a study/lounge that elevates the owner experience.
But the layout and build of the Cranchi impresses bow to stern. You can see and feel how hard the builder has worked to deliver for its owners, from the number of lockers to a level of finish that never drops below excellent.
On deck, the all-important flybridge is class-leading, delivered to the same motor yacht specification as its big sister, the flagship 78, and feeling only slightly smaller. There is also a tender garage and a broad foredeck lounge that reflects how far forward Cranchi has dared to carry the boat's ample beam. Something that is also felt below decks.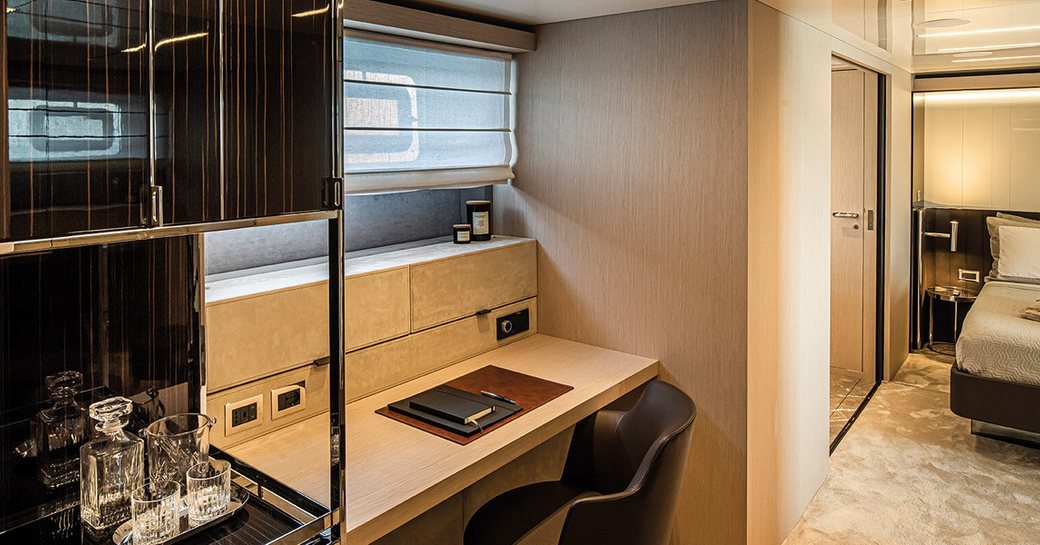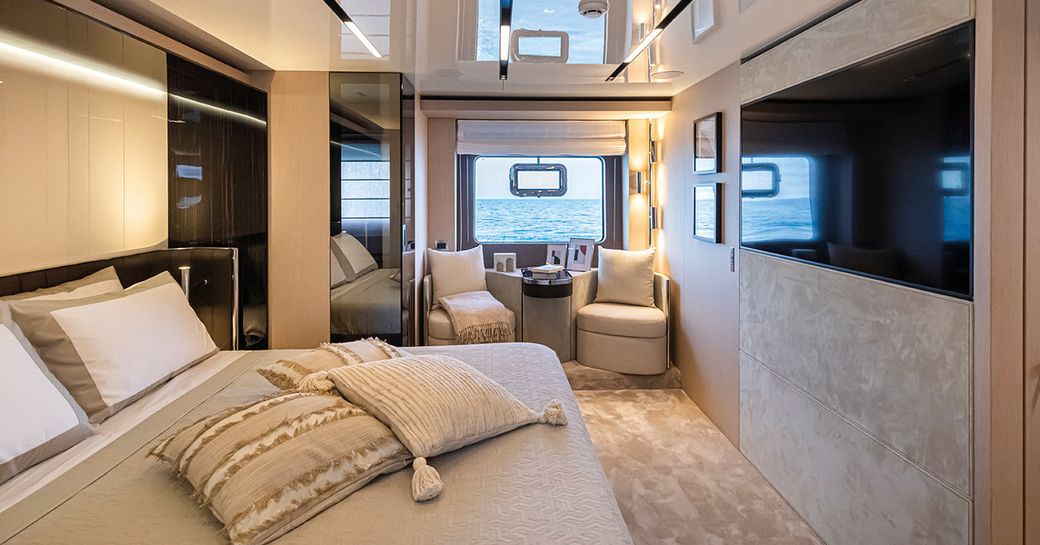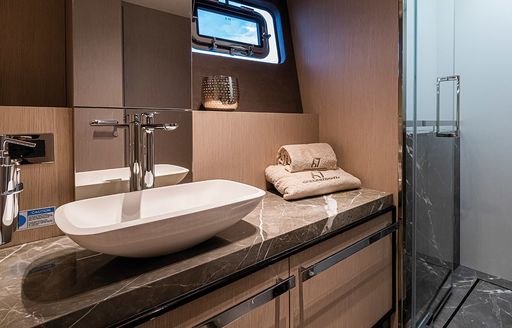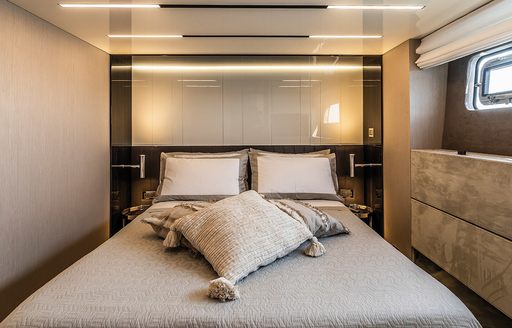 We have to start with the three-cabin layout and the palatial stateroom it delivers. Called the 'Studio' by Cranchi, it starts with a handsome study area that surely delivers more value than a small bunked cabin. The study features a desk and bar area and creates a superyacht-level lobby feel for the cabin itself.
The stateroom is just about full-beam, the ensuite lies to starboard but the open design means you still enjoy both of the deep hull-side glass sections and there is room for a port-side lounge and large closet.
The VIP lies forward and feels a suitably private cabin with a good ensuite and a double berth set comfortably low thanks to the beam of the boat. But it is the welcoming third cabin that makes this layout feel so balanced. A proper double berth and ensuite, with day head access, create a cabin of real substance. All three cabins come glamorously finished in a mix of velour, marble, glass and stainless steel for a vibe that shouts Italian cool.
If four cabins are important for you, it is worth considering how you might use the stern crew cabin with its twin berths. If you don't plan to run with a crew, it could work well for older kids or the occasional guest.
The below decks lobby is as lavish as the cabins, with its back-lit timber steps and mirrored walls, and also works hard with clever and very deep storage drawers plus an under-stairs space for a washing machine. Exactly what you need for a week or more on board.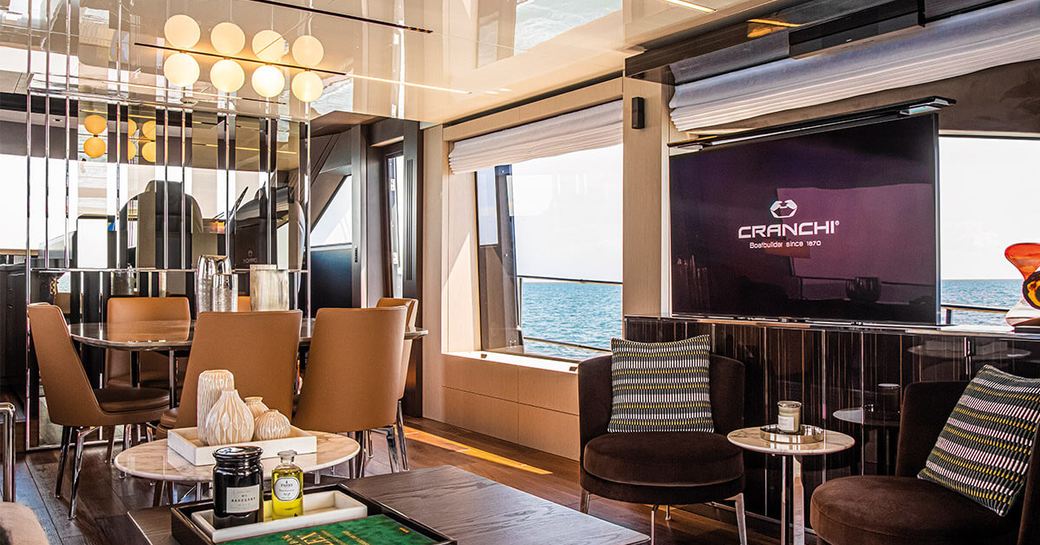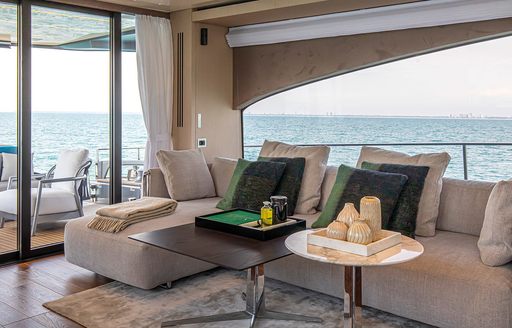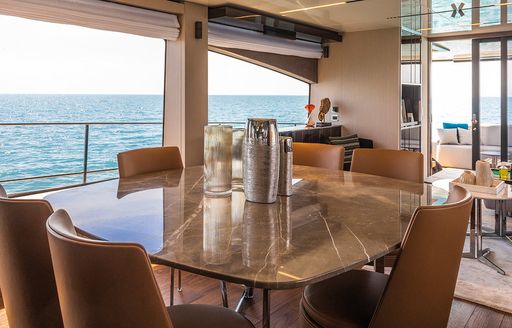 Main Deck Magnificence
The saloon enjoys excellent cockpit doors that fold right away, seamlessly connecting the interior lounge to the deck, and those tall side windows for a great view through the bulwark cutaways.
There is a grown-up yacht feel to the main deck, with its free-standing lounge furniture, a central dining table and a single-level floor up to the helm. The finish is again fabulous. A reflective deckhead stands tall over the saloon and is joined by mirrored sections, deep lacquered cabinetry and stainless steel trims.
Again, Cranchi worked in plenty of storage, with lockers under the windows and long cabinets to each side. There are no fiddled edges, so everything needs to be stowed before you leave port or when at anchor, and precious few handrails.
Culinary Discretion
A big reason why the main saloon works so well is that it doesn't have to share its space with a galley. Usually on a boat of this size, the galley lies aft, connecting to the deck, or amidships. Here, it is tucked forward, by the helm. On the plus side, it's very discreet and also close to the dining table but the location does restrict its size.
While the galley isn't big, it is considered. Stowage space is helped by a long section of cabinetry by the dining table, swallowing up crockery, glassware and cutlery. Cold storage lies close at hand too, the full-height fridge-freezer positioned at the galley entrance. That leaves the galley area to focus on food preparation and cooking, supported by a hob, oven and deep sink. The main issue will be steam, with the hob directly below the windscreens, so we hope the extractors worked into the A-pillar and above the sink will do the job.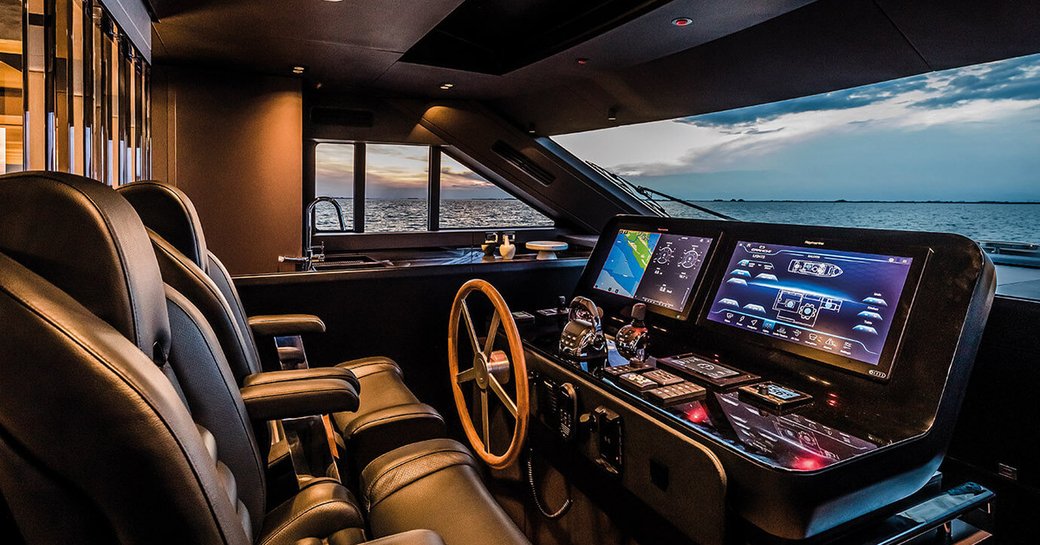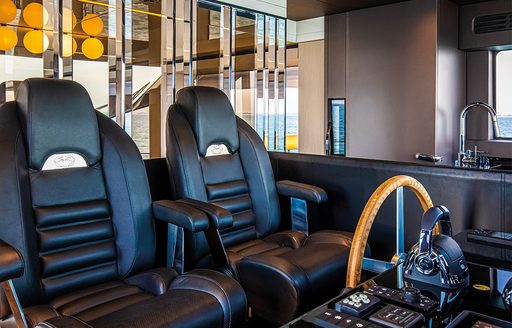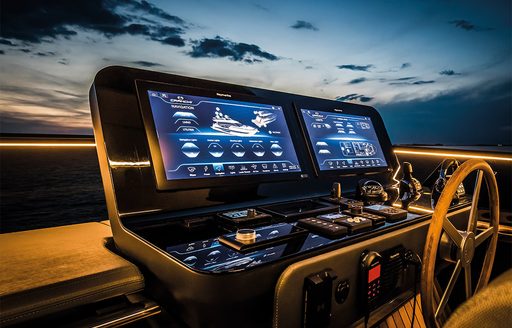 The galley's forward location pushes into the lower helm but you don't feel squeezed or perched on the very smart helm seats. Fully adjustable and with excellent back and side support, these seats are exactly what you want for those longer passages. The standard boat only comes with one seat, fine for crew operation or a day skipper, but if you plan to run the yacht yourself twin seats seem a must.
The forward visibility is good, with the helm console's clean, modular design set well back from the screens. Behind, a rather ornate glass screen allows the helm station to be separated from the saloon while also permitting a view aft. There is also a starboard door just aft of the helm, perfect for taking a mooring line or simply aiding deck access.
The console makes room for two MFD screens, the second an option, and is contrasted by a classically toned teak helm wheel. The throttles sit centrally with the joystick control directly ahead, rather than, ideally, to one side.
Social Seating
The flybridge helm set-up is similar but its seating is fantastic for different reasons. What you lose in ergonomic support you win in social possibilities with two wide forward-facing benches allowing four or even five people to enjoy the ride. The location and design allow the skipper a great view forward and an easy route over to port to look down either deck. Given this is where you will be enjoying those short, fast coastal hops, it is a great design.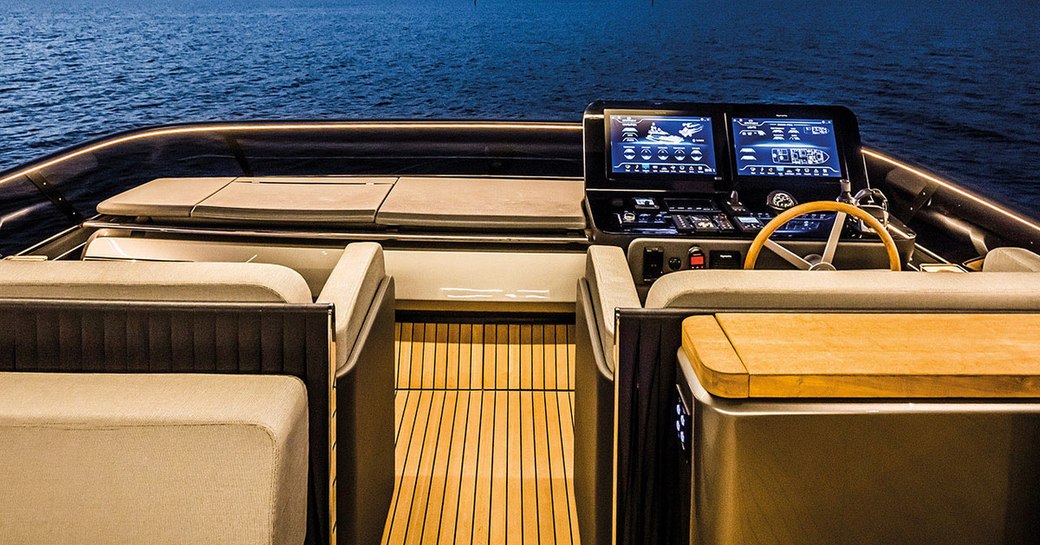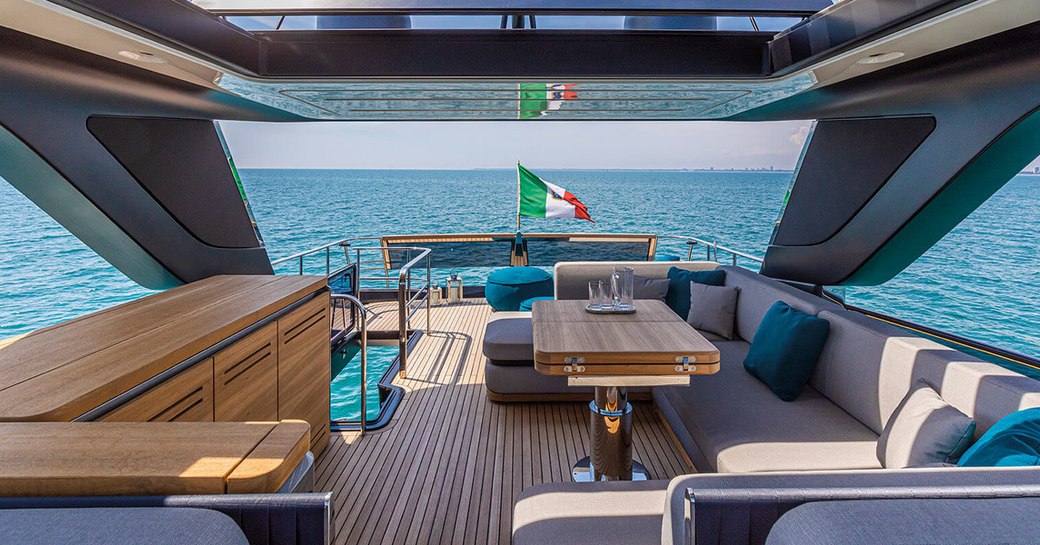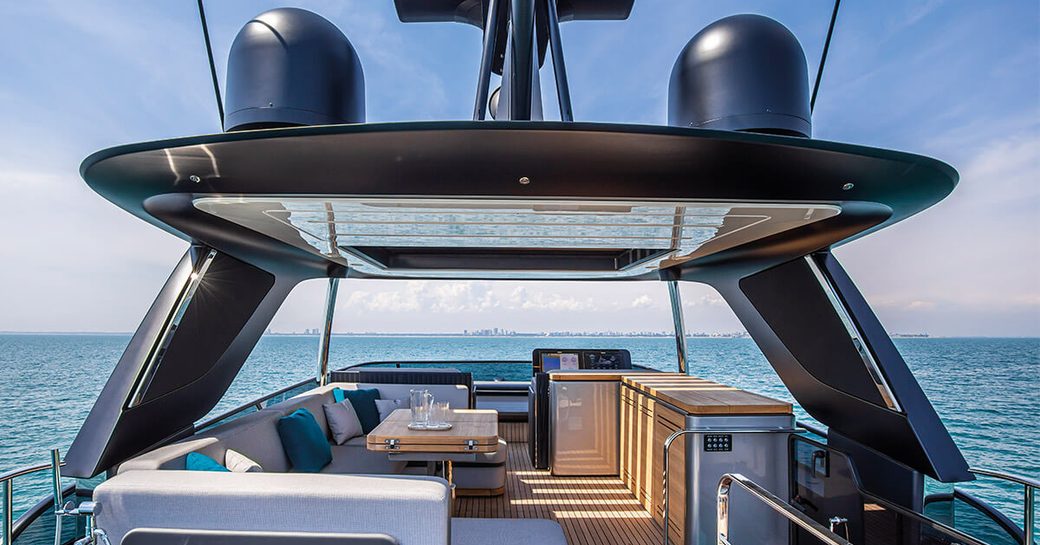 On the flybridge, you not only get to appreciate Cranchi's impressive build and finish but also bask in the glory of one of the best decks you will find under 70ft.
Very much delivered in the same superyacht style as the flagship Cranchi 78, a mix of space, style and exquisite finish combine to create a luxurious and very social flybridge capped by a sophisticated hardtop design. The open aft deck is the place for sun loungers and is ringed by teak-capped guardrails and some chunky architectural stainless steel work that many a larger yacht will be jealous of. If the heat gets too much there is an optional awning or maybe just cool off using the flybridge shower set elegantly on its own pedestal.
The central area is taken up by a deep dining area and full wet bar and grill all covered in solid teak and even more stainless steel. The teak table sits on a smart high-low pedestal and will fold out into a full dining area or more practical bar set-up with a pop-up TV for a fun night-time film.
The L-shaped wet bar features multiple options for fridges, ice-makers and lots of stores while the teak lid folds away to present a brushed steel top with a barbecue grill.
Bow-to-Stern Brilliance
On the main deck, two of the widest side decks you will find on a flybridge boat of this size take you forward. Decent bulwarks sit aft and around the bow with the central cutaway protected by stanchion rails that feel like they need an extra mid-section, an easy but important change.
The foredeck is going to see a lot of use, its broad easy-living lounge is both relaxed and hard-working with multiple seating options, a sun pad and neat bar tables that rotate to suit the gathering. A drawer fridge concludes an excellent lounge area.
At the other end of this Cranchi, the open, minimal aft deck is flanked by beautifully considered mooring platforms with winches and chunky cleats running off elegant stainless steel fairleads cut into the bulwark. From here it is a few easy steps down to the hydraulic platform and tender garage.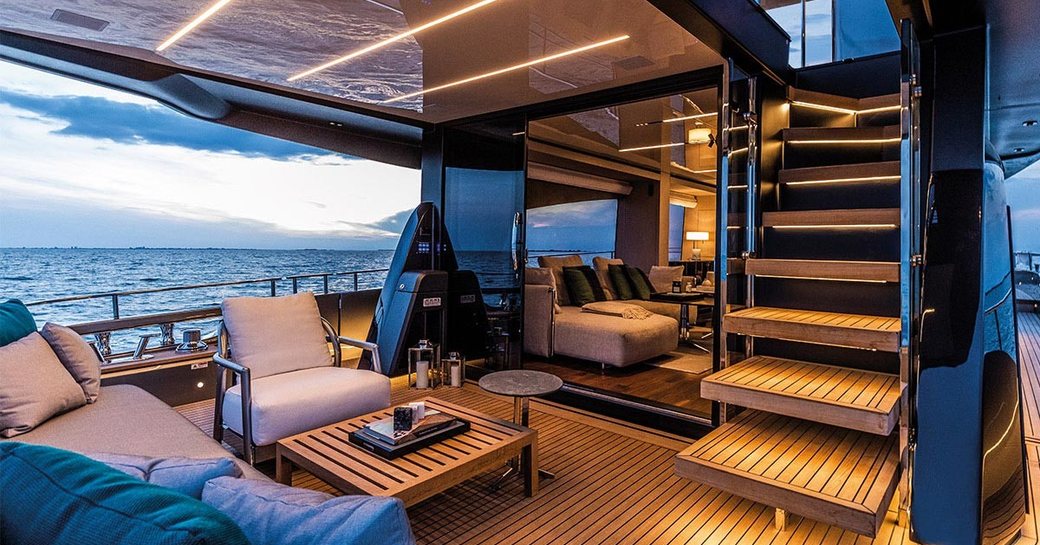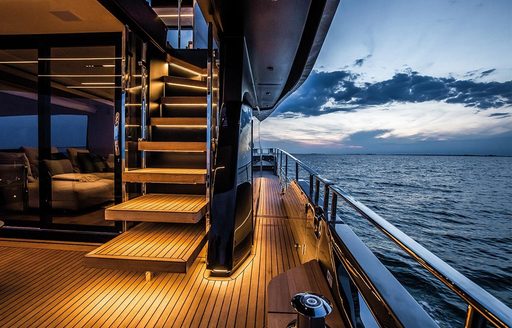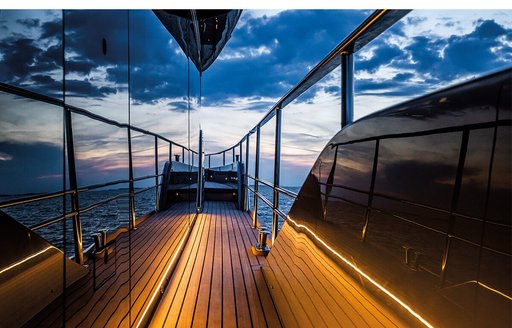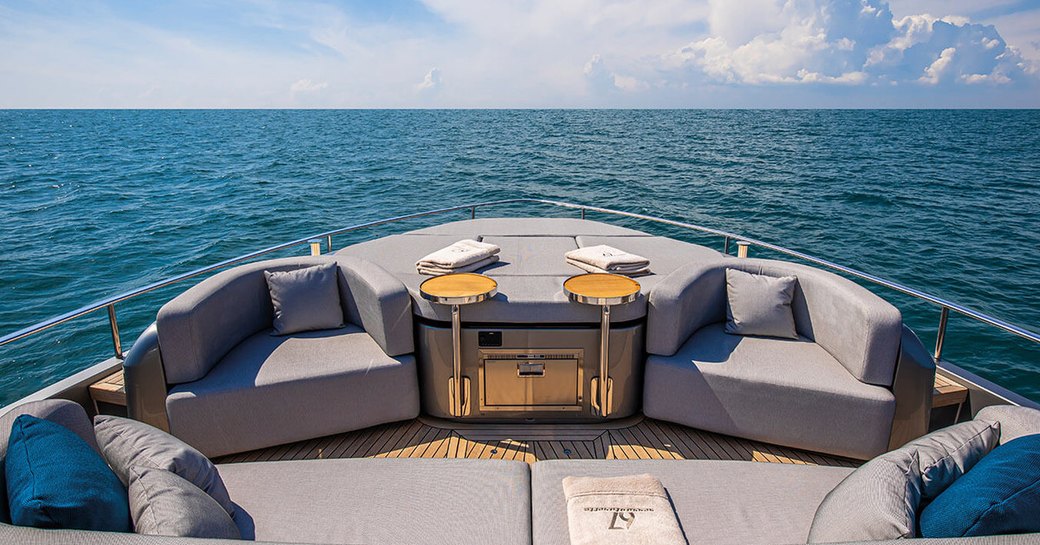 The 67's options list is long but then so is the standard specification. The standard boat is ready to go to sea and, aside from the metallic paint and hardtop, is largely what you see here.
The options offered mainly fit into the nice-to-have column, rather than anything essential. The €2.7m (around $2.9m) base price is competitive against the likes of Princess, Fairline and Ferretti plus you gain Volvo Penta's excellent IPS1350 powerplants with 2,000hp on tap and joystick control.
To pilot the boat, you have the option of an additional lower helm seat, usually a must, but the single seat makes the lower helm space feel more usable. Twin MFD screens are a definite and should be standard. The tender garage requires an extra €60,000 to launch and recover the Williams 325 Turbojet.
Of the aesthetic, you have teak decks to the swim platform and aft deck and a high level of finish inside and on deck. The flybridge is one area that needs some money spending on it, the hardtop and its electric vane-style sunroof, the teak deck, pop-up tv and the shower are all options.
If you add a stabiliser system and the full paint option the final price will easily move to €3.3m but that is still competitive for such a high-calibre boat.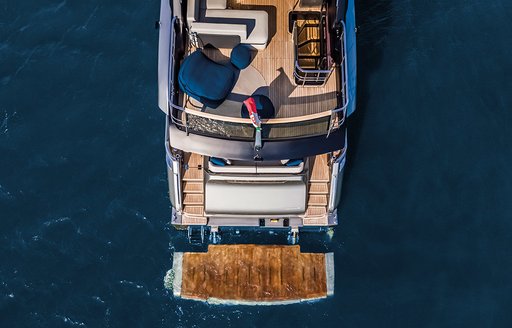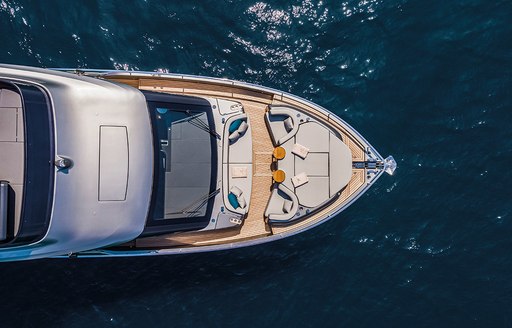 Cranchi has always been an innovator and one that often sat slightly leftfield. But here it joins the ranks of contemporary flybridge design with massive success. There is no question that the Cranchi Sessantasette dazzles the senses with some sparkling glamour and that optional superyacht-level studio. It also channels some strong party-boat vibes across its cool decks, the small galley and big wet bar conjuring up visions of cocktails far more than cooking. But this is a practical boat, too, the IPS joystick control, safe decks, garage and social helm stations joined by masses of stowage.
Reasons to Buy
Sophisticated tri-cab with owner 'Studio'
Class-leading flybridge
Excellent main deck bow-to-stern
Tender garage
Things to Consider
Small galley
Lack of fiddles or grab rails
Rivals to Consider
Sat on the boundary between owner and crew operation, all of our rivals can be four-cabin and offer crew quarters, but most also offer some interesting three-cabin options. There is little difference in performance across the market, with more yachts opting for IPS pod drives and most hitting 30 knots.
Italian and British yards rule the sector and there are superb designs mixing incredible volume with sleek profiles. The Pearl 72 looks like a class leader in waiting, continuing this yard's knack of creating massive salons that stretch from cockpit to helm with multiple lounge areas. The four-cabin layout includes two full staterooms with a full-beam cabin joined by a forward owner's suite accessed off a private stairwell. No need to worry about three cabin layouts here. Some 2ft longer than the Cranchi, the Pearl 72's price is actually slightly lower.
A fine example of sleek flybridge style, the Azimut 68 is a breathtaking design by Alberto Mancini. The versatile interior offers multiple layouts and the decks are superyacht level. The Fairline Squadron 68 is another smart operator with various below-deck layouts, but its tri-cabin option doesn't deliver the owner luxury the Cranchi can. The elegant Ferretti 670 is our test boat's most obvious rival, an Italian yacht with timeless style and a three-cabin layout creating a mezzanine study for the owner's stateroom.
Builder

Cranchi

Range

Flybridge

Model

Sessantasette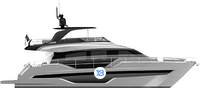 Length Overall

68.241ft

Beam

17.881ft

Hull

GRP
Yacht Type (Primary)

Flybridge

Use Type (Primary)

Cruising
Fuel Capacity

1,057 Gallons

Fresh Water Capacity

238 Gallons
Engine Model

2x Volvo Penta D13-IPS1350
Cranchi Sessantasette Layout