This 37m superyacht market features two and three-deck yachts of quite incredible ability and luxury, but they usually have one thing in common - five cabins. The tri-deck Majesty 120 has six, and they are all good. Add in a sensational sun deck and a level of finish previously unseen from this Middle Eastern yard and the 120 looks like a very important boat, both for its builder and the wider market.
Gulf Craft Majesty 120 Key Facts

LOA

37.55m

Model Year

2021

Cabins

6

Crew

5

Max Speed

23 knots

Status

In Production

Yacht Type

Superyacht

Use Type

Cruising
Test & Review Video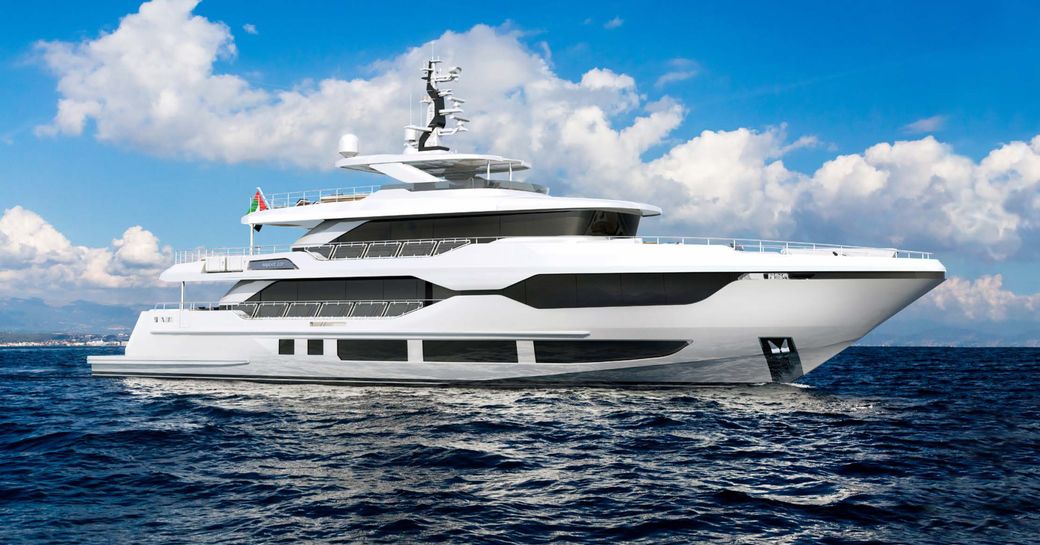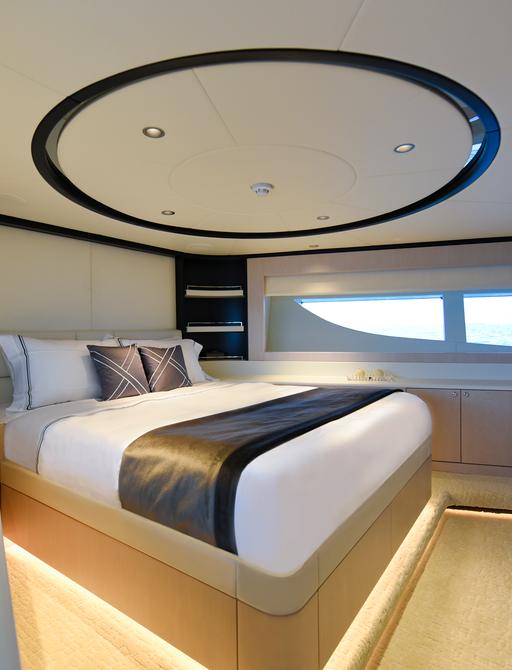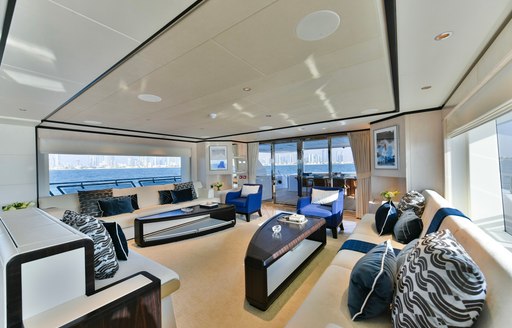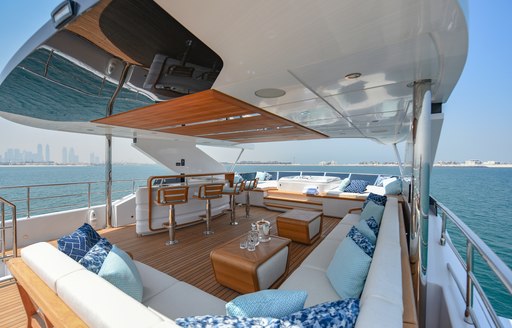 Whilst touring this 120 in Cannes, the same question kept returning. How has Majesty pulled off the trick of creating an excellent six-cabin 37m yacht when the competition is mainly stuck at five cabins?
Well, with the benefit of reflection and looking at lots of rival yacht layouts, the answer, to a large degree, is pretty straightforward.
By moving the crew quarters aft, Majesty and Christiano Gatto Design have made room for a forward VIP on the lower deck, adding to the four guest cabins amidships that every boat at this length has. Nearly every other yacht in this class keeps the crew forward, so no VIP.
Now, you might think that moving the crew quarters just means the space is lost at the aft end of the boat, and you would be right, but because it is a smaller, three-person, crew quarters aft with no beach club to eat into the LOA it all fits into place. But the sixth cabin, that excellent VIP, is just the start of the story.
The tri-deck design of the Majesty is fairly in keeping with this yard's contemporary fleet, but there is something more impressive at work here, from the powerful bows to the clean, linear upper works. It's a design that really delivers onboard, with a mix of cabins and decks that can't be beaten on space. The crowning glory of it all is a majestic sun deck that feels like it has been lifted from a 60m vessel.
Finished with a Flourish
The other thing about this 120, though, is a clear and very impressive progression on fit-out and finish. The interior is the best we have seen from a Majesty yet, full of detail, sophistication and style, while the decks carry a real air of superyacht confidence.
Sitting just under 300GT, the yacht is on a par with many tri-deck rivals on overall dimensions and volume, so the 120's successes can be put down to pure design, making intelligent calls that benefit the owner and guests.
Away from the onboard quality, a semi-displacement hull and Caterpillar C32B 2,400hp engines deliver a very useful 20 knots. Reduce the revs and a range of around 1,000nm at 10 knots is possible, fairly low for a yacht of this size packing 24,000 litres (6,300 US gal) of fuel.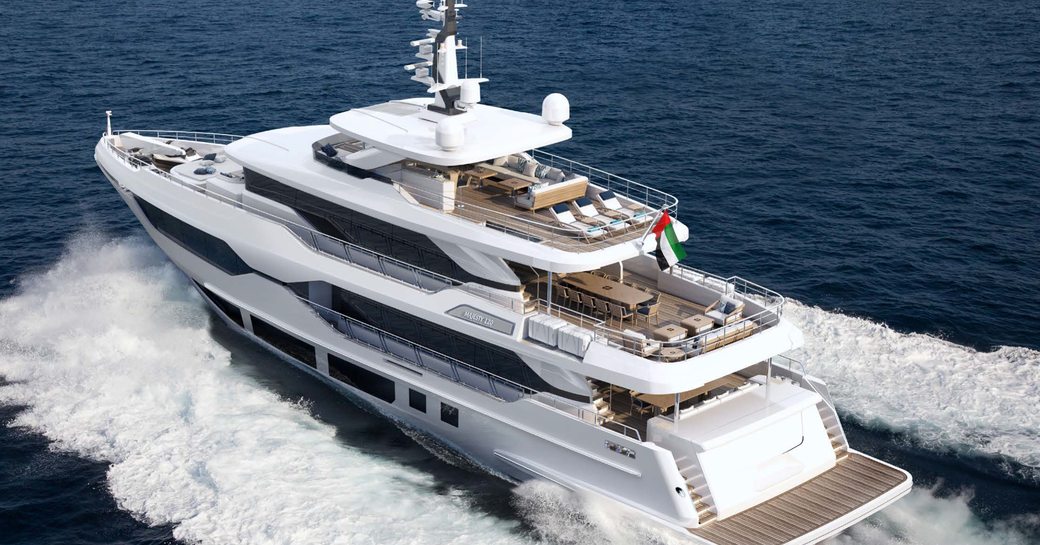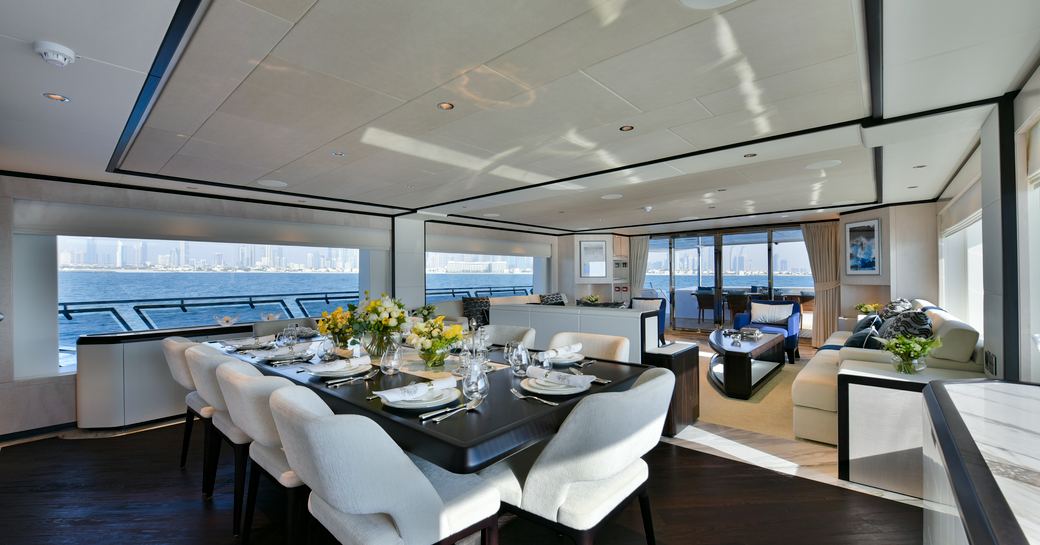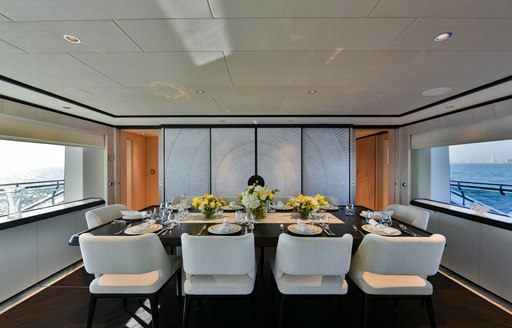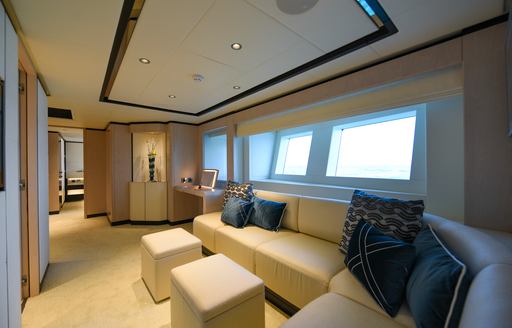 Because this Majesty is so smart and considered inside, it is easy to look past the design and proportions that enable the yacht to impress. Every part of the interior is spacious and functional. The salon and owner's stateroom on the main deck, the five cabins below, and the upper lounge above, everything feels and is beautifully balanced.
If there is one omission, compared to more recent 35-40m superyacht designs, it is a lack of inside-outside thinking. The main and upper salons have the usual aft deck doors but there are no side doors or balconies to open things up.
There is the option to replace a lower deck cabin with a lounge, a feature that does remove this yacht's six-cabin USP but if you only want five cabins then it does create some private space for friends and family.
This internal choice reflects a wider enthusiasm by Majesty to work with clients to create highly personalised yachts. Fabrics, finishes, cabinetry and furniture are all bespoke to the buyer.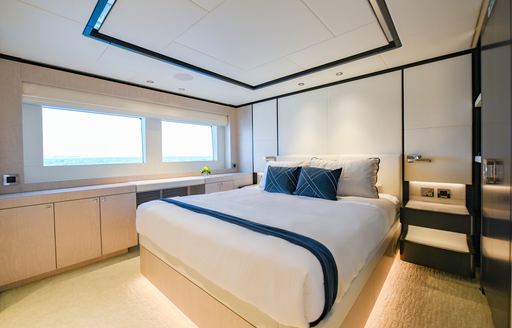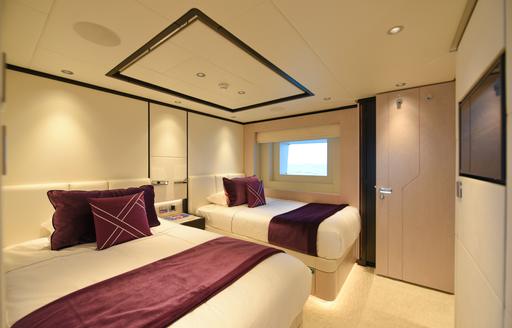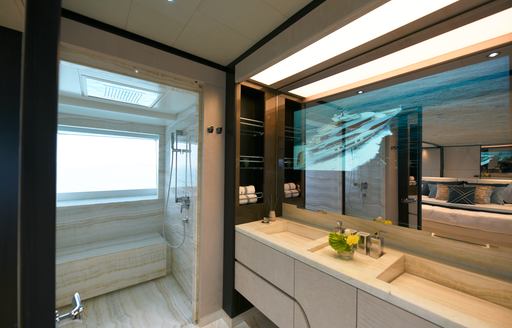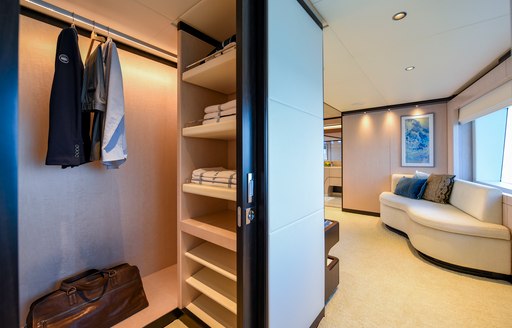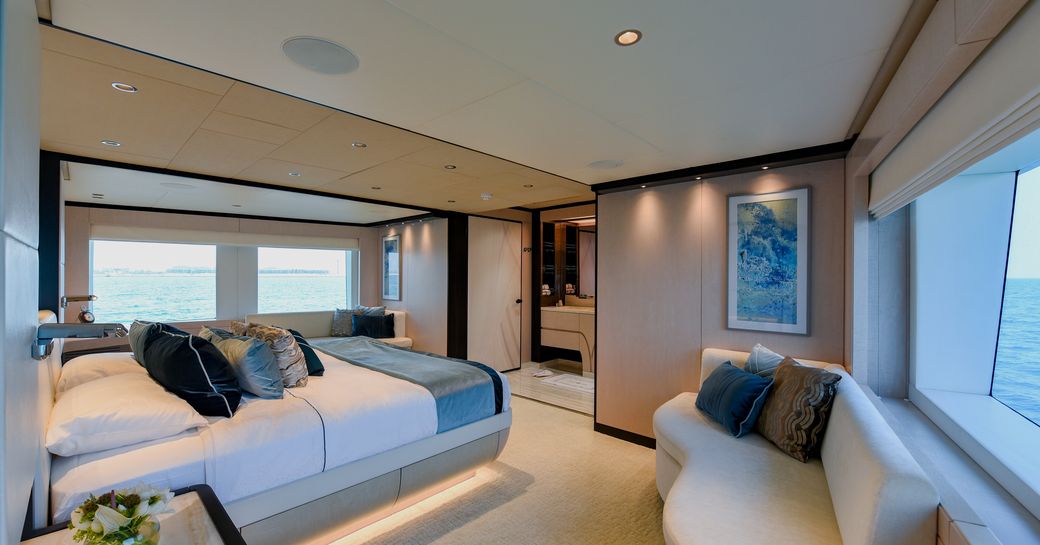 Cabin Craft
Staying below decks, the five-cabin layout has two symmetrical doubles aft, with two twins leading on to the all-important VIP. This forward cabin is notable for its excellent floor space in the entranceway, something that makes the cabin feel so much more usable. The finish is very good, as is the ensuite and walk-in closet that push aft. All the cabins are ensuite with deep sections of hull glass for the four guest cabins, the doubles come with dressing tables.
Up on the main deck, the owner's stateroom is the place to understand the uplift in finish we are seeing across the Majesty fleet. The cabin feels like it is enjoying a lot of the 120's 8.3m (27ft) beam with plenty of floor space around the berth and big sections of glass to light it all up. There's a walk-in closet off the entrance and a long sofa below one of the windows but the final furnishings and finish will be left to your tastes. The test boat came with an ivory palette with panelled walls and contrasting, highly lacquered, dark cabinetry.
Back out of the owner's cabin, the kitchen lies just around to port and it is a place you may well find yourself in. It is a little reflected fact that guests often congregate in a crewed yacht's galley, especially if it is as big and social as this one. The kitchen itself is big, lined by storage and worktops, with a dedicated cold storage section. A place designed for serious use, the yacht's chef will be very happy, but the neat diner makes this a place the whole yacht might well enjoy.
Upper Class
A central, backlit walnut staircase connects the lower, main and upper decks, and it is the upper deck we will head to now. A tri-deck yacht's upper lounge delivers social space in an elevated and private setting that the main salon can't deliver. Here we have a simple salon and bar area but again the final layout is yours to decide.
The joy of these smaller and so more convivial lounges is the view they deliver and how they connect to the upper aft deck. Here, the upper deck doors open onto a covered and private dining area with its own barbecue area, creating a mix of lounge, bar and dining across the deck.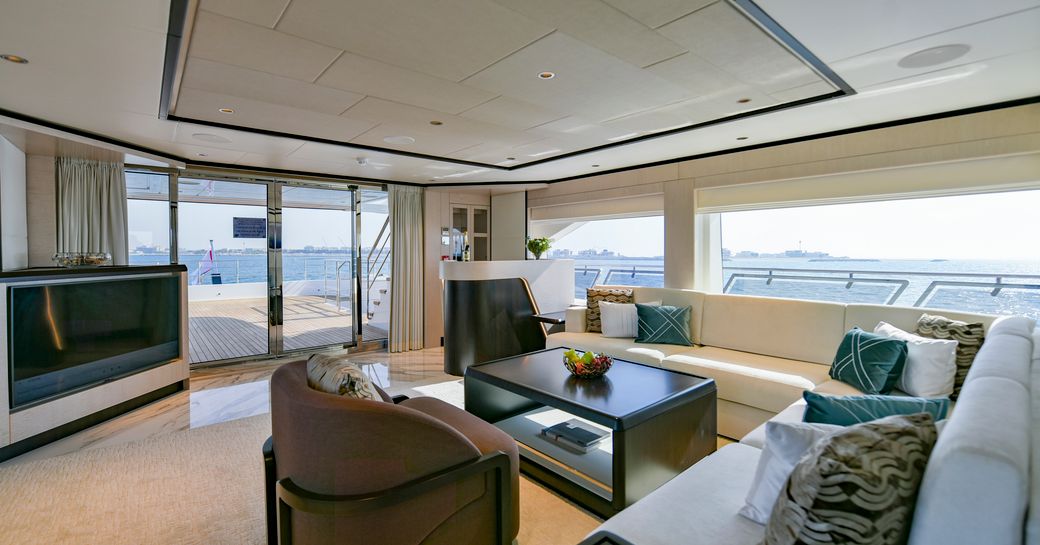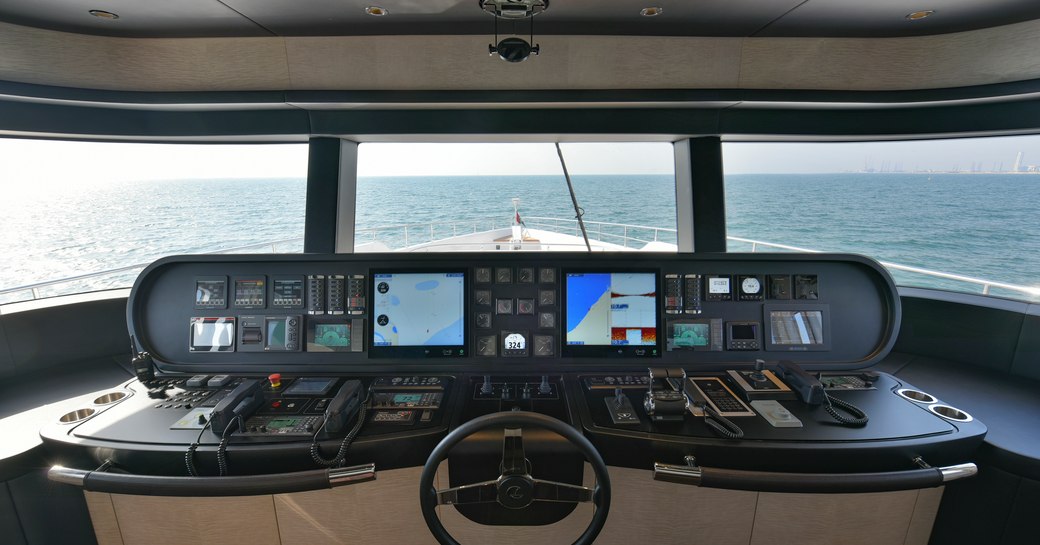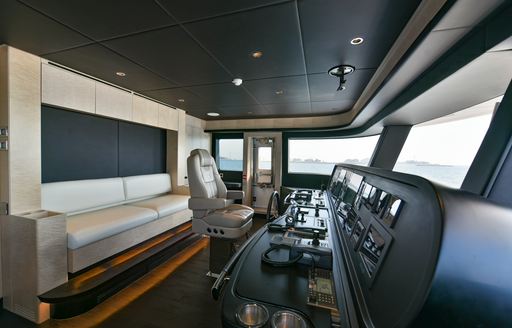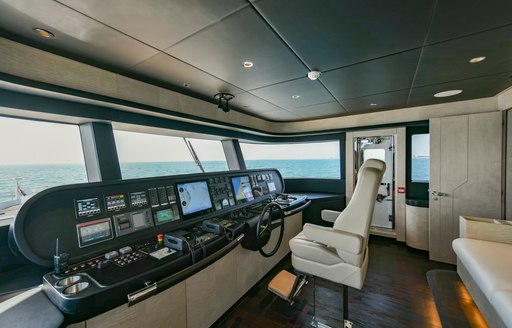 The tri-deck design creates a proper pilothouse on the upper deck, with the captain's cabin running off it - something that eases the pressure on the crew quarters. The helm station spreads across the wheelhouse, with excellent forward visibility and the space for up to four MFD screens. Doors to each side mean crew access to the upper deck is easy and guests can join the Captain, with a raised sofa tucked aft.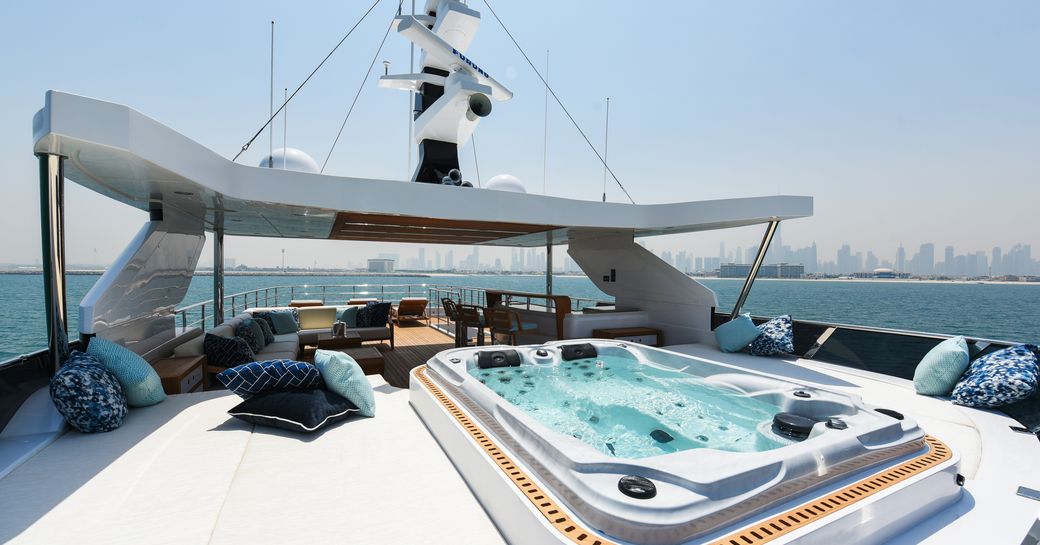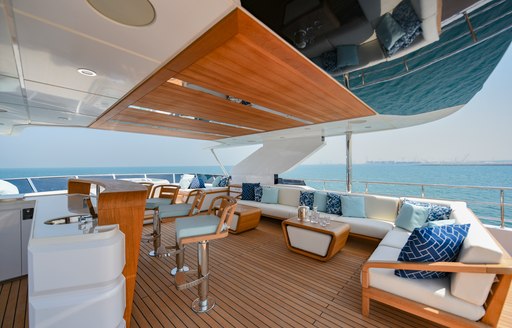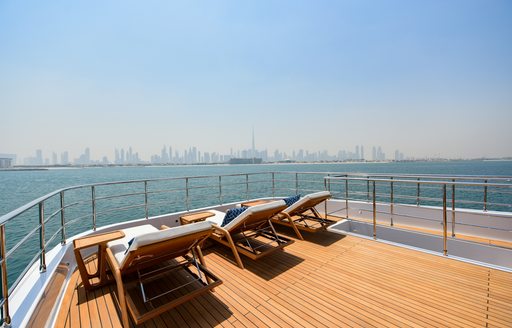 The upper deck does have an open aft section away from the overhang but it feels like a dedicated dining area and that's another considered move by Majesty, because, just a few steps away, the sun deck delivers all the sky and lounge space you could desire.
The sun deck is a triumph, as good as anything you will find below 40m and feels like the kind of terrace that used to be the preserve of 60m yachts. Again, the beam plays its part. The sun deck feels wide as well as long, with a central bar and lounge finished in rich washed teak beneath an impressive hardtop, inlaid with more teak, stainless steel and cool lighting.
At the forward end, a raised spa pool is surrounded by sun pads, to the aft an open deck can come with all manner of seating, the test boat's modular, movable pads are a great option. But it is the sun deck's overall size and quality that impresses most, all set safely within tall, stainless steel guardrails and ready for you to enjoy.
Decks & Tenders
The other on-deck highlight is the long sweep of elevated foredeck lounge that will be a popular on-port hangout or an exhilarating spot when underway. This forward section has a dual role, the lounge leading down to a working foredeck with a central crane for launching two PWCs.
The main tender has a garage aft. The PR shots might show a club of sorts with some smart deck furniture but this is a garage first and foremost and that furniture will have to be stowed somewhere else when the tender is stowed.
With the tender launched, the garage's teak deck and neat wet bar create a fun hydraulic waterside terrace with smart steps adding some luxurious ceremony to taking a dip.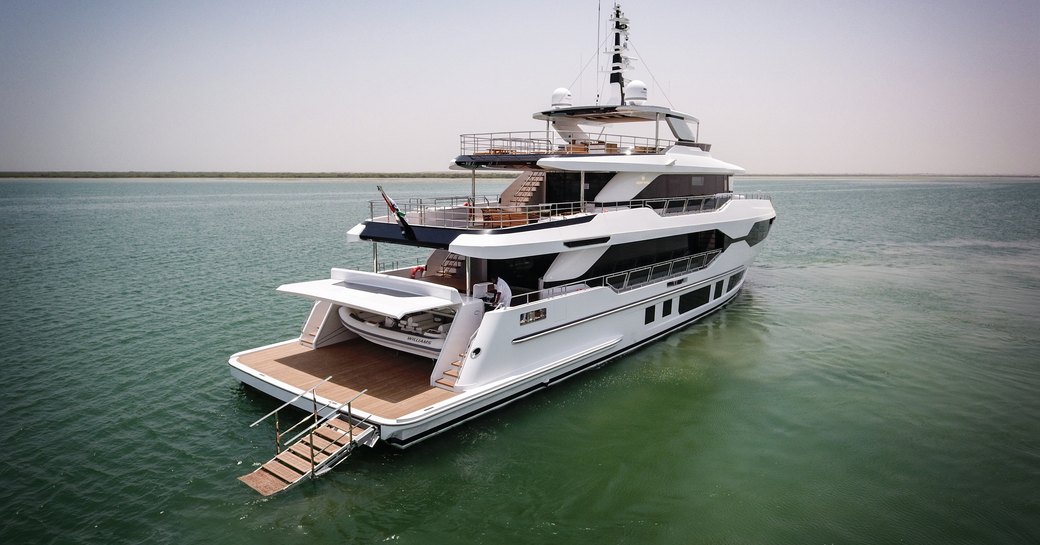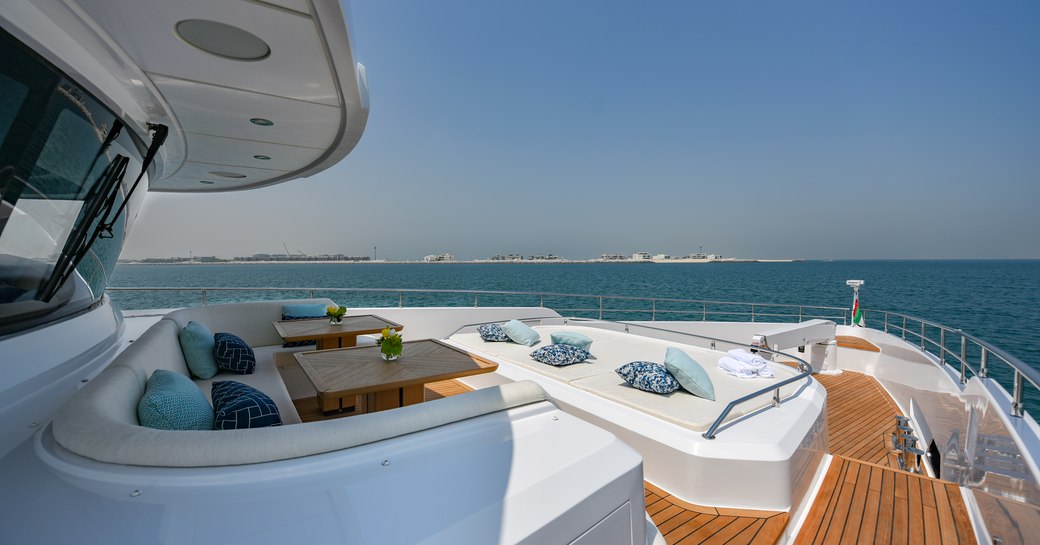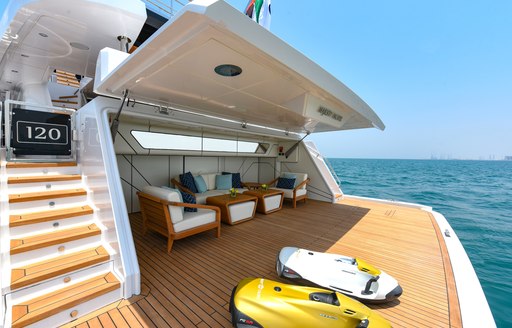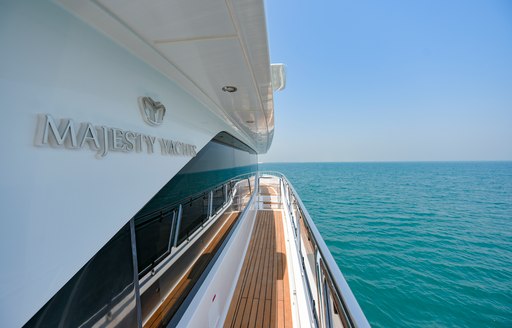 Gulf Craft and its Majesty range offer comparatively good value to the superyacht world. Its designs might not always offer the advanced features and design seen on its rivals but the ability to build large yachts with enticing customisation makes Majesty an interesting option. And, of course, if you cruise in the Middle East region, Gulf Craft's local support network cannot be beaten.
From our experience, when the vast array of extras these yachts demand are added, the pricing tends to get uncomfortably close to the Italian builders that rule this market.
What sets this boat apart from other models is that it can stand up to scrutiny purely on its design and finish and not rely on being that much less money than the competition.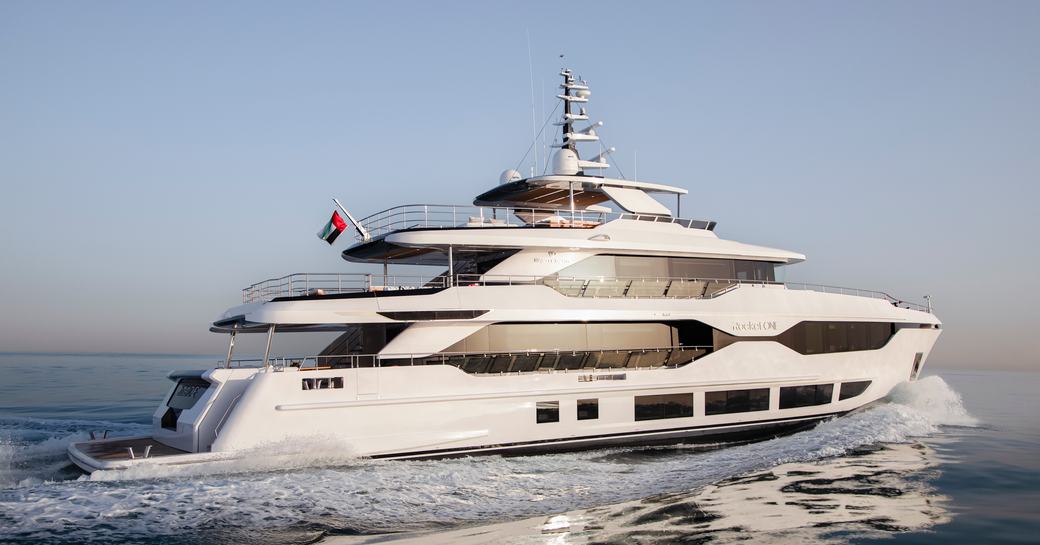 The Majesty 120 is an important yacht, one that boosts Gulf Crafts' constantly improving credentials. It's important, simply because it is so good. A 37m yacht that delivers superb decks and cabins and comes finished with a new flourish and confidence. The crew quarters are small, but if your cruising is about coastal adventures with as many friends as possible this is a yacht you need to see.
Reasons to Buy
No compromise deck and interior design
Massively improved finish
Huge sun deck
Six cabins or five + lower salon
Things to Consider
No inside-outside features
Limited range
Compact crew accommodation
Rivals to Consider
First, let's deal with the wonderful elephant in the room. The Majesty 120 finds itself in the same company as Benetti's Motopanfilo 37m, a wondrous, elegant, timeless and massively capable yacht that simply cannot be beaten. A tri-deck design with a fun fourth viewing platform and a mini beach club, the Motopanfilo has a captivating interior modelled on a whale's skeleton with ivory ribs running through the yacht. The owner's stateroom is magnificent as are the shapely guest cabins. A masterclass that will only improve with age, the Motopanfilo has a range of just under 4,000nm - but it is only five cabins.
Another Italian contender guaranteed to be of interest is the tri-deck Sanlorenzo SD126. Identical to the Majesty on overall dimensions it enjoys a vast salon and main deck owner's stateroom, plus a class-leading crew quarters forward. The sundeck isn't quite as big but the two-tier foredeck lounge is excellent. It is a slightly slower yacht with a top speed of around 18 knots but a 3,000nm range adds to the yacht's superyacht status.
Next, we have two yachts that aren't tri-decks and also stick at five cabins but both are worth your time. The Westport 125 has a massive interior, with an impressive salon, main deck stateroom and crew quarters. The engine bay is excellent with a dedicated engineering zone and there is space for a mini beach club. A top speed of 25 knots is joined by a range of around 3,000nm.
Back to Italy and the sharp, sleek Custom Line 120. This yacht has a very similar main and below-deck layout to the Majesty only with its crew quarters forward. There's no sundeck but there is an excellent flybridge, with a pilothouse tucked just below for longer passages, and a foredeck lounge. A tender garage lies aft for tidy launch and recovery.
Builder

Gulf Craft

Range

Majesty Yachts

Model

Majesty 120

Length Overall

37.55m

Beam

8.36m

Draft

2.1m

Hull

FRP
Cabins

6

Berths

12

Crew

5
Yacht Type (Primary)

Superyacht

Use Type (Primary)

Cruising
Fuel Capacity

24,340 Litres

Fresh Water Capacity

4,069 Litres
Engine Model

2x Caterpillar C32 C ACERT B02 - IMO Tier II/IMO Tier III

Engine HP

1217

Engine economic speed

10 knots

Engine max range (speed type)

1050 nm
Gulf Craft Majesty 120 Layout