Designed by owners for owners, the collaborative nature of the Grand Trawler 62 is all about liveaboard space, storage and sense, so is the outcome a cruising powerhouse or a confused decision by committee? One thing is for sure, this is a very big moment for Beneteau.
Beneteau Grand Trawler 62 Key Facts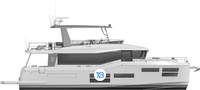 LOA

62.172ft

Model Year

2020

Cabins

3

Crew

2

Max Speed

20 knots

Status

In Production

Yacht Type

Flybridge

Use Type

Cruising
Test & Review Video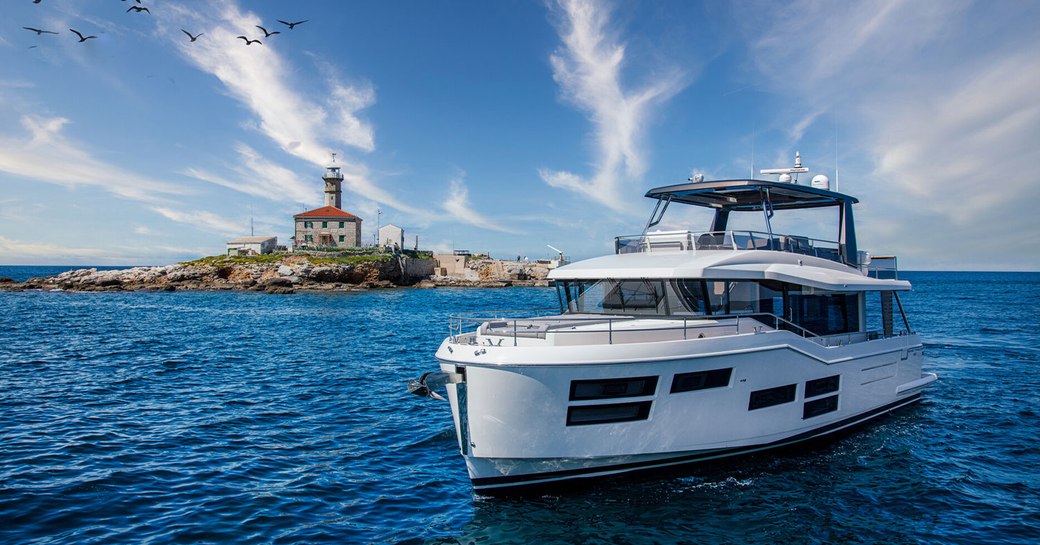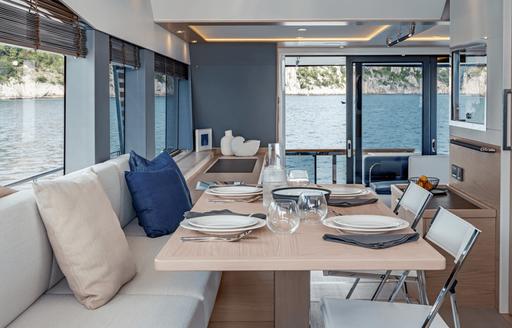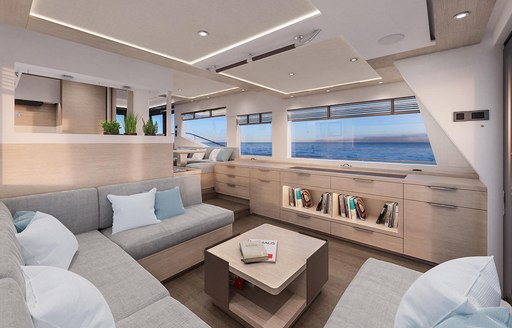 Beneteau has built up an impressive fleet of Swift Trawler models over the last 20 years, every one a great cruising boat that mixes the practicalities of on-water life with plenty of charm. And, rather cleverly, it turned to its army of Swift Trawler owners when designing a new flagship.
We are not talking full creative ownership here, there was no chance of this being like the time Homer Simpson was allowed to make his own car, it was more an investigation into cruising priorities and feedback.
The Beneteau Group does have plenty of expertise in the 18m+ market, its Monte Carlo Yachts pushed well into superyacht territory. So, it seems that Beneteau really did want to hear from owners and make sure its biggest trawler to-date delivered on the water.
Unsurprisingly, one of the main priorities was space, but more interestingly, the other big want was storage, something that Beneteau definitely listened to and other builders would do well to reflect on.
Cynics might say Beneteau also wanted to ensure that the same army of owners would be keen to trade up, but, either way, it looks like a very good decision.
A Worthy Flagship
Staying with Monte Carlo Yachts, the Grand Trawler is built at a large yacht facility in Montfalcone, Italy, whereas the Swift Trawlers come from France. This change of location delivers a certain uplift in fit and finish to make the most use of all the space, and there is a lot.
The 62 measures 18.95m (62ft 2in) with a 5.45m (17ft) beam that is a good 1ft wider than most of the competition. Add in a powerful superstructure with an air draft of 7.3m (24ft) and you certainly have the platform to create some interior majesty.
Benteau has used the volume well, with an optional three-cabin, two-stateroom layout or a more workmanlike standard four-cabin set-up. The serious cruising aspect is bolstered by a proper crew cabin aft, where a full utility area can be specified and plenty of storage space comes as standard.
The salon is the place to really understand the volume and storage on offer. A vast two-tier space with a central galley and a proper helm station with guest seating. It's the kind of helm you want when embarking on a long passage.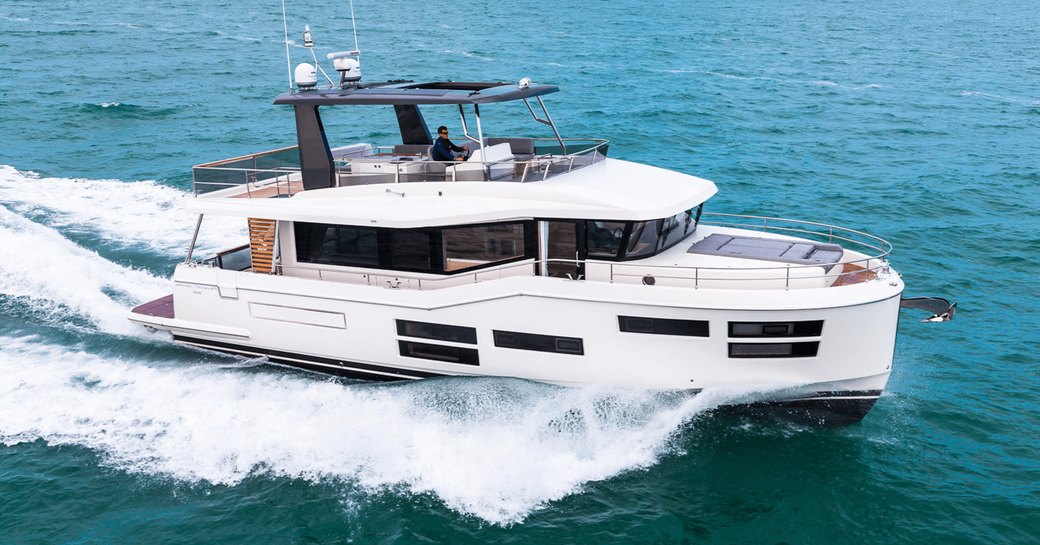 Performance Matters
The semi-displacement hull is powered by MAN i6 730hp engines, good for a top speed of 20 knots with a decent range of around 1,000nm at 9 knots. That's a useful mix of performance for a modern trawler but you might expect more range from the 4,000-litre tanks and a comparatively light 30-tonnes displacement. Certainly, its rivals can reach further on less fuel and more weight.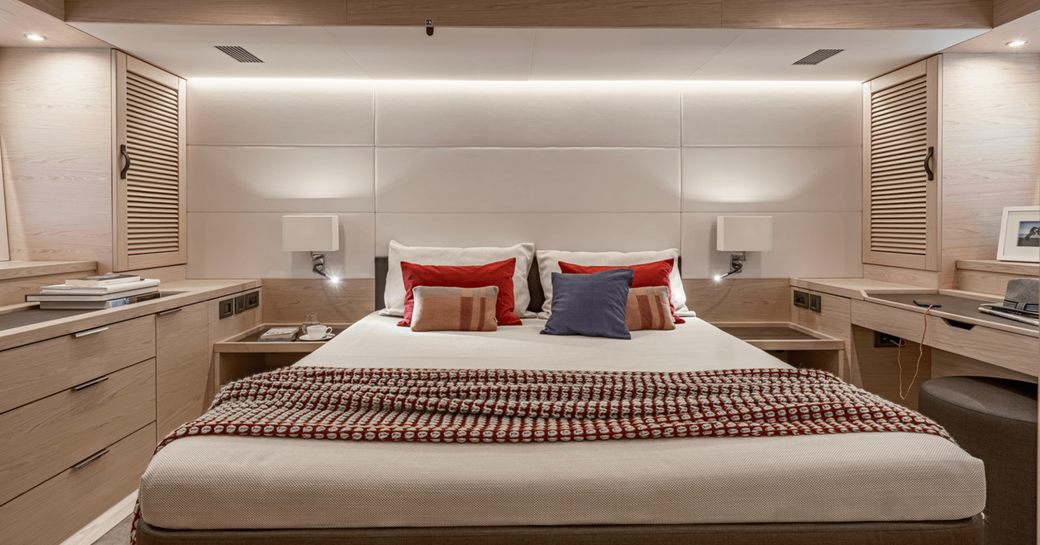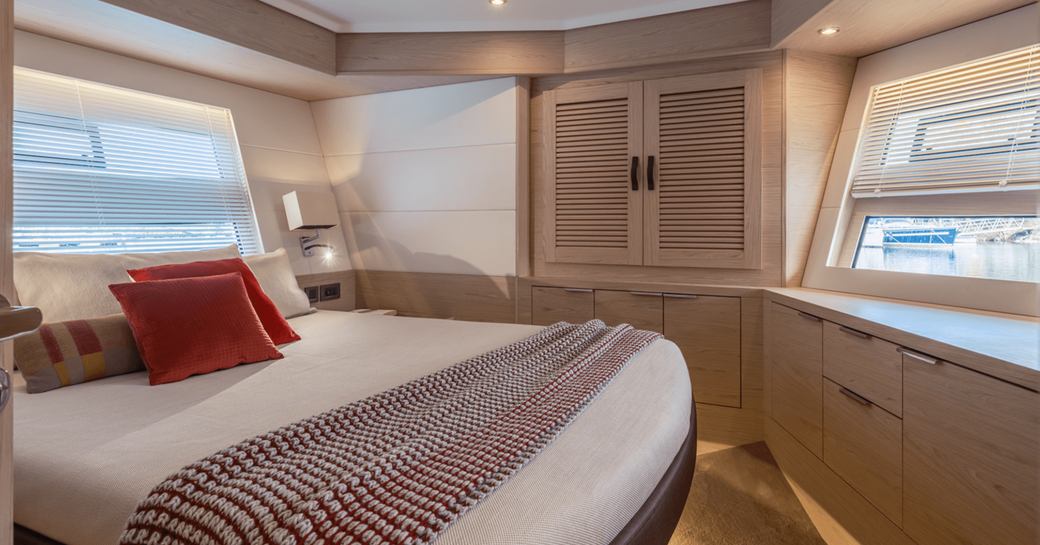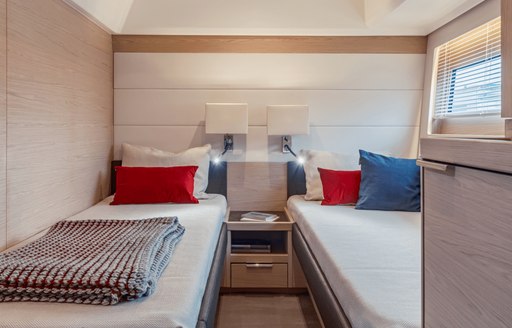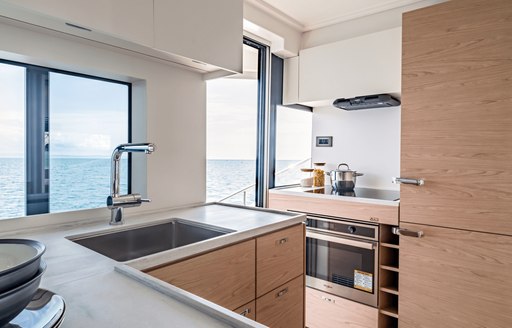 Moving around the interior, the feel is of a 70ft boat and a big one at that. Beneteau has deliberately gone for space over complexity and it works so well. As an example, you could have found a few more inches for the cabins, instead, the lower companionway is allowed to be wide, high and wonderful to use. The cabins are all still plenty big enough so it really is a win-win.
The full-beam stateroom is as big, bright and welcoming as any boat in this class, The Monfalcone fit-out is Beneteau ++, the usual GRP, muted tones and simple cabinetry lifted by trawler-style louvred doors (that we would love to see on the Swift Trawlers) with leather strap handles and a writing desk beneath one of the hull windows.
The twin cabin and forward VIP continue the theme, with hull-side glass and impressively big ensuites, the VIP's slanted glass following the bow's flair is a joy. The other thing each cabin has is masses of stowage space and it is a theme that runs across the boat, culminating in that very useful crew cabin.
In truth, the Grand Trawler doesn't feel like a crewed yacht. Maybe it's due to the easygoing, family style, making the crew area a very useful extra cabin or simply a great dedicated storage room. If you do plan to have crew, two people will be very happy down here.
Good Living On Board
The salon design has the lounge aft and the galley in the centre with a raised dedicated dining area that needs a few stools to make up the numbers to six or eight people.
The galley is semi-enclosed and very practical. Deep cabinets abound, there is a dishwasher and full-height fridge-freezer. Worktop space is good and the electric hob and oven sit by the port deck door, perfect for ventilation as well as getting food out to guests.
Depending on how you plan to use the boat and taking into account the crew quarter's storage, the aft lounge and its U-shape seating can be joined by a long stretch of cabinetry or a smaller set of cabinets and a facing sofa. Either way, the design allows the lounge to merge with the aft deck seating, creating that flow of inside-outside living we want.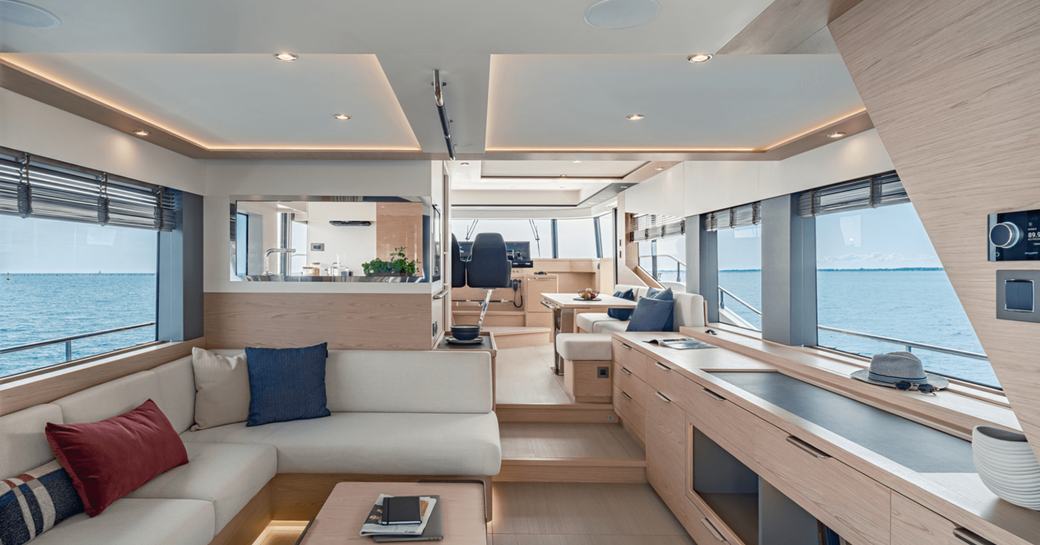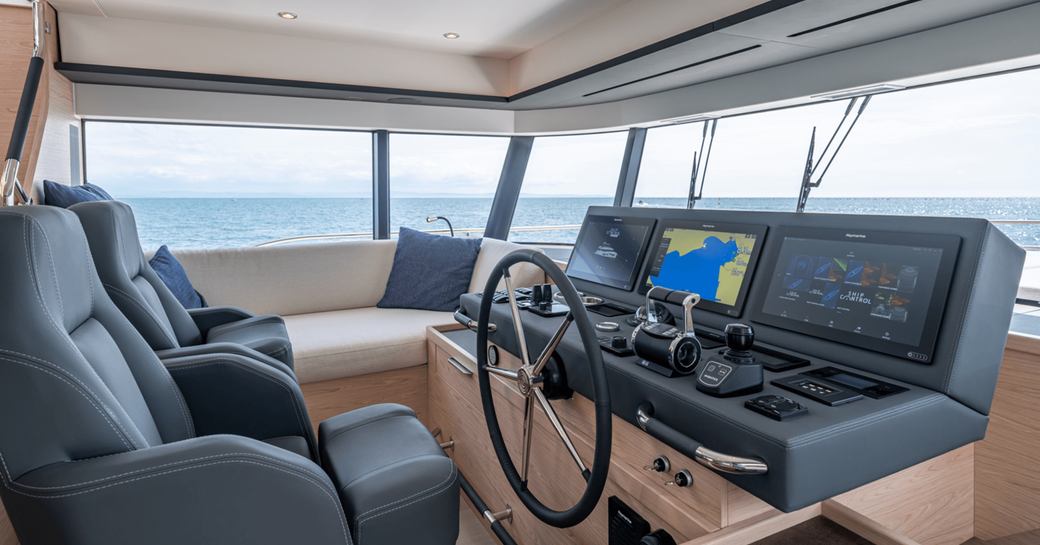 Set forward of the galley, well away from the salon, the helm station has a dedicated pilothouse feel. The central console can take three MFDs and although there is only one helm seat as standard (surely an omission by Beneteau) there is plenty of space for the second optional seat.
The two outstanding features of the helm are the guest seats and visibility. A raised and very comfortable bench runs to port, so you can get an easy five people up here and what a view they will have. The inverted trawler screens have the slimmest of mullions and run through 180 degrees with a side deck door opening up the helm and sense of the seascape even more.
Just aft of the lower helm is a direct stairwell up to yther flybridge and the upper helm, an excellent and very practical big boat feature that allows the skipper to move between both helms with ease or for guests to simply move around the yacht.
The upper helm has a day cruising style with twin seats and more guest seating to make sure the whole gang can enjoy the ride. There's still space for triple screens and the visibility is excellent, as it should be. There isn't much going in the way of wind or spray defection but the spray will rarely reach this high and the yacht is really about 10-12 knot pottering.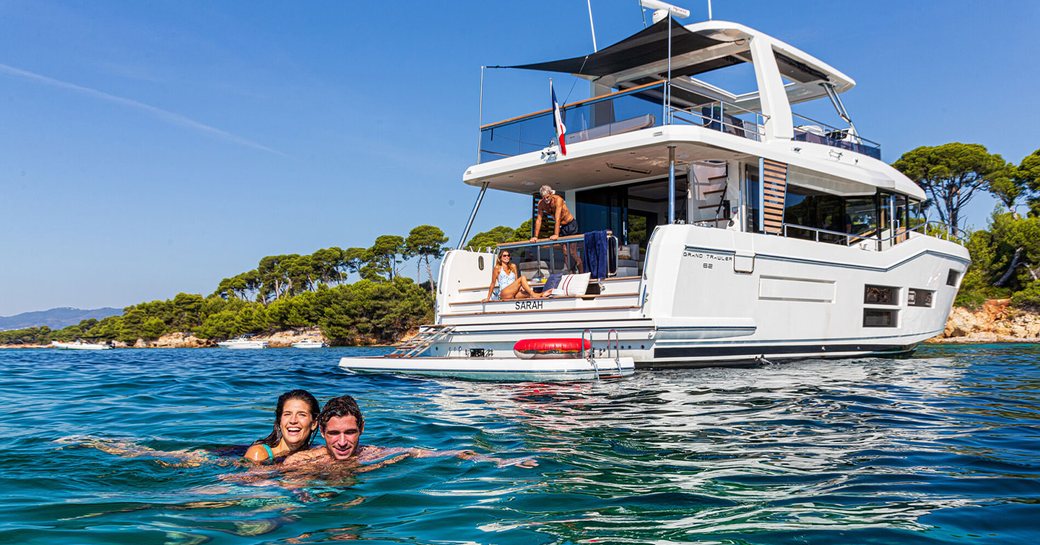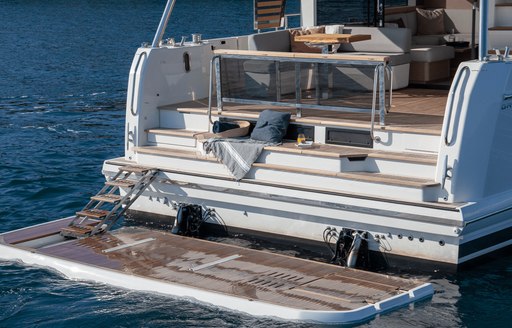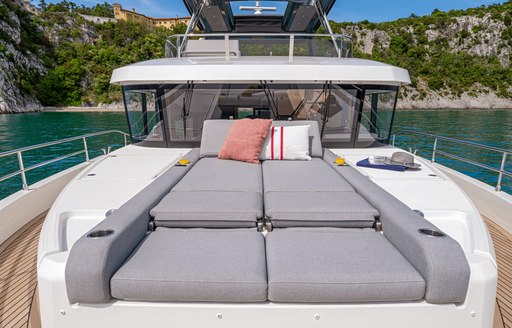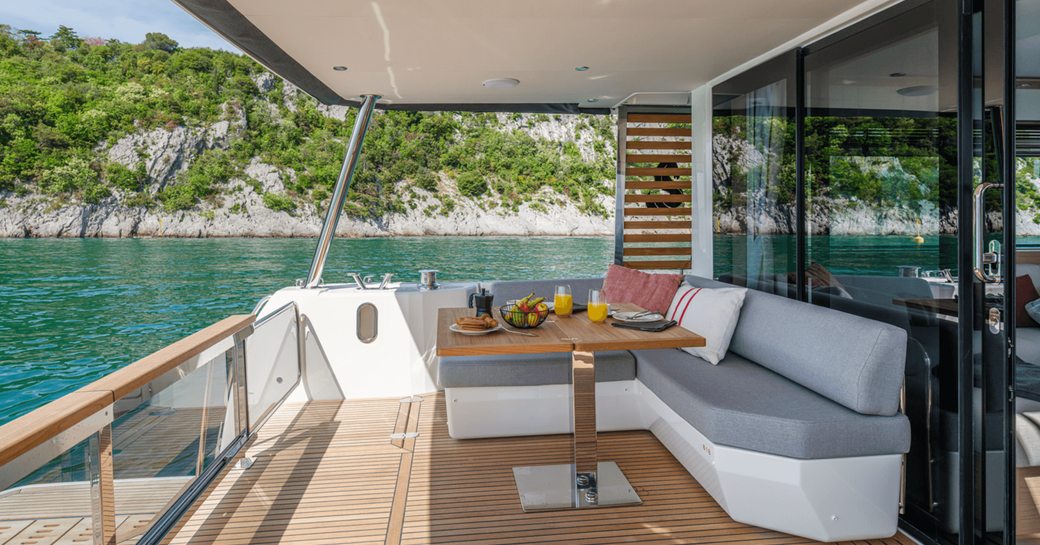 Put simply, the Beneteau Grand Trawler's decks are excellent. From the broad hydraulic swim platform and easy steps up to the main deck, it's all so safe, secure and relaxed. The platform is clever because there's a small lip at the end of the deck that allows you to cross the transom even if the platform is down. There is one omission. Most of the competition offer a forward lounge, here we have only a sun pad (and it's an option). The win is two massive deck lockers.
Back to the rest of the decks and it is all degrees of good. The deep side decks come with very useful bulwark gates and protective overhangs as you move forward. The main deck aft feels big, with Beneteau pushing the seating to port and creating an open terrace with smart teak-slatted supports and a glass transom screen to ensure guests enjoy a great view over the stern.
The flybridge has the same glass aft screen, so those using the open aft deck get a great vista. The flybridge can be accessed from the main deck or the salon, by the helm station, a fantastic large yacht feature that makes getting around the boat so easy and helps helming and crewing the boat, especially if running shorthanded.
The layout pushes the seating forward with a proper bar and grill serving guests. The lounge seating comes with a washed teak table, as does the main deck, that opens up for full dining.
The hardtop and its integral sunroof is optional but will likely be one of your must-haves, especially as there is no canopy system.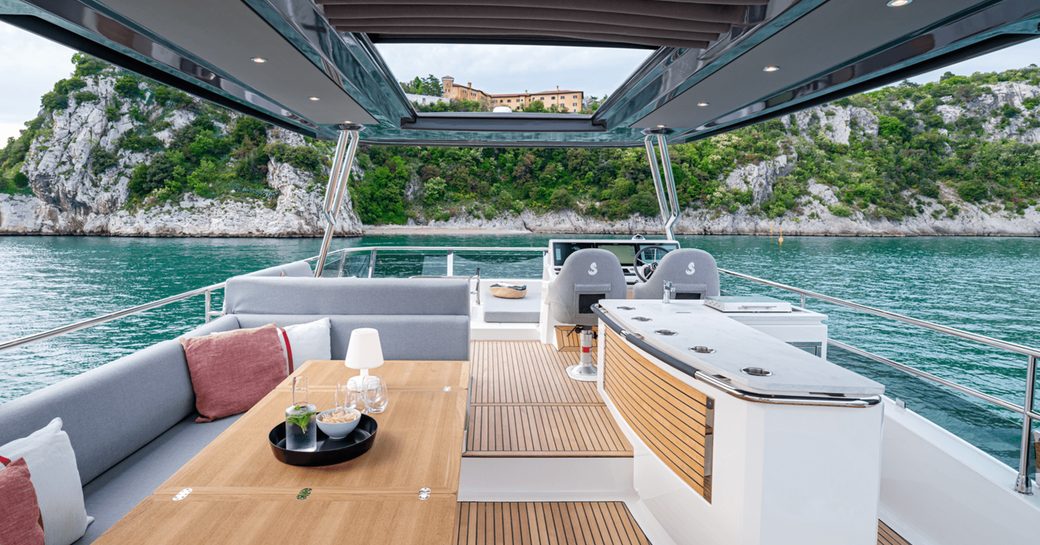 The Grand Trawler is a next-level Beneteau, a bigger boat, built in a different yard and to a higher spec. But some things remain very familiar, including a long options list.
Because there is more boat than usual there are more options to add and Beneteau adds to the pain with items, such as those must-have helm seats, that could and should be standard.
The headline is a €1.7m ex VAT base price that moves to around €2.5m ex VAT for an admittedly high specification yacht that includes big-ticket items like a stabiliser (€200,000) air-conditioning (€64,000) and hydraulic platform (€40,000).
The interior finish package we looked at came with an additional €150,000 cost that needs breaking down but comes with a choice of oak or darker walnut cabinetry.
The hardtop and sunroof look like good value at around €17,000 which is important as there is no canopy option up top. Teak decks come in at around £34,000.
Looking to spend some serious time on board? Do you give relaxation and cruising ability equal billing? Does space to move and breathe rank high on your must-have list? If so, the Beneteau Grand Trawler 62 is worth your time. There can be few other boats of this size or price, if any, that delivers such an impressive mix of interior volume and deck area. With a noticeable upgrade on finish and a knowing nod to cruising life, this is an impressive liveaboard trawler yacht.
Reasons to Buy
Space ship
Ideal liveaboard layout & storage
Safe decks
Large crew quarters/aft cabin
Things to Consider
Low range for yacht type and tankage
Long options list
Rivals to Consider
The trawler still rules the waves. If you want a serious liveaboard cruising yacht, no other genre delivers like a trawler and there's never been a better selection to choose from. The more traditional trawler still exists but we will focus our attention on the Beneteau's modern trawler style - by far the most popular, mixing functional design with long range, fast cruising and massive interiors.
It says a lot about boutique Turkish builder Sirena that any rivals list for a flybridge or trawler yacht under 25m will probably include one of its models. Here, the Sirena 58 sounds like a smaller yacht but is only 14in shorter and 3in less in the beam. It is, however, six tonnes heavier than the Beneteau and can hit close to 30 knots with smaller 641hp engines, suggesting a very good hull design. On board, the magnificent space of the Grand Trawler can't be beaten but the Sirena does offer a very good three-cabin layout with a full-beam stateroom and VIP. There is also a two-cabin option that maximises spaces for four people. The galley aft salon and flybridge are conventional flybridge in style.
Just as bold and imposing as the Beneteau, the Absolute Navetta 58 is a smaller yacht but offers up a massive three-cabin layout with its unique ability to create two suites amidships and forward. The salon is typically smart and spacious while the flybridge feels like an upper deck with a surround of seating. A top speed of 26 knots is matched to a 900-1,000nm range but with far smaller fuel tanks.
Azimut's Magellanos mix classic trawler style with modern yacht cool better than anyone and this 60 is a great example of the range. A novel onboard layout has facing seating plans in the salon and across a superb aft deck. A mixture of flybridge and trawler style is found up top, with an open aft deck leading to a forward lounge. The 60 will hit 26 knots with its 730hp engines and reach 1,000nm at around 10 knots.
Outer Reef's classic trawlers are joined by the more contemporary Trident range, the 620 is the closest rival to the Beneteau. Inside a three-cabin layout gives maximum priority to the owner and VIP, with the galley aft salon design pushing the lounge seating up by the helm. The 620 Trident has a range of 1,300nm and can hit 20 knots.
All of these yachts have foredeck lounges and a liveaboard focus below decks, with spacious cabins served by far larger en-suites than you might find on a flybridge yacht.
Builder

Beneteau Yachts

Range

Grand Trawler

Model

Grand Trawler 62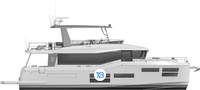 Length Overall

62.172ft

Beam

17.881ft

Draft

4.593ft

Hull

GRP
Yacht Type (Primary)

Flybridge

Use Type (Primary)

Cruising
Fuel Capacity

1,057 Gallons

Fresh Water Capacity

222 Gallons
Engine Model

2x MAN i6-730

Engine economic speed

10 knots

Engine max range (speed type)

1000 nm
Beneteau Grand Trawler 62 Layout