The Bluegame BG42 was ahead of its time when launched. There wasn't the glut of walkaround sportscruisers with T-tops that there are today and since then this style of boat has boomed in popularity.
The BG42 isn't typical in its design but it certainly offers a lot of what customers are looking for from the genre in today's market. Loads of sunbathing spots, spacious walkaround decks, a solid roof and comfortable socialising space that is open to the decks. Accommodation isn't especially private but there are four comfortable berths and a really spacious bathroom ideally suited to weekend trips. The difference here is that the BG42 has a razor-sharp Louis T. Codega hull with a 22-degree deadrise, a 1,400-litre fuel capacity that delivers a strong cruising range and pin-sharp handling courtesy of Volvo Penta IPS. This is no floating patio, as you will discover in our in-depth review below.
Bluegame BG42 Key Facts

LOA

42.585ft

Model Year

2018

Cabins

1

Max Speed

36 knots

Status

In Production

Yacht Type

Sports Yacht

Use Type

Weekending
Test & Review Video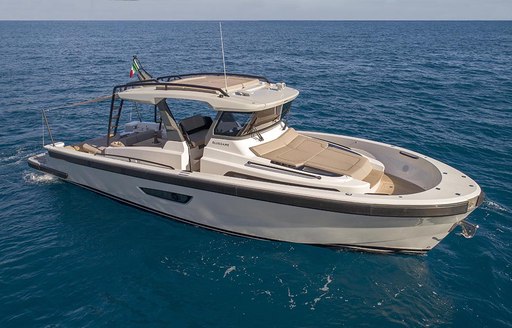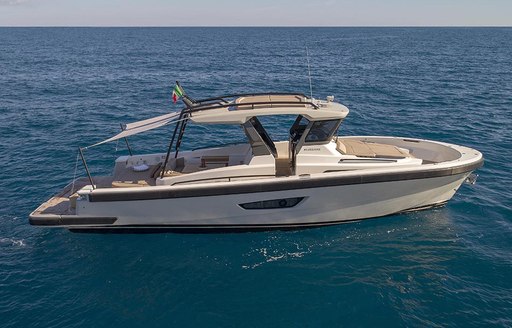 Around the Marina
The BG42 only comes with Volvo Penta's pod drive IPS system, either IPS600 with 440hp per side or what our test boat had, IPS650 with 480hp. The top-of-the-range motors provide plenty of poke out at sea, but their low-down grunt means immediate reactions to the joystick at slow speed, too. This makes the boat very easy to flick around the marina and you'd have to be in a stiff breeze or strong tide to warrant turning on the joystick's High Power Mode. Even so, the €8,800 bow thruster is a worthwhile addition as even backing into our large berth in relatively calm conditions I found it comforting that I had separate control of the bow.
The open design of the BG42 and the position of the helm station are also significant benefits during slow-speed work. You sit or stand high up at the boat's commanding helm with excellent sight lines both fore and aft and the walkaround design makes communicating with crew very easy and also allows the skipper to help out with lines and fenders if they need to.
All of the boat's fenders fit neatly in a locker up at the bow and where there aren't railings Bluegame has fitted fender eyes so you can quickly clip the fenders on and off and adjust their height, though their position along the boat is fixed. In essence, it's an easy boat to crew and handle inside the marina.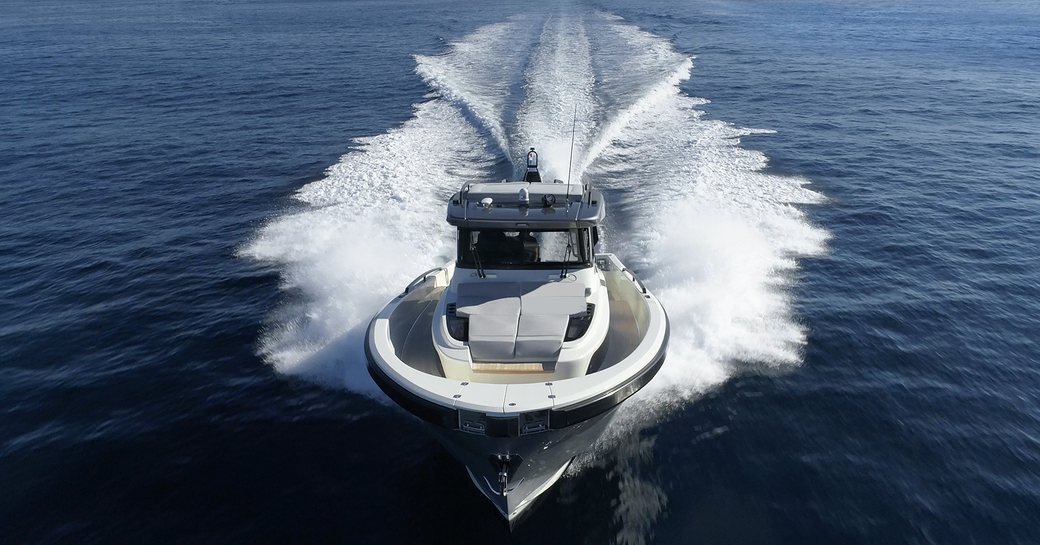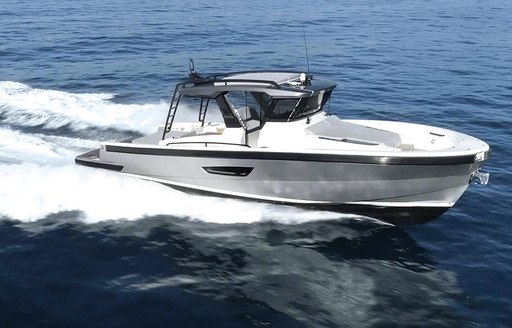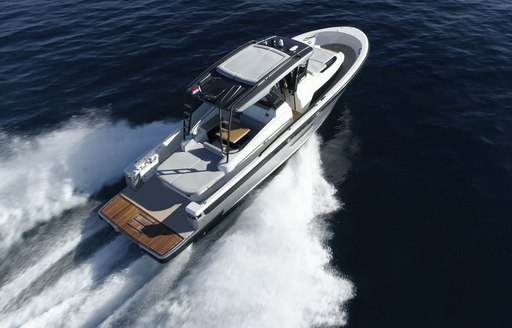 At Sea
I don't usually associate IPS with an exciting driving experience but from the moment the throttles are buried on the BG42 it feels different. It fires out of the hole as if it's magnetically attracted to the horizon and 20 knots flick past on the MFD in a flash. At 30 knots it feels very comfortable and thanks to a 1,400-litre fuel tank it will cover 350nm at that speed; at 25 knots (which feels sluggish) the range is over 400nm.
We achieved a two-way top speed of 36 knots during our trial, a couple of knots short of Bluegame's claimed 38-knot maximum. Top speed is one thing but it's the way this thing cruises and gets up to cruise, that is so impressive. Its hull is a fair bit deeper than many of its walkaround rivals with a 22-degree deadrise at the transom and you feel that in its poise at speed. It feels ready to react to the helm at any moment and though we didn't have particularly challenging conditions for the test, it sliced through the worst of that Solent traffic had to offer with ease.
The level of grip in hard turns is immense. This is an IPS boat that is truly engaging to drive and has almost a jet-drive feel in the way that it is glued to the water. The sharp hull and its flared bow will hammer through the waves without fuss if needed but the handling is so well balanced that you can easily guide the boat through the worst of the chop if you want to navigate by hand. It's a shame we had such calm conditions because the BG42 feels as though it would relish a bit of a battle against the elements.
That sharp hull does mean that the boat tends to roll a bit more at rest, however, so the €56,000 Seakeeper option could be a sensible addition if you plan to spend a lot of time on anchor or on a buoy.
The raised driving position delivers a tremendous all-around view at speed and is set so far forward that judging the wave pattern ahead couldn't be easier. And because the boat is so open it's just as easy to see out either side and behind when making hard turns. Even with a solid roof, because the roofline rises on either side of the helm you don't lose sight of the horizon in hard turns as you do on many coupe-style sportscruisers. It's a uniquely fabulous driving experience.
Builder Speed & Range Data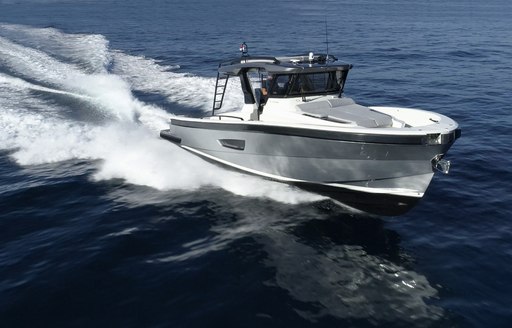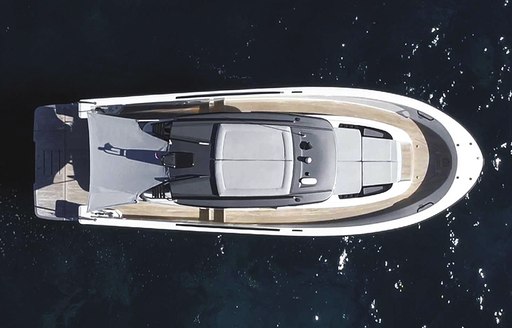 Despite being launched in 2018, the BG42's design and layout still stand out. The most striking element of its design is of course the ladders that lead from the aft deck to the sun pad mounted atop the hard top. The ladders are a €17,500 option and won't be for everyone both because of the way they look and because not everyone is likely to feel comfortable climbing up to the roof to sunbathe.
However, customisation is the name of the game at Sanlorenzo (and therefore Bluegame) so if you want to rig the hardtop (which is full carbon fibre) with outriggers for fishing gear or racks to hold SUPs or even mountain bikes, you could do that instead. You can picture this boat loaded up with water toys, blasting out to a bay for some fun in and out of the water.
It has an imposing stance on the water with a towering freeboard and flared bow. The inwardly raked windscreen and ladders give it an almost military look, especially with that thick black rubbing strake stretching all the way around its waist. It's a head-turner, no doubt about that.
Built to Last
The hull bottom uses a monolithic lamination with polyester resin while the hull sides and superstructure use a sandwich-core construction. The deck and coach roof are in sandwich vinylester resin but the hard top is full carbon fibre in a bid to reduce weight and keep the centre of gravity as low as possible.
This mix of advanced construction methods demonstrates Bluegame's boat-building skill and its determination to use materials that are right for the job, not just the most efficient or cost-effective way of building. You pay handsomely for this quality but the BG42 feels every inch a top-class product, from the peerless performance of its hull over the water to the feeling of solidity underfoot inside the cabin. Bluegame is a sub-brand of Sanlorenzo and the quality seeps through.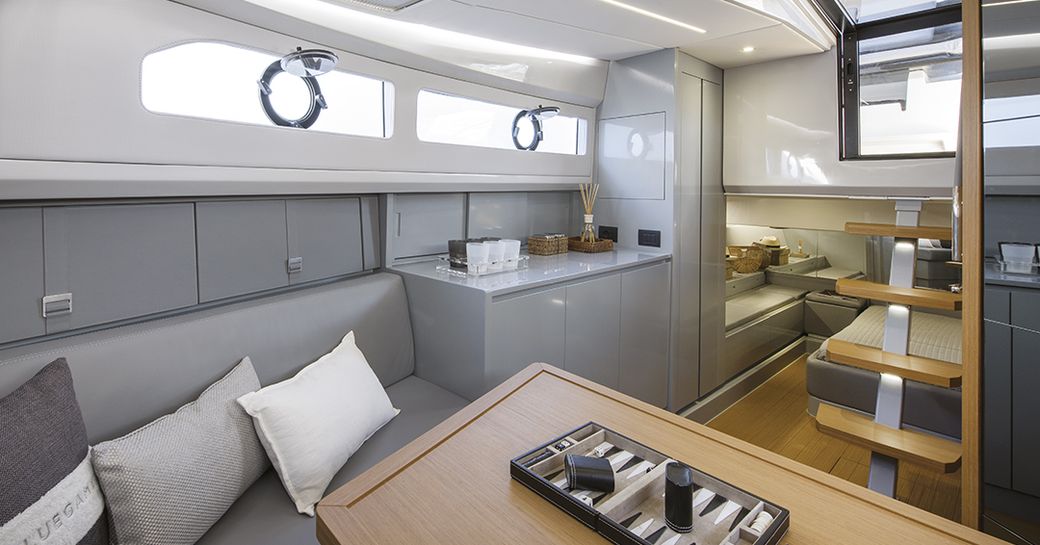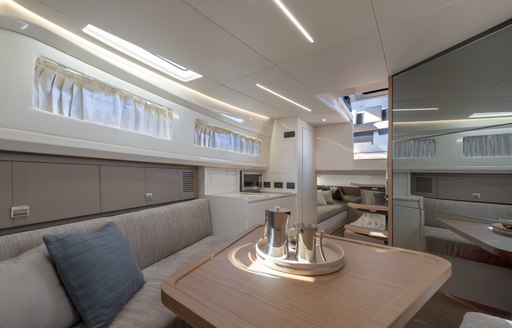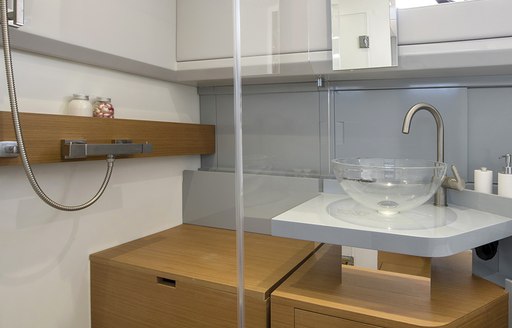 As hard as it may be to believe this €1 million cruiser will probably spend most of its life playing day boat so for many owners the accommodation is a secondary issue. But despite its compact footprint and open-plan layout, Bluegame has paid just as much attention to the execution here as it has elsewhere on the boat. The materials and fabrics are top quality, as are the flooring and the kitchen and bathroom equipment.
The amidships berth is crawl-in but despite the restricted headroom there's a proper double bed with a comfortable mattress and bedside tables. There's a passage at the forward end of the space and at the end of the bed so that the occupants don't disturb each other if they get up in the night. There's storage beneath the bed, under the bench opposite and inside a really useful full-height cupboard just by the entrance. The designers didn't have much space to play with but they've worked with it well.
The galley fit-out with cooktop, microwave and bin is a €5,200 option and it provides the basics to knock up a quick meal, though it will probably be surplus to requirements for most. If you don't have it you get yet more storage. The headroom is excellent in the main part of the cabin and the separate bathroom is a standout feature of the BG42's lower deck. It's big enough to have a spacious separate shower cubicle and the quality of the fit-out is outstanding.
Forward, the dinette table drops down at the touch of a button to create another double berth with the help of an in-fill cushion. With a couple on board, this can be left in dinette mode to provide a permanent living space but if there are guests it converts quickly and easily, though there isn't much privacy.
There are more traditional sportscruisers of this size with two totally separate cabins and better levels of privacy but the BG42 and the majority of its rivals from the likes of Fjord, Pardo and Solaris have embraced this open-plan arrangement and it's an established part of the genre now. If longer stays on board are likely - especially with guests - then more privacy would be attractive but for day boat and weekend work the BG42's layout is just fine.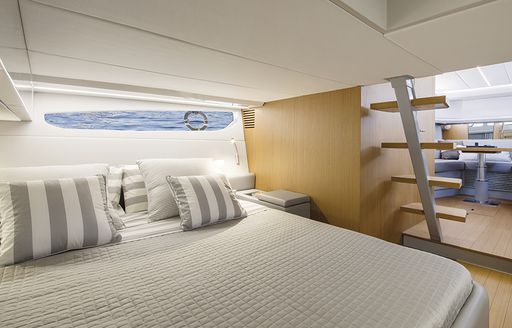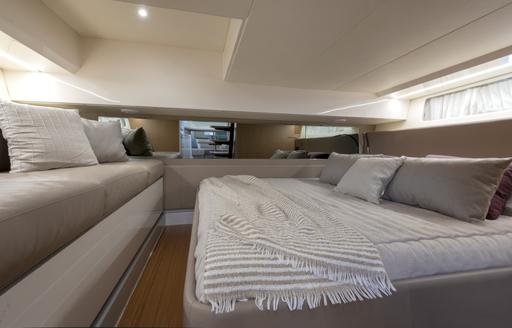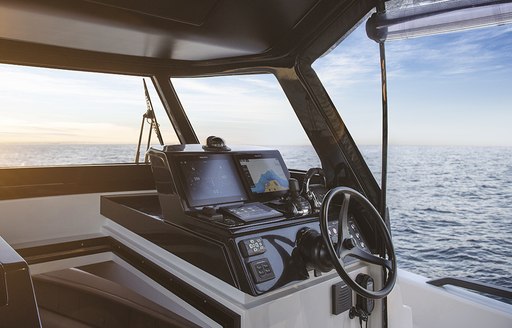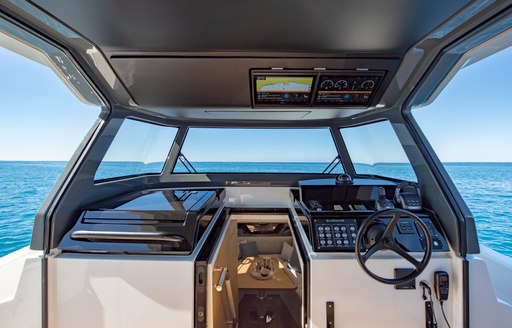 The BG42's helm position is as unique as its styling. You look down over the water, which seems a surprisingly long way down, peering over a dark, imposing helm that is punctuated by a pair of 12in MFDs (9in ones are standard) and some handsomely crafted metal switchgear with controls for lighting, pumps and other major functions. If you want even larger screens you can opt for 16in ones but they're mounted in an overhead moulding. Everything you come into regular contact with rings with quality, such as those switches or the steering wheel that has a delicate metal rim with rubber backing that is lovely to hold and has a reassuring weight to it.
The double helm seat, fashioned from carbon fibre and a truly lovely piece of deck furniture, is fixed, so shorter skippers may find that it's a stretch to the throttles, but it is also set at the perfect height to lean against. The view is excellent seated or standing and it's remarkable how well protected you feel for what is such an open design.
Though there is a really useful storage bin on the opposite side of the dash, the helm lacks storage for loose items and is devoid of cup holders, which seems remiss on a boat where everything else seems so well thought out. That said, there are some useful deep storage voids overhead that can swallow things like instrument covers and paper charts, as quaint as that may sound.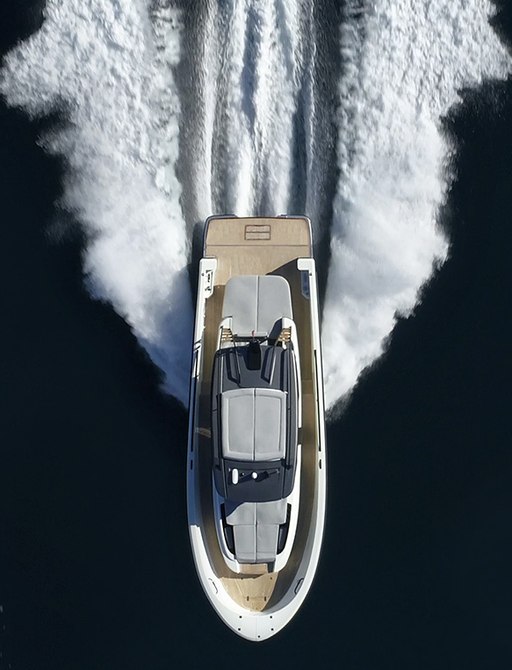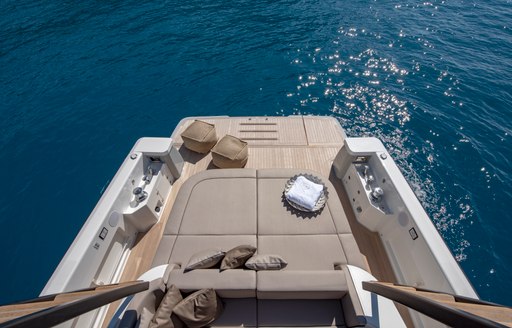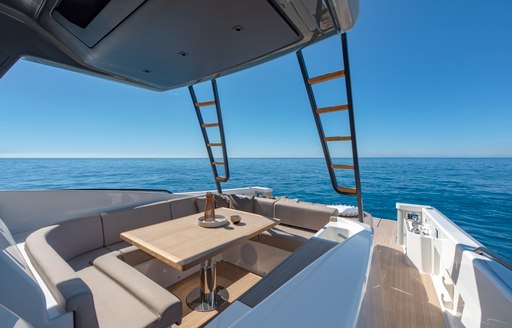 The BG42's utilitarian styling disguises a deck layout that is as inventive as it is comfortable. Though the BG42 came years before the beach-club focussed models that Bluegame have launched more recently it still has that feel at the aft end of the deck.
The hi-lo pathing platform doesn't run the width of the stern, leaving a fixed portion on the port side from which the passerelle extends if fitted. That said, such is Bluegame's attitude to customisation, if you wanted a full-width platform the shipyard would accommodate that. You might want that if you envisage having a large tender because you'll struggle to fit it on the shorter standard version. No issue with the (450kg) weight capacity, but the lack of floor space could be an issue. Many owners don't feel they need a tender on a boat of this size and often have a small jet-ski for beach trips and a bit of fun.
The aft sun pad lifts on a pair of electro-hydraulic rams to give superb access to the engine room, which is neatly arranged and very easy to work inside. It's so much better than a hatch in the deck where you inevitably have restricted headroom and barely any natural light to work in.
The attention to practical detailing is excellent. There is a step built in between the platform and the main deck to ease boarding and a beautifully crafted stainless steel boarding pole slots into the deck to give you something to steady yourself on as you come in and out of the water. The mooring gear is hefty for a boat of this size and includes sturdy cleats, electric winches and boxed fairleads. Racks built into the bulwarks are perfect for holding the boat hook, fishing rods and the carbon fibre poles that support a canopy that can be attached to the hard top to shade the aft sun pad. It's very well executed and expensively crafted.
Practical Delights
The symmetrical side decks are broad and even though the guard rails tail off towards the bow, the high bulwarks and thick rail on the coachroof offer plenty of security when moving forward.
The dinette is one of the more interesting design decisions on board the 42. Instead of running the table across the boat and opening the seating to the side decks, here it is cocooned by the side decks a few steps down from the helm station. It means you lose a bit of space for people to dine but the feeling of security is remarkable, especially if you have small children on board who you know can't easily get out onto the side decks when the boat is moving along.
It won't suit those who plan to host lots of people for lunch but the cosiness and protection of this layout has a unique allure. This area is also home to the wet bar where there's the usual sink, fridge and grill arrangement and yet more handy storage spots, including a deep locker beneath the helm seat that could swallow a useful amount of kit.
The final trick up the sleeve is that this entire area from the windscreen to the aft end of the dinette moulding can be inclosed in high-quality Strataglass 'windows'. These are a more structurally robust take on the usual canopy cover with zip-out glass panels that allow you to tweak the amount of natural ventilation. They add real versatility to the deck space and contradict the notion that the BG42 would be most at home in warmer climes.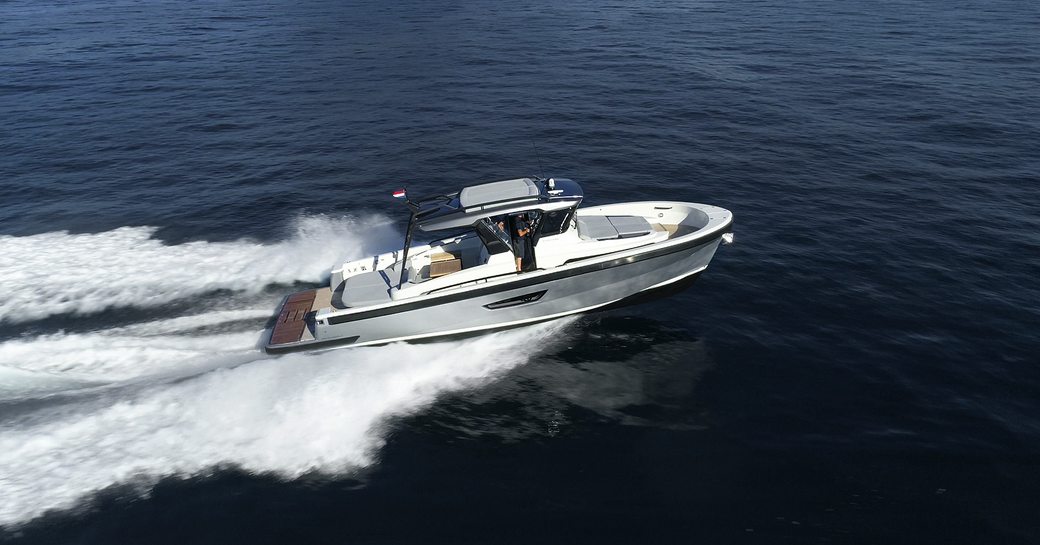 You don't buy a Sanlorenzo product expecting to find a bargain but the BG42, though pricey, comes with a healthy standard specification and the quality of its construction and finish is in clear evidence all over the boat. The base price is €835,000 ex VAT but our test boat, with most major options ticked, came in at €1.04 million ex VAT (prices correct at time of writing). Key options included teak decking (€27,800), the ladder frame kit (€17,500), the hydraulic bathing platform (€24,500), Strataglass cockpit covers (€12,600) and 16,000BTU air-con with the uprated 7kW generator (€14,500).
It feels like you're getting what you pay for with the BG42 and even though there isn't much flexibility in the arrangement of the layout, the shipyard is still more open than most to bespoke requests and on a smallish production boat there is a price to pay for that.
Our Options & Pick
Our test boat didn't have the (€56,000) Seakeeper fitted and given the sharp hull and height of the (albeit carbon fibre) hardtop if you plan to spend a lot of time on anchor, it would make life a lot more comfortable, That deep hull pays dividends through the chop but it does make the boat more susceptible to rolling when it's stationary. There's a perfect slot for the Seakeeper 3 at the forward end of the engine room, though it does make getting to the generator a little awkward.
I would have all of the options mentioned above (though the air-con may be surplus to requirements depending on where you keep the boat) and include the (€8,800) bow thruster (always useful for fine control, even on an IPS boat), the 12in Garmin displays (€4,700), radar (€6,000) electric wet bar grill (€600) and the sun pad for the hardtop (€5,800).
The BG42 is one of the most pleasantly surprising boats we've tested for some time. The idiosyncratic styling takes some getting used to but underneath that imposing exterior is a boat designed to be used and one that can mould itself into a wide variety of different uses. The deck layout works brilliantly, the interior is far more spacious and comfortable than it needs to be and the driving experience is like nothing else in the sector. It may seem like an outside runner but spend a bit of time on board and it soon becomes clear that this is a boat of many talents and a utilitarian antidote to some of its form-over-function rivals.
Reasons to Buy
High quality build and finish
Handling and seakeeping
Inventive deck spaces
Efficient cruising performance
Versatile design
Things to Consider
Sucecptible to roll
Smaller dinette than some rivals
Looks won't suit everyone
Rivals to Consider
The BG42 doesn't really have many direct rivals but there are boats that offer a similar blend of on-deck lifestyle and stylish, open-plan interior.
The Pardo 43 typifies the type of walkaround cruiser that the BG42 is up against it. It has an elegant fixed T-top, a high waistline, walkaround decks and more sunbathing space than the Playboy Mansion. It, like the Bluegame, is also powered by Volvo Penta IPS but it's more of a relaxed wafty cruiser than the harder-edged BG42. On deck, there is an abundance of sun pads and a broad central dinette served by a wet bar. The forward end of the dinette has two-way backrests so it can quickly convert from dining space to forward-facing seating when the boat is on the move. Below deck, there is an open-plan double, forward, with the option to have either a pair of twin berths amidships or a large storage area/utility space. Both layouts feature a decent separate bathroom.
The Fjord 44 Coupe is a curious-looking beast but it offers walkaround decks and impressive internal volume with the versatility of a vast sealed glass house. It doesn't open up as nicely as the BG42 with its Strataglass covers but it's a lot quicker and easier to enclose, even if the wheelhouse does look a little ungainly. The main deck is laid out more like a traditional saloon with a run of seating to starboard, opposite a wet bar unit that is also home to a pop-up TV. Full-height side doors on both sides, a sunroof, drop-down windows and sliding doors aft all combine to give a great mix of ventilation and access options for the main deck. Below, an open plan forward cabin with storage amidships is standard with the option to have a pair of bunks amidships. With the largest IPS600 engines, the 44 should crack 36 knots though it's unlikely to handle rougher conditions as well as the Bluegame.

The Boston Whaler 420 Outrage is a more focused fast fishing machine than the Bluegame but they share quite a few traits. They are both super high-quality fast cruising machines finished with practical panache and capable of cruising long distances at decent speeds. The Whaler favours outboards with the option of quad 450hp Mercury outboards or twin 600hp V12s for a top speed of over 60mph. Its deck is more fishing focussed with bait wells, outriggers and a tuna tower but there's still plenty of space to lounge around if hooking fish isn't your thing. It lacks the accommodation of the Bluegmame with only a convertible vee berth, small galley and separate bathroom but it's very nicely put together and, according to the Boston Whaler legend, unsinkable. Which is comforting.
The Wallytender 48, though a bigger boat than the Bluegame, has a similar other-worldly aesthetic and is perhaps the ultimate stylish, fast day boat. It has interior accommodation but it's more about the deck spaces and charging at high speed to the next hotspot looking damn good while you're at it. Drop-down platforms on either side of the aft sun pad increase deck space when at anchor and its walkaround deck layout includes a broad dinette and wet bar underneath the shelter of a rakish hardtop. It's available with IPS or quad Mercury R 450hp outboards as the 'X' version, which is capable of 54 knots. Nowhere near as practical as the Bluegame but it turns heads like nothing else.
Specifications & Performance
Builder

Bluegame

Range

BG

Model

BG42

Length Overall

42.585ft

Beam

14.337ft

Draft(full load)

3.445ft

Hull

GRP
Yacht Type (Primary)

Sports Yacht

Use Type (Primary)

Weekending
Fuel Capacity

370 Gallons

Fresh Water Capacity

95 Gallons
Engine Model

2x Volvo Penta D11-IPS650
Performance Data
Bluegame BG42 version 2018. *Data supplied by the manufacturer.
Test Engines Twin Volvo Penta D11-IPS650
RPM
Knots
Liters Per Hour
Liters Per Mile
Range (nm)
Decibels
CRUISE

2,800
24.2
87
4
392
-

MAX

3,840
38.0
193
5
276
-
Yacht Load: 30 Litres of water 30 Litres of fuel 7 members of crew air temperature of 22 °C