The trawler-inspired liveaboard Magellano range might be the quiet partner in Azimut's usually outspoken fleet but with a recent design boost from Ken Freivokh, these serious cruisers are now finding their feet, creating an impressive mix of style and substance. The latest 66 model, offering owner or crew operation, is the perfect example of where Magellano is heading and why you need to be along for the ride.
Azimut Magellano 66 Key Facts

LOA

20.15m

Model Year

2023

Cabins

3

Crew

2

Max Speed

23 knots

Status

In Production

Generations

2

Yacht Type

Trawler Yacht

Use Type

Cruising
Test & Review Video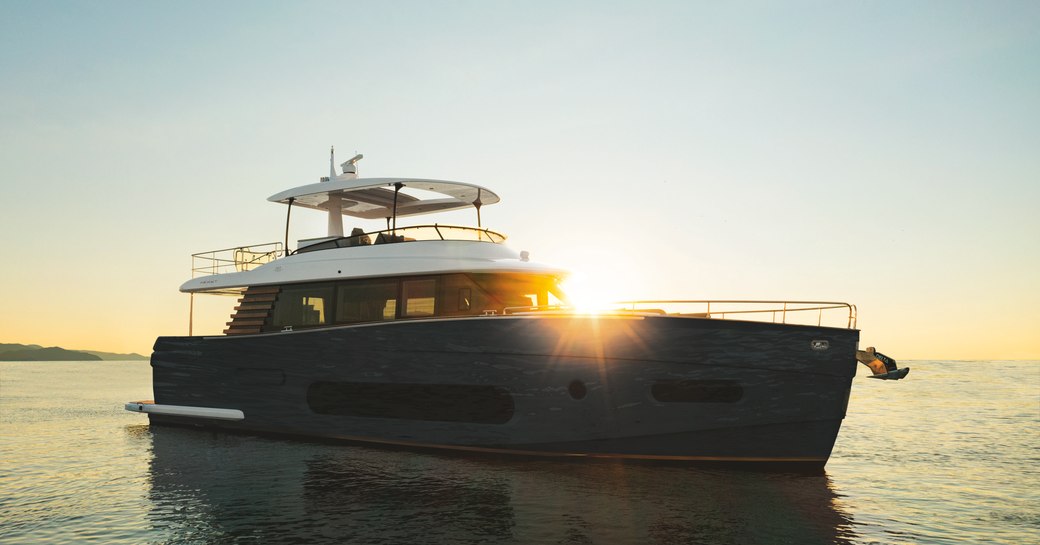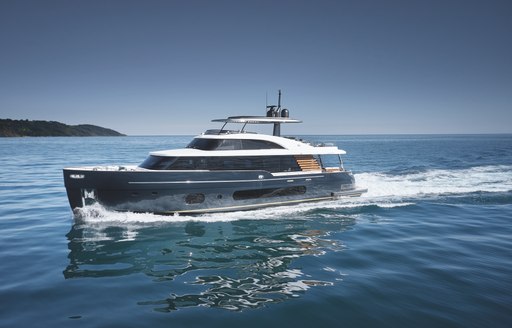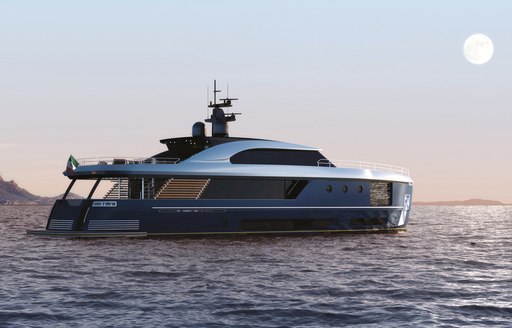 Surrounded by the visual flair of Azimut's S7 sportsbridge or super-smart 68 flybridge, this Magellano 66 might have been stylistically sidelined, instead, it delivers arguably one of the most handsome exteriors around.
This liveaboard trawler yacht range was given a design boost by Ken Freivokh, his Magellano 25 and 30 Metri designs mixing timeless class and modern superyacht substance. This 66 borrows Freivokh's lines but is all Azimut, the in-house design team responsible for the boat from the semi-displacement keel up.
Looks are, as we know, subjective, but the mix of gunboat capability and timeless elegance Azimut has created works so well here. Powerful bows hold their shape as they move aft, creating the volume for a three or four-cabin interior, with a sliver of superstructure above it all.
Beautifully Balanced
The outcome is one of the finest-looking yachts under 70ft. And that is important because, as our rival section shows, most of this next-gen trawler market is made up of big but sometimes quite brutal designs. If you want something a little less bold, if you admire a classical line as much as a big owner's cabin, the Magellano might strike a perfect balance.
The onboard style of the yacht, from the flybridge down to the cabins, is laid back and easy. The liveaboard focus is reflected in an open-plan salon and the option of four cabins or three with a lower utility area. Our test boat came with a lower study, something that also reflects Azimut's ability to work with owners in this more considered sector of yacht ownership.
Power comes from twin MAN i6 850hp engines, delivering around 24 knots. The semi-displacement hull and 4,500l tanks allow the 66 to reach around 500nm at 19 knots and a very useful 1,000nm at 10 knots. That means you can explore all week and not worry about finding a fuel stop.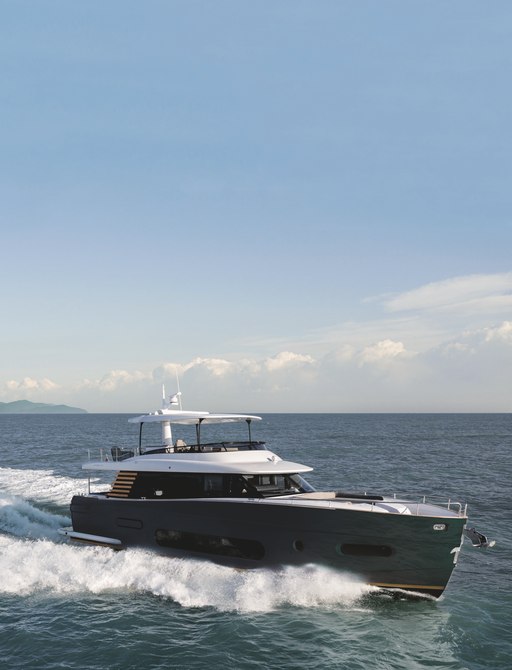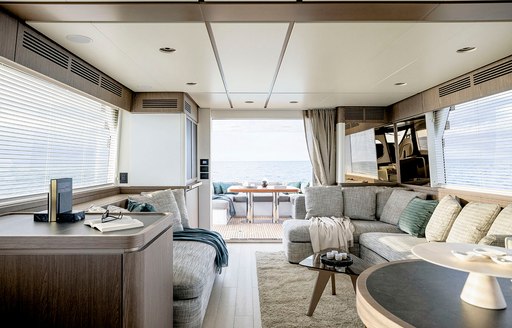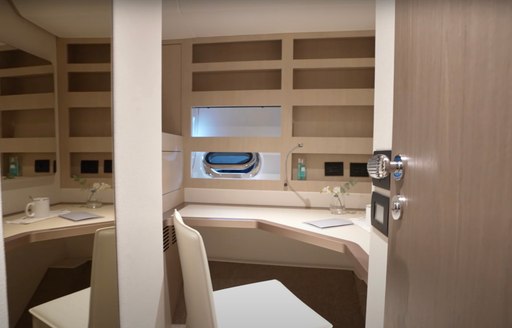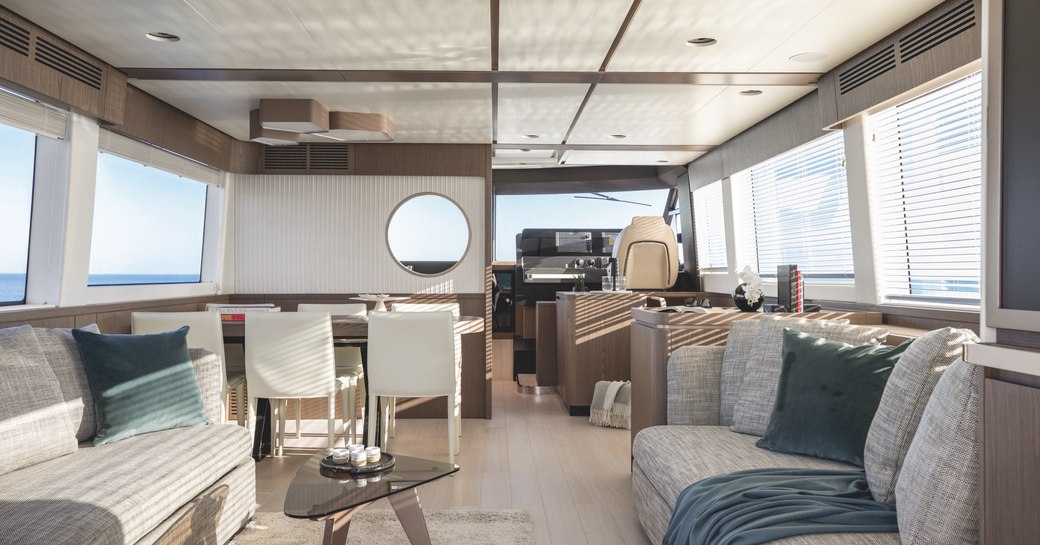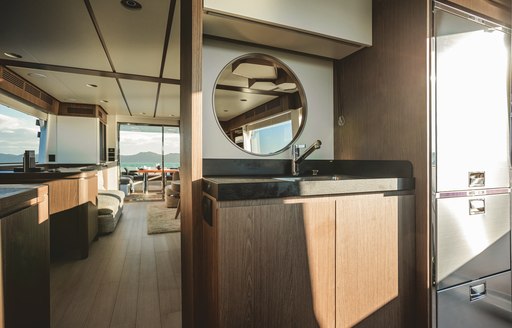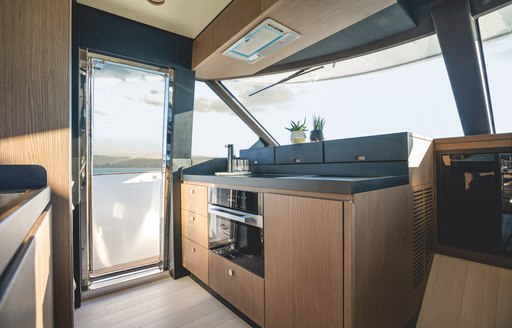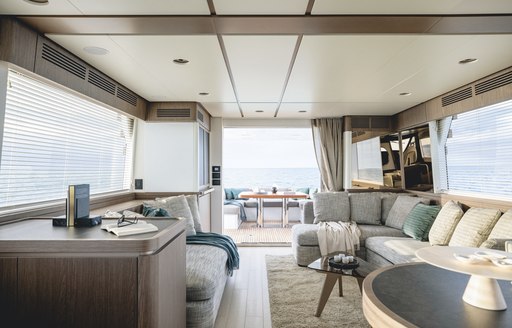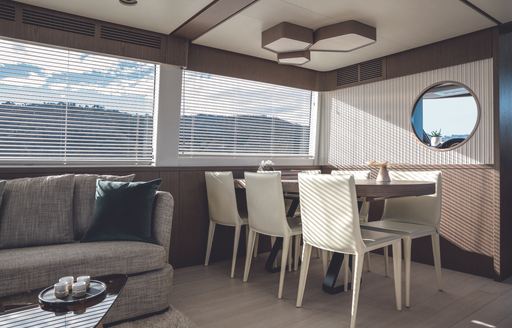 Across the yacht, there is something different going on here. If you are used to an Azimut flybridge interior this boat sits apart. Yes, there is plenty of substance and style, but it is delivered in a far more understated manner. The single-level salon features conservative cabinetry, and a smart window line, the deck head is framed with rich wood and the seating is deep and comfortable but delivered in muted tones. The result whispers considered confidence.
That consideration includes paying a little homage to trawler traditions. The forward galley, connected to the separate dining area via a wonderful port-light serving hatch, is where an old Grand Banks would have it, but otherwise, this is practical cruising done the Italian way. The salon seating lies to port, with a long sideboard to starboard, ready to swallow up day cruising kit. A smart full-height cabinet at the entrance creates snug stowage for glassware; the refrigerator below ready to serve guests.
A section of the sideboard can be exchanged for a facing sofa. If you plan to cruise over weekends this seems like a useful option but for longer stays, the extra storage will be vital.
The dining table pushes out from port and enjoys a great view outboard, overhead Azimut has added one of its trademark light fixtures, the cuboid design matching up nicely with the finish. That oversized serving port is far more than stylistic, allowing the galley to stay connected to guests and pass food across easily.
The galley itself has a crewed feel with its semi-enclosed design and side door. If you plan to run with a crew, this feature allows them to move around the yacht and serve guests without having to use the salon. Stowage surrounds the two worktops with a section for cold storage. The hob and oven lie forward close to the windscreens - something that makes that side door even more important for ventilation and avoiding steamed-up glass.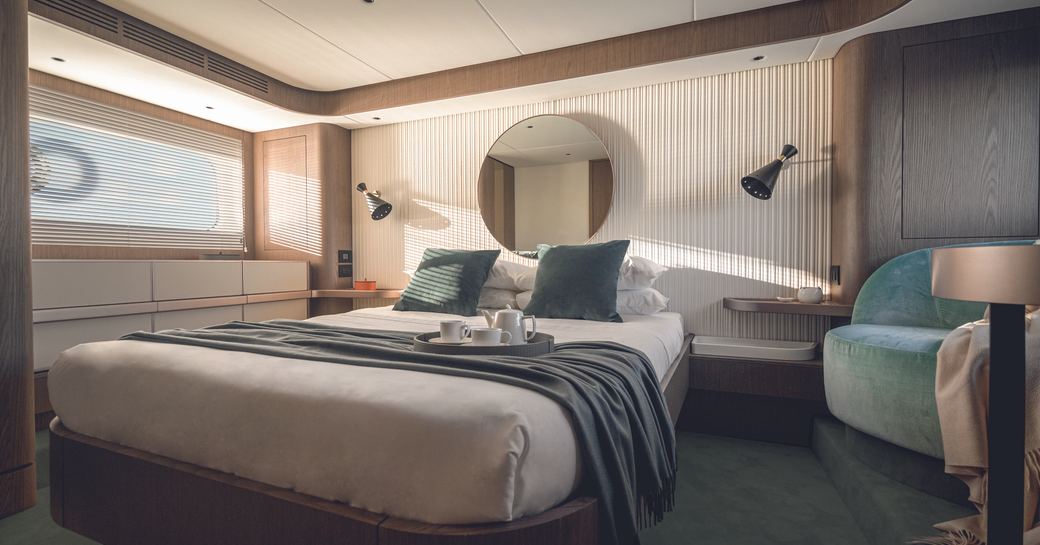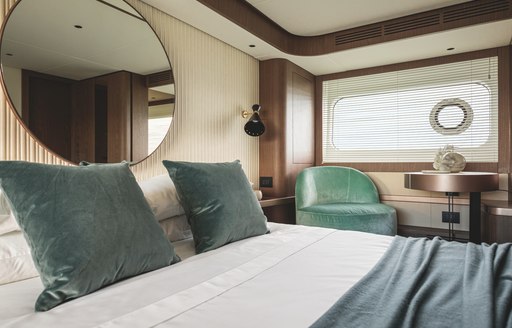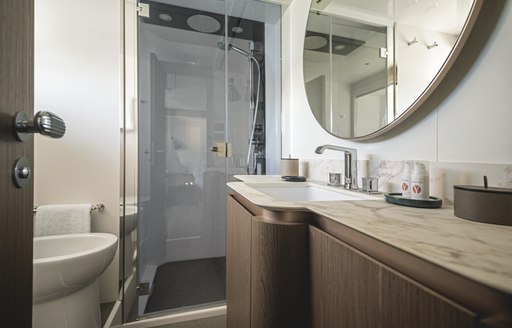 The galley forward design means the cabins are accessed off a salon stairwell, amidships. The route down comes with more stowage and the general layout is pretty straightforward with a full-beam stateroom forward VIP and a twin cabin, all ensuite. The fourth bunked cabin to port seems more useful as a dedicated utility and storage room, but there is space for a washing machine along the lower deck companionway as the boat we saw had, with its bespoke lower deck study.
The owner's stateroom is the perfect place to understand the vibe of this boat. It feels like a cabin designed for long stays with its easy, laid-back style, massive twin wardrobes and cabinetry. But this is an Azimut so you also get wonderfully textured finishes, discreet lighting, deep hull side glass and a wonderful little snug. It is only a single-seat snug, so a sofa might be more practical, but it looks like a place you will want to use.
The cabin is allowed to run full beam because the ensuite pushes forward, a decision that creates a surprisingly big toilet and shower compartment finished in bright white marble.
The finish of the VIP is similarly welcoming and comes with long strips of hull glass and another excellent ensuite. The twin cabin is a great little retreat, just as smart as the two suites, it reflects the excellent standards of the yacht possibly better than anywhere else.
The crew quarters run off the transom with a neat two-bunk design and ensuite. If you do opt for a three-cabin, utility, layout this crew cabin could easily double as occasional fourth guest quarters.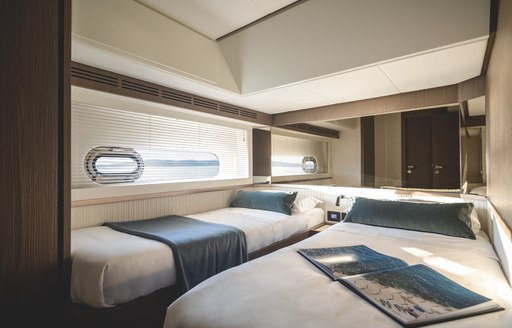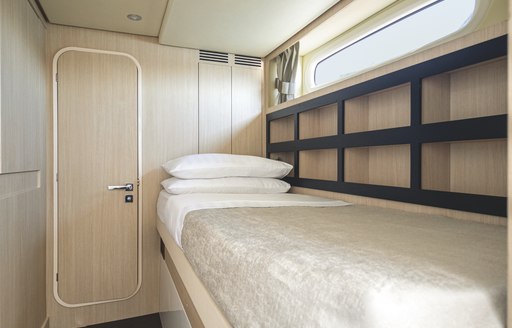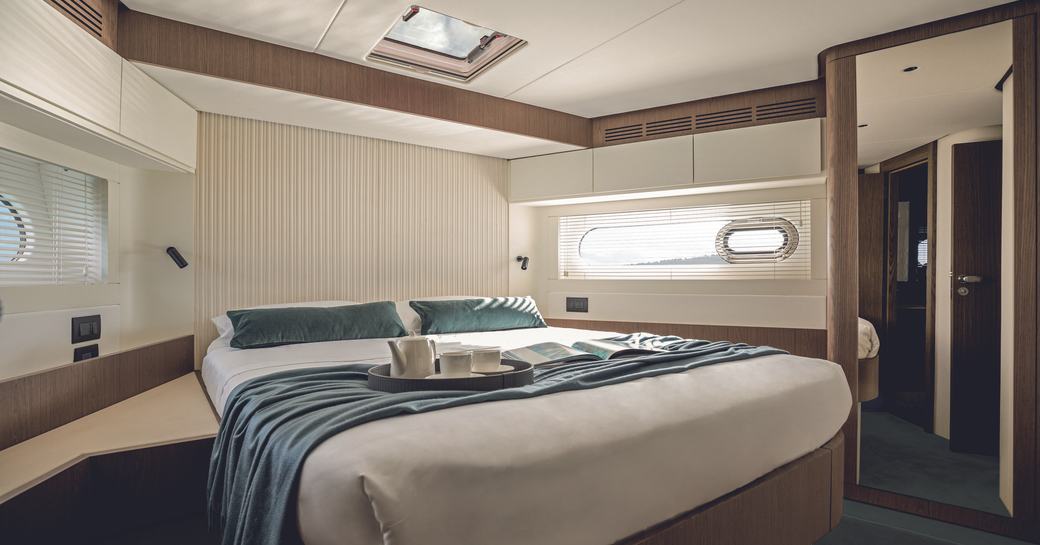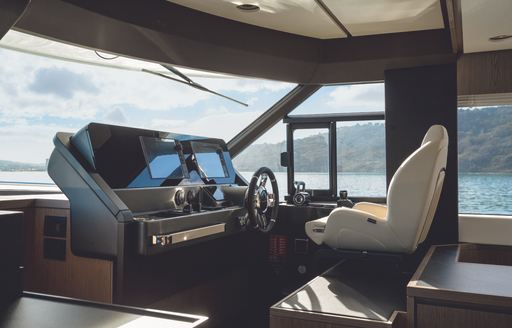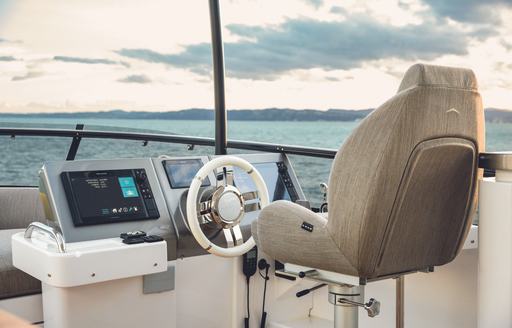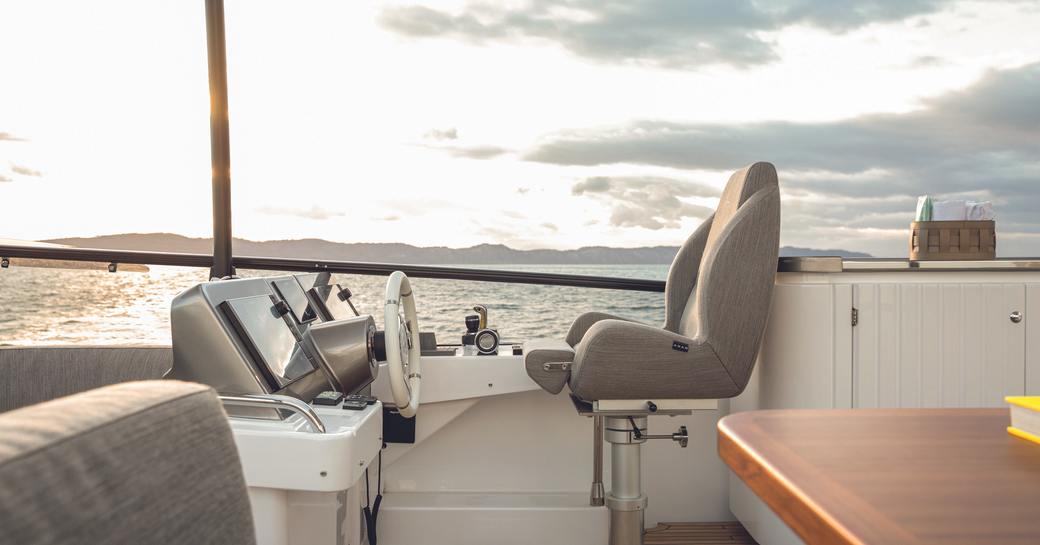 The decision to move the galley forward decided the lower helm's design to a degree, pushing it to starboard. There is no helm side door but there is a sliding window and the galley has that port deck door. The smart leather helm seats are fully adjustable but their slightly raised position commands an excellent view forward as standard, through tall clear screens - even the wipers tuck away when not in use.
The upright console fits in two MFD screens with a bits tray, cup holders and leather-bound handrail for the navigator. The throttle and optional joystick controls sit neatly on their own outboard console.
This is the place for longer passages. It feels separate and away from the rest of the yacht and this feeling will only be enhanced with the standard full-height cabinet that usually sits behind the helm. Our boat came with a sideboard, which does mean you can see right aft through the salon.
The upper helm's twin seat and MFD layout is the same as below but it opts for a practical, minimalist finish that will wear very well. The visibility from up here is excellent, as you would expect, and the wind defector looks like it will do a good job. The upper helm is definitely the place for day cruising and comes surrounded by guest seating.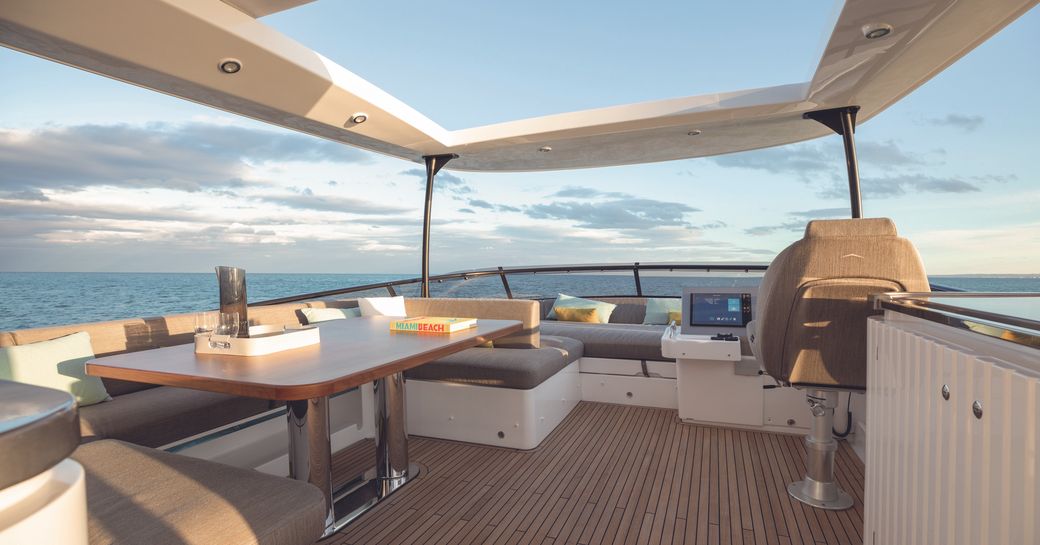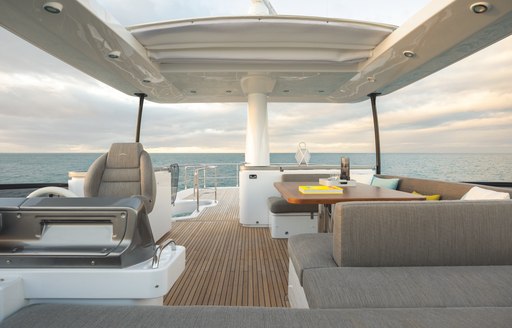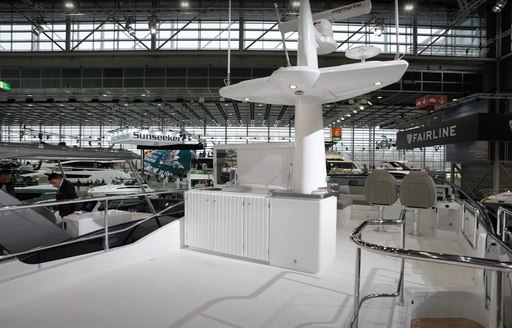 Most Magellano 66 sold so far have come with the optional hardtop for the flybridge but the boat we viewed didn't, and it meant we could enjoy the noble-looking central mast design that separates the forward guest area from the open aft deck. Beneath the mast, a full wet bar and grill create the perfect barbecue area. The open aft deck is a true trawler feature, a place traditionally for deck stowage or a tender, but on modern yachts, you are more likely to find free-standing furniture.
The flybridge feels deep and safe and very easy to move around, there is a superb rail to port, between the aft and forward sections and once you are into the guest seating area there are lots of grab rails. The seating layout has a dining area close to the wet bar and a sun pad wrapping around the forward sections, the result, including the twin helms seats, is enough seating for a dozen people.
This boat's simple but super-practical finish (clearly from an owner who plans to use this yacht and knows what that will require) meant there was no optional teak to warm the fly up but there are plenty of options up here. A hard top, some teak and different upholstery would change the feel enormously.
Mainly Impressive
The main deck aft does come with teak and the deep U-shape dining area is flanked by stairwells down to the standard-fit hydraulic swim platform and bulwark gates for alongside boarding.
The side decks are excellent, deep and wide you will use them a lot and not just to take a forward line. The foredeck lounge is big and welcoming with a long stretch of U-shape seating that will infill to create a massive pad. The lounge sits well inside the boat, protected by mouldings that deliver huge storage voids for fenders and lines.
The deep bulwark continues right around the bow with an extra layer of chunky guardrails, making the anchor platform and working deck feel very safe and manageable for owner operation.
Another part of the boat that impresses for very practical reasons is the engine bay. Accessed through a large aft deck hatch, the bay is beautifully engineered and has full-standing headroom (if you're under 6ft). All of the main service points are front and centre and the ancillary equipment, such as the hydraulic or freshwater system and the 19kW generator, are so easy to get to.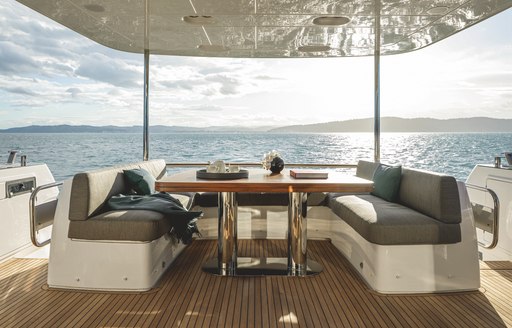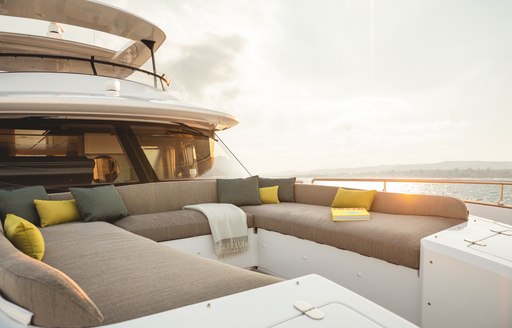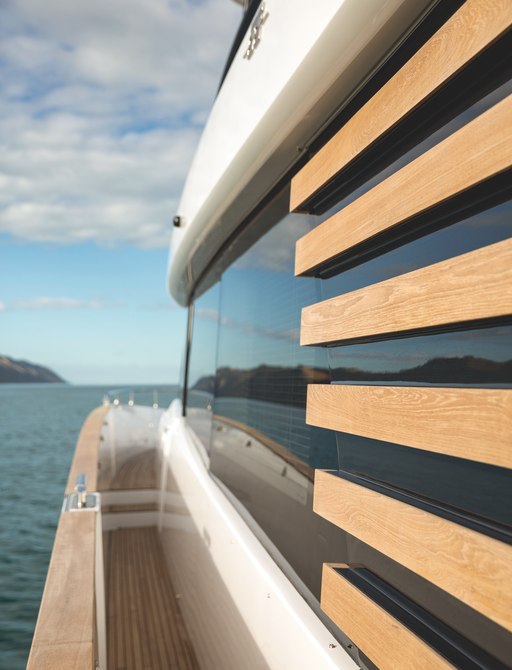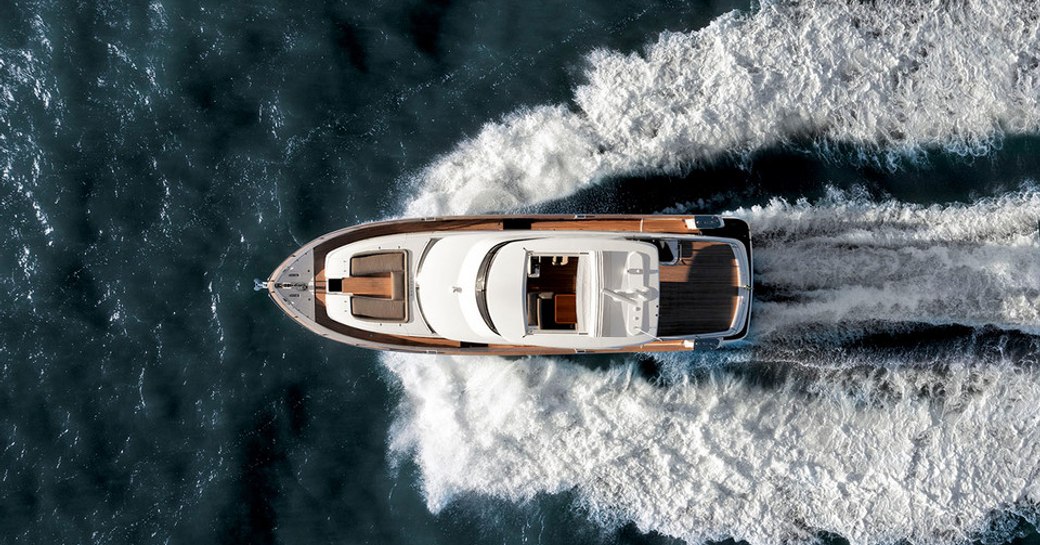 The Magellano 66 we saw was an interesting example for two reasons. It showed off Azimut's ability to work with an owner to create their ideal cruising package, but it also reflected an owner less interested in fascias and aesthetics. The standard interior needs little in the way of extras, but you may want to add the optional hard top and teak decking to the flybridge.
The hydraulic package helps reduce of the cost of the stabiliser most buyers will want and also powers the swim platform and tender launch & recovery system.
Most of the other important options don't come with a hefty price tag, so you are free to choose the layout and finish that best suits your cruising style.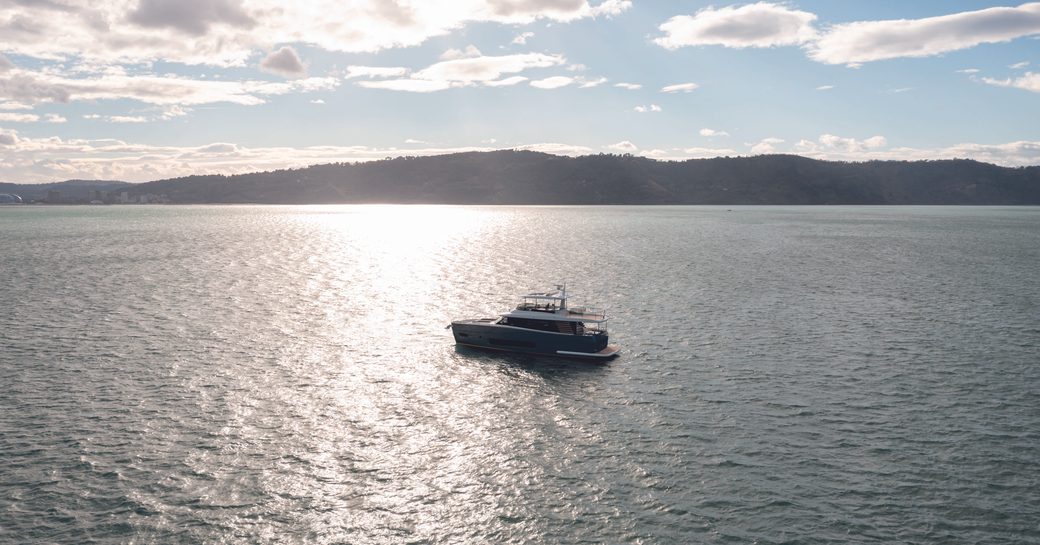 Hugely subjective statements about this being one of the best-looking boats on the water (it is) aside, what Azimiut has delivered here is exactly what it set out to do. It is not the biggest, nor the most imposing, but it is a boat perfect for liveaboard cruising, with every part of the Magellano designed to look after its owner and do so with a certain understated Italian elegance. The trawler yacht concept has rarely looked or worked better.
Reasons to Buy
Superb exterior design
Balanced, versatile interior
1,000nm range
Decks mix lifestyle and practicality
Things to Consider
Position of hob in forward galley
Rivals to Consider
The Magellano is surrounded by big, brutal and voluminous trawler yacht rivals that may not carry the elegance of the Azimut but really deliver onboard and across the waves.
Of these modernist trawlers, the Sirena 68 perhaps enjoys the best balance between boldness and beauty. The Germán Frers design delivers fine lines, and superb decks with a fabulously sociable flybridge and foredeck, and a very spacious three or four-cabin interior. The big, open salon includes an impressive helm station and below decks, the full-beam owner's cabin can be joined by a mixture of guest cabins, a lower salon or a pantry. The Sirena will hit 28 knots but can also reach well over 1,000nm at 10 knots.
If modernist design is your thing, Absolute and Numarine offer up unashamedly bold and brutal designs that really pay off onboard.
The Absolute Navetta 68 delivers this Italian builder's always impressive trick of creating multiple suites with a massive forward stateroom and a full-beam VIP amidships, plus two very good guest cabins. On the main deck, the luxurious salon flows onto the aft deck while the flybridge is vast and beautifully appointed. Only slightly smaller, the Absolute Navetta 64 pretty much offers the same package for a little less money.
Ramping up the modernist brutality, the Numarine 22 XP is a bigger boat in every sense. Longer, wider and incredibly imposing it enjoys well over 2ft more in the beam and this is felt below decks with a massive four-cabin layout that can be swapped for an even more decadent three-cabin layout with two vast suites. The salon leads to a wheelhouse-style helm that feels right for a yacht that can reach some 2,000nm on one tank. The design of the yacht creates what is less a flybridge and more a full, superyacht upper deck.
Away from all this brutalist boating architecture, let's finish with the Outer Reef 620 Trident, a boat that has plenty of the trawler yacht elegance the Magellano enjoys but as a smaller 19m boat can't match the other rivals on space, with three cabins and a tidy salon. It can, however, deliver a 1,300nm range while still hitting 20 knots at its top end.
Builder

Azimut

Range

Magellano Collection

Model

Magellano 66

Length Overall

20.15m

Beam

5.54m

Draft

1.68m

Hull

GRP
Yacht Type (Primary)

Trawler Yacht

Use Type (Primary)

Cruising
Fuel Capacity

4,500 Litres

Fresh Water Capacity

1,000 Litres
Engine Model

2x MAN i6-850
Azimut Magellano 66 Layout